HBO's latest miniseries White House Plumbers is based on public records and the book The White House Plumbers by Egil Krogh and Matthew Krogh. The five-part limited series shows us the true story of how Nixon's own political allies and Watergate masterminds E. Howard Hunt and G. Gordon Liddy, accidentally destroyed the presidency they were trying so hard to protect. The series has an incredible ensemble cast including Woody Harrelson, Justin Theroux, Domhnall Gleeson, Lena Headey, Kiernan Shipka, Gary Cole, and many more. So if you also like the series here are some shows you could watch next.
---
Also Read: Shows Like 'Succession' to Watch If You Like the Series
---
Synopsis: ​Power, politics, money…it's all in the family in this provocative, bitingly funny drama series about a highly dysfunctional dynasty. When aging, uber-wealthy patriarch Logan Roy (Brian Cox), CEO of one of the world's largest media and entertainment conglomerates, decides to retire, each of his four grown children follows a personal agenda that doesn't always sync with those of their siblings–or of their father. After Logan changes his mind about stepping down, he endures the often-childish bickering of his heirs while others in their orbit position themselves for a post-Logan world that seems imminent, though not predestined. Jeremy Strong, Kieran Culkin, Sarah Snook and Alan Ruck co-star as Logan's children; also with Hiam Abbass, Nicholas Braun and Matthew Macfadyen.
---
Also Read: Shows Like 'The Thick Of It' To Watch If You Miss the Series
---
The Thick Of It (BritBox)
Synopsis: Award-winning comedian Armando Iannucci directs this satirical comedy set in the world of British politics. The team at the Department of Social Affairs and Citizenship find themselves in a world dominated by internal politics, power and the media. They have no choice but to do as Number 10 tells them, else face the wrath of the Prime Minister's Machiavellian spin doctor, Malcolm Tucker.
---
Also Read: Shows Like 'Veep' To Watch If You Miss the Series
---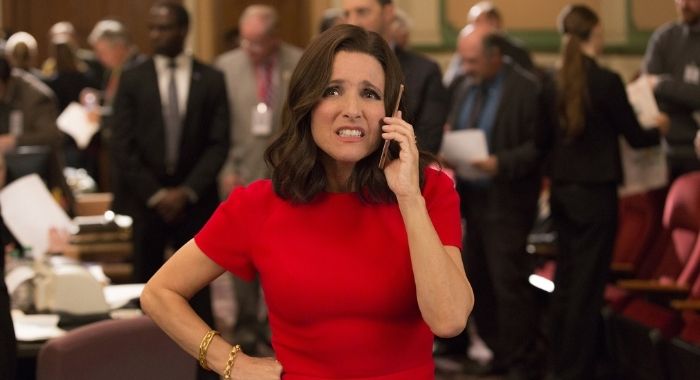 Synopsis: Julia Louis-Dreyfus stars in this comedy series that follows the whirlwind day-to-day existence of former President and Vice President Selina Meyer as she tries to claw her way back to being Commander in Chief in spite of her screwball staff. The ensemble cast includes Tony Hale as Selina's right-hand man; Anna Chlumsky as her chief of staff, and more.
---
Also Read: Shows Like 'The Diplomat' To Watch If You Like the Series
---
The Diplomat (Netflix)
Synopsis: Kate Wyler (Keri Russell) is the new US Ambassador to the United Kingdom. She was supposed to go to Afghanistan. She's great in a crisis zone. In a historic home… less so. War is brewing on one continent and boiling over on another. Kate will have to diffuse international crises, forge strategic alliances in London, and adjust to her new place in the spotlight — all while trying to survive her marriage to fellow career diplomat and political star Hal Wyler (Rufus Sewell). From showrunner Debora Cahn (THE WEST WING, HOMELAND), THE DIPLOMAT is a high-stakes, contemporary political drama about the transcendence and torture of long-term relationships, between countries and people. Also starring David Gyasi, Ali Ahn, Rory Kinnear, and Ato Essandoh, with executive producers Debora Cahn, Janice Williams, and Keri Russell.
Yes, Minister (BritBox)
Synopsis: Yes, Minister is a British political satire sitcom created by Antony Jay and Jonathan Lynn. The comedy series originally aired on BBC2 from 1980 to 1982 and it became one of the most hilarious portrayals of politics on television. The series starred Paul Eddington as the protagonist of the series. The series also launched a spinoff series Yes, Prime Minister four years after the original series ended.
A Very Secret Service
Synopsis: 1960. The world stage is dominated by a super-power, the very symbol of freedom, the great victor of World War II – la belle France. Young André Merlaux is thrilled when he's accepted into the French secret service. Under the tutelage of three elite agents, André is entrusted the most difficult missions, like figuring out America's obsession for communism and making friends with the Germans. He'll soon discover that France's superiority lies in its complex administrative minutiae and that failing to get the right stamp on the right form can result in war. André learns fast and may just become the finest of the finest secret agents. But he falls in love with the wrong girl…
Gaslit (Starz & The Roku Channel)
Synopsis: Gaslit is a modern take on Watergate that focuses on the untold stories and forgotten characters of the scandal – from Nixon's bumbling and opportunistic subordinates to the deranged zealots aiding and abetting their crimes to the tragic whistleblowers who would eventually bring the whole rotten enterprise crashing down. The story will center on Martha Mitchell, played by Julia Roberts. A big personality with an even bigger mouth. Martha is a celebrity Arkansan socialite and wife to Nixon's loyal Attorney General, John Mitchell, played by Sean Penn. Despite her party affiliation, she's the first person to publicly sound the alarm on Nixon's involvement in Watergate, causing both the Presidency and her personal life to unravel.