FX's new crime drama series Under the Banner of Heaven starring Andrew Garfield as the lead protagonist premiered recently and the series has become one of the fascinating series to watch on TV and streaming right now. Under the Banner of Heaven follows Detective Jeb Pyre (Garfield), who finds Brenda Wright Lafferty and her baby daughter finds brutally murdered in her home in Salt Lake City. As he digs more deeply into the case he finds the covered-up origins of the LDS religion and the consequences of blind faith. So, if you loved Under the Banner of Heaven we have prepared a list of shows that are as dark and brilliant as the aforementioned series.
---
Also Read: Shows Like 'Sharp Objects' To Watch If You Miss the Series
---
Sharp Objects (HBO Max)
Synopsis: For Camille Preaker, it's a dark path down memory lane. Based on the bestselling novel by Gillian Flynn ("Gone Girl") and directed by Emmy(R) winner Jean-Marc Vallee (HBO's "Big Little Lies"), this thrilling limited series stars five-time Oscar(R) nominee Amy Adams as a city journalist with a history of psychiatric issues who returns to her rural hometown to cover the apparent murders of two preteen girls. Trying to put together a psychological puzzle from her past, Camille finds herself clashing with her overbearing mother, Adora (Patricia Clarkson), falling back into a dangerous series of self-destructive habits, and identifying with the young murder victims a bit too closely. The supporting cast includes Chris Messina, Eliza Scanlen, Elizabeth Perkins, Matt Craven and Miguel Sandoval.
---
Also Read: Shows Like 'The Undoing' You Have To See
---
The Undoing (HBO Max)
Synopsis: Adaptation of Jean Hanff Korelitz's book You Should Have Known. The Undoing centers on Grace Sachs (Nicole Kidman), who is living the only life she ever wanted for herself. She's a successful therapist on the brink of publishing her first book, has a devoted husband and young son who attends an elite private school in New York City. Weeks before her book is published, a chasm opens in her life: a violent death, a missing husband, and, in the place of a man Grace thought she knew, only a chain of terrible revelations. Left behind in the wake of a spreading and very public disaster, and horrified by the ways in which she has failed to heed her own advice, Grace must dismantle one life and create another for her child and herself.
---
---
True Detective (HBO Max)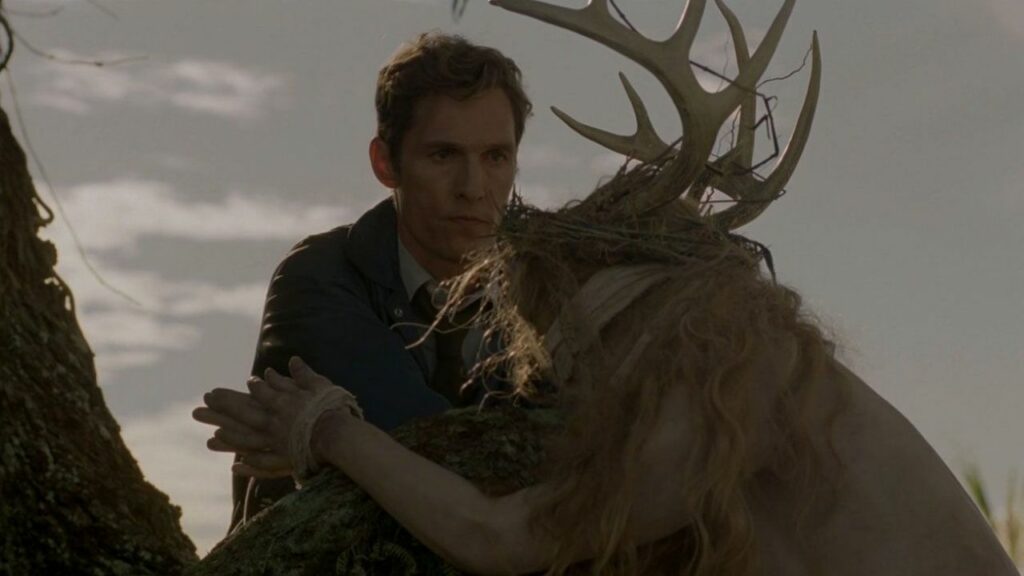 Synopsis: Touch darkness and darkness touches you. From creator/executive producer Nic Pizzolato comes this searing crime drama series that follows troubled cops and the intense investigations that drive them to the edge. Each season features a star-studded new cast involved in cases that will have you on the edge of your seat. In Season 1, it was Matthew McConaughey and Woody Harrelson as two polar opposite cops on the hunt for a serial killer in Louisiana. In Season 2, a bizarre murder case brings together three law-enforcement officers (Colin Farrell, Rachel McAdams, Taylor Kitsch) and a career criminal (Vince Vaughn). Season 3 of the hit series stars Mahershala Ali as a retired detective who has been tormented for 35 years by a case involving the disappearance of a 12-year-old boy and his 10-year-old sister.
---
Also Read: Shows Like 'Mare of Easttown' To Watch If You Miss the Series
---
Mare of Easttown (HBO Max)
Synopsis: Kate Winslet stars in this limited series as a small-town Pennsylvania detective who investigates a local murder as her own life crumbles around her. Also with Julianne Nicholson, Jean Smart, Angourie Rice, Evan Peters, Cailee Spaeny, David Denman, John Douglas Thompson, Patrick Murney, Ben Miles, James McArdle, Sosie Bacon, Joe Tippett and Neal Huff.
Landscapers (HBO Max)
Synopsis: Inspired by real events, Landscapers tells a unique love story involving Chris and Susan Edwards (Thewlis and Colman), a seemingly ordinary British couple who become the focus of an extraordinary investigation when two dead bodies are discovered in the back garden of a house in Nottingham. Will Sharpe directs the exploration of love and fantasy, which is created and written by screenwriter Ed Sinclair. Additional cast includes Kate O' Flynn, Dipo Ola, Samuel Anderson, David Hayman, Felicity Montagu and Daniel Rigby.
---
Also Read: Shows Like 'The Outsider' To Watch If You Miss the Series
---
The Outsider (HBO Max)
Synopsis: The gruesome murder of an 11-year-old boy in the Georgia woods leads a local detective into a disturbing search for the truth in Season 1 of this drama series based on Stephen King's bestselling novel. When an insidious supernatural force edges its way into the case, it leads a seasoned cop (Ben Mendelsohn) and an unorthodox investigator (Cynthia Erivo) to question everything they believe in. The stellar supporting cast includes Bill Camp, Mare Winningham, Paddy Considine, Julianne Nicholson, Yul Vazquez, Jeremy Bobb, Marc Menchaca and Jason Bateman.
Dopesick (Hulu)
Synopsis: From Executive Producer Danny Strong and starring and executive produced by Michael Keaton, "Dopesick" examines how one company triggered the worst drug epidemic in American history. The series takes viewers to the epicenter of America's struggle with opioid addiction, from the boardrooms of Big Pharma, to a distressed Virginia mining community, to the hallways of the DEA.
The Night Of (HBO Max)
Synopsis: Explore the dark corners of NYC's criminal-justice system as they swirl around a young Pakistani-American man who is accused of murder in this riveting eight-part miniseries. Starring John Turturro as an embattled defense attorney and Riz Ahmed as his client, the story centers on the killing and the investigation that targets the unassuming college kid as its prime suspect.