Based on Adam Kay's novel of the same name the new BBC drama This Is Going to Hurt shows Kay's experiences while working at NHS as a doctor in the OB/GYN ward. The BBC and AMC series stars Ben Whishaw as Adam Kay, who has given a wonderful performance and truly made the viewers feel for the self-hating doctor and protagonist. The series also stars Ambika Mod as Shruti, Rory Fleck Byrne as Harry, Michele Austin as Tracy, and Harriet Walter as Veronique, Kay's mother.
This Is Going to Hurt is simply one of the best shows that have come out this year because of its brilliant cast and amazing storytelling. The series doesn't try too hard to defend its main character but it also makes us understand that he is a human with flaws and is working in a broken system with tons of pressure to get everything right every time, which is just not possible. He obviously makes mistakes, some innocent and some not so much but at the end of the day, many things are out of his hands as he has done everything humanly possible.
So, if you liked the medical drama series here are some more shows you could watch next:
---
Also Read: Movies & Shows Like 'The Bear' To Watch If You Loved the Series
---
The Bear (Hulu)
Synopsis: FX's new original series The Bear follows Carmen "Carmy" Berzatto (Jeremy Allen White), a young chef from the fine dining world, who comes home to Chicago to run his family sandwich shop – The Original Beef of Chicagoland – after a heartbreaking death in his family. A world away from what he's used to, Carmy must balance the soul-crushing realities of small business ownership, his strong-willed and recalcitrant kitchen staff and his strained familial relationships, all while grappling with the impact of his brother's suicide. The Bear is about food, family, the insanity of the grind, the beauty of Sense of Urgency and the steep slippery downsides. As Carmy fights to transform both The Original Beef of Chicagoland and himself, he works alongside a rough-around-the-edges kitchen crew that ultimately reveal themselves as his chosen family. In addition to White, this half-hour series stars Ebon Moss-Bachrach, Ayo Edebiri, Abby Elliott, Lionel Boyce and Liza Colón-Zayas, with Edwin Lee Gibson and Matty Matheson in recurring roles.
---
Also Read: Shows Like 'MASH' To Watch If You Miss the Series
---
Synopsis: A fast-paced and fun-filled series relating the antics of a mobile army surgical hospital crew during the Korean war. They are basically dedicated surgeons who turn to humor as relief from the front-line operating room.
Green Wing (Prime Video & Pluto TV)
Synopsis: Quick-fire (and occasionally slow motion) genre-defying comedy, set in a surreal hospital but lacking medical content. From the award-winning team behind "Smack the Pony."
---
Also Read: Shows Like 'House M.D.' to Watch If You Miss the Series
---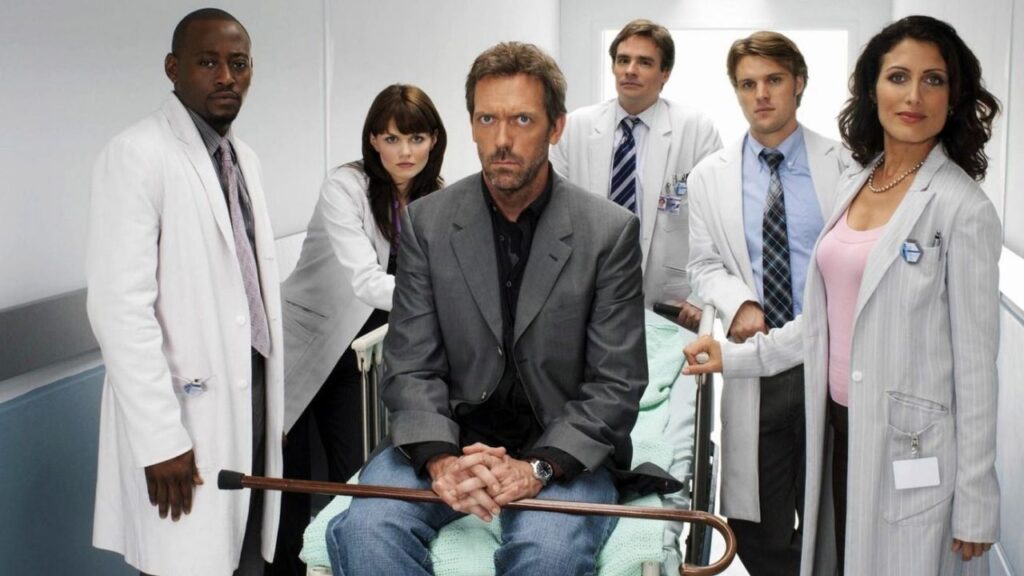 Synopsis: Hugh Laurie stars as the brilliant, but sarcastic Dr. Gregory House, a maverick physician who is devoid of bedside manner. While his behavior can border on antisocial, Dr. House thrives on the challenge of solving the medical puzzles that other doctors give up on. Together with his hand-picked team of young medical experts, he'll do whatever it takes in the race against the clock to solve the case. Check out each gripping episode featuring some of TV's hottest guest stars, including Carmen Electra, Chi McBride, Scott Foley and Sela Ward.
Synopsis: Edie Falco stars as Jackie Peyton, a strong-willed and brilliant but very flawed nurse in a New York City hospital. A lapsed Catholic with an occasional weakness for painkillers to get her through the days, Jackie keeps the hospital balanced with her own kind of justice. Every day is a high wire act of juggling patients, doctors, fellow nurses and her own indiscretions.
---
Also Read: Shows Like 'Scrubs' To Watch If You Miss the Series
---
Scrubs (Hulu)
Synopsis: ABC's Scrubs examines the lives of the staff at Sacred Heart. In this unpredictable hospital filled with over-the-top staffers and patients, doctors have learned to survive by relying on each other to face relationships, death, kids, interns, water balloons, and anything else life may throw at them. Around here, humor and tragedy collide as they continually learn that even when you figure out who you are, there's still more life to navigate and it helps to have good people in your corner…even if they are a bit scattered themselves.
---
Also Read: Shows Like 'You're the Worst' To Watch If You Miss the Series
---
You're the Worst (Hulu)
Synopsis: An original comedy from writer and executive producer Stephen Falk, You're The Worst puts a dark twist on the romantic comedy genre. Narcissistic, brash, and self-destructive "Jimmy Shive-Overly," played by Chris Geere (The Spa), thinks all relationships are doomed. Cynical, people-pleasing, and stubborn "Gretchen Cutler," played by Aya Cash (The Wolf of Wall Street), knows that relationships aren't for her. So when they meet at a wedding, it's only natural that the two of them go home together and, despite their better judgment, begin to find themselves falling for each other. Rounding out the cast is Desmin Borges (The Good Wife), who plays "Edgar Quintero," Jimmy's once homeless, war veteran roommate, and Kether Donohue (The Carrie Diaries) as "Lindsay Jillian," Gretchen's best friend and former partner in crime who's now struggling with a life of domesticity.