After a month-long hiatus, The Witcher Season 3 has finally concluded its story and thankfully for the fans, the creators decided to more or less stick to the Andrzej Sapkowski books rather than bring their own boring ideas. As we all know by now that Season 3 is the last time we will ever Henry Cavill as Geralt of Rivia, as Liam Hemsworth is taking on the role next season. The Witcher follows Geralt of Rivia aka The Witcher (Henry Cavill), who is a mutant superpowered human and he works as a monster hunter, while also taking care of Ciri (Freya Allan), a princess who is tied to him by the law of surprise. The series also follows Yennefer (Anya Chalotra), who is one of the most powerful sorceresses in The Witcher universe. The Witcher Season 3 recently aired its finale episode, with Season 4 already renewed, in which we will see Hemsworth taking on the role of Geralt.
The Witcher has become one of the hottest television series to watch now and the renewal and spin-off shows come as a happy surprise, but still, there is a lot of time between now and when we see Geralt in the upcoming third season of the series. So, we made a list of the 12 best shows that are similar to The Witcher, and we made sure that all of them have a lone wolf protagonist just like the aforementioned series.
---
Altered Carbon (Netflix)
Synopsis: In the future, human minds are digitized and downloaded from body to body. Last night, the wealthiest man on Earth, Laurens Bancroft (James Purefoy) was murdered. To investigate his death, he brings back ex-Envoy soldier Takeshi Kovacs (Joel Kinnaman / Will Yun Lee) and in exchange, Bancroft offers Kovacs the chance to live again.
Synopsis: An erotically-charged, profoundly unsettling new saga, PENNY DREADFUL completely reinvents literature's most iconic and terrifying characters. Dorian Gray, Victor Frankenstein and timeless figures from Dracula join a core of original characters in a dark and brutal quest to save a soul — even as they grapple with their own monstrous temptations.
Synopsis: "Grimm" is a drama series inspired by the classic Grimm's Fairy Tales. Portland homicide Detective Nick Burkhardt (David Giuntoli) discovers he is descended from an elite line of criminal profilers known as "Grimms," charged with keeping balance between humanity and the mythological creatures of the world.
American Gods (Starz)
Synopsis: Based on the international best-selling novel by Neil Gaiman, American Gods follows Shadow Moon as he embarks on a road trip across America with the enigmatic conman Mr. Wednesday. On their journey, Shadow discovers that Mr. Wednesday is in fact one of the old gods brought to this country by settlers long ago, who warns of a war brewing between the forgotten old gods of myth and the new American Gods of money, technology and media. And as Shadow finds himself evermore deeply embroiled in this world of gods among men, he has a choice to make. Should he follow Mr. Wednesday into battle and find out more about his own mysterious past or attempt to reconcile with his recently deceased wife?
Midnight Mass (Netflix)
Synopsis: From The Haunting of Hill House creator Mike Flanagan, MIDNIGHT MASS tells the tale of a small, isolated island community whose existing divisions are amplified by the return of a disgraced young man (Zach Gilford) and the arrival of a charismatic priest (Hamish Linklater). When Father Paul's appearance on Crockett Island coincides with unexplained and seemingly miraculous events, a renewed religious fervor takes hold of the community – but do these miracles come at a price? Created and directed by Flanagan, the seven episode limited series also stars Kate Siegel, Rahul Abburi, Crystal Balint, Matt Biedel, Alex Essoe, Annarah Cymone, Annabeth Gish, Rahul Kohli, Kristin Lehman, Robert Longstreet, Igby Rigney, Samantha Sloyan, Henry Thomas, and Michael Trucco. The series is executive produced by Flanagan and Trevor Macy for Intrepid Pictures.
Game of Thrones (HBO Max)
Synopsis: Trouble is brewing in Westeros. For the inhabitants of this world, control of the Iron Throne holds the lure of great power. But in a land where seasons can last a lifetime, winter is coming…and beyond the Great Wall that protects them, a forgotten evil has returned. HBO presents this epic series based on the book series 'A Song of Ice and Fire' by George R.R. Martin.
Synopsis: The lives of five young villagers change forever when a strange and powerful woman arrives, claiming one of them is the child of an ancient prophecy with the power to tip the balance between Light and Dark forever. They must choose whether to trust this stranger – and each other – with the fate of the world before the Dark One breaks out of His prison, and the Last Battle begins.
Preacher (Hulu)
Synopsis: Based on the hit comic book series, PREACHER is the edgy story of Jesse Custer, a conflicted preacher in a small Texas town who is inhabited by a mysterious entity that allows him to develop a highly unconventional power. With his fearless sidekicks, Tulip and Cassidy, he embarks on a wild, dark journey that is unlike any other.
Synopsis: Merlin will one day be the greatest wizard that the world will ever know, but for now, he is just a young man, geeky and awkward, who must keep his talent hidden in a kingdom where magic is banned or face certain death. In this ambitious and action-packed drama, the myths, monsters and magic of the legends are revitalized and given a modern twist in preparation for their inevitable destinies.
His Dark Materials (HBO Max)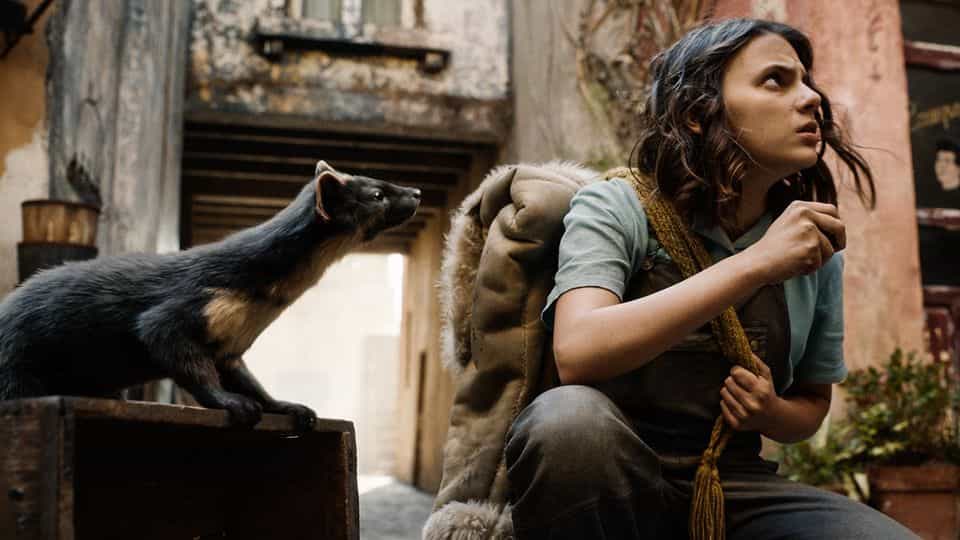 Synopsis: His Dark Materials stars Dafne Keen, James McAvoy, Ruth Wilson and Lin-Manuel Miranda. Adapting Philip Pullman's award-winning trilogy of the same name, which is considered a modern masterpiece of imaginative fiction, the first season follows Lyra, a seemingly ordinary but brave young woman from another world. Her search for a kidnapped friend uncovers a sinister plot involving stolen children, and becomes a quest to understand a mysterious phenomenon called Dust. As she journeys through the worlds, including our own, Lyra meets Will, a determined and courageous boy. Together, they encounter extraordinary beings and dangerous secrets, with the fate of both the living — and the dead — in their hands.
The Mandalorian (Disney+)
Synopsis: After the stories of Jango and Boba Fett, another warrior emerges in the Star Wars universe. "The Mandalorian" is set after the fall of the Empire and before the emergence of the First Order. We follow the travails of a lone gunfighter in the outer reaches of the galaxy, far from the authority of the New Republic.
Buffy the Vampire Slayer (Hulu)
Synopsis: After moving to Sunnydale, California, Buffy Anne Summers just wants to be a normal teenager. Back in Los Angeles, her first Watcher had died; she inadvertently burned down the gymnasium at her old high school; and her parents got a divorce. The move to Sunnydale is supposed to give both her and her mother, Joyce, a clean slate. But then she meets the school librarian, Rupert Giles, and quickly learns there is no escaping her destiny. With Giles as her new Watcher, she reluctantly steps back into her role as the Slayer. But this time she is not fighting alone. She now has an inner circle of special friends– Willow, Xander, Cordelia, and a mysterious young man named Angel– ready to join the fight and drive in a stake or two if need be.