The Winter King is a British historical drama series about the Arthurian legend created by Kate Brooke, Ed Whitmore, and Bernard Cornwell. The MGM+ series is based on a trilogy of books called The Warlord Chronicles novels written by Bernard Cornwell. The Winter King stars Iain De Caestecker in the lead role of King Arthur, with Jordan Alexandra, Stuart Campbell, Nathaniel Martello-White, and Ellie James starring in supporting roles. So, if you loved The Winter King here are some similar shows you could watch next.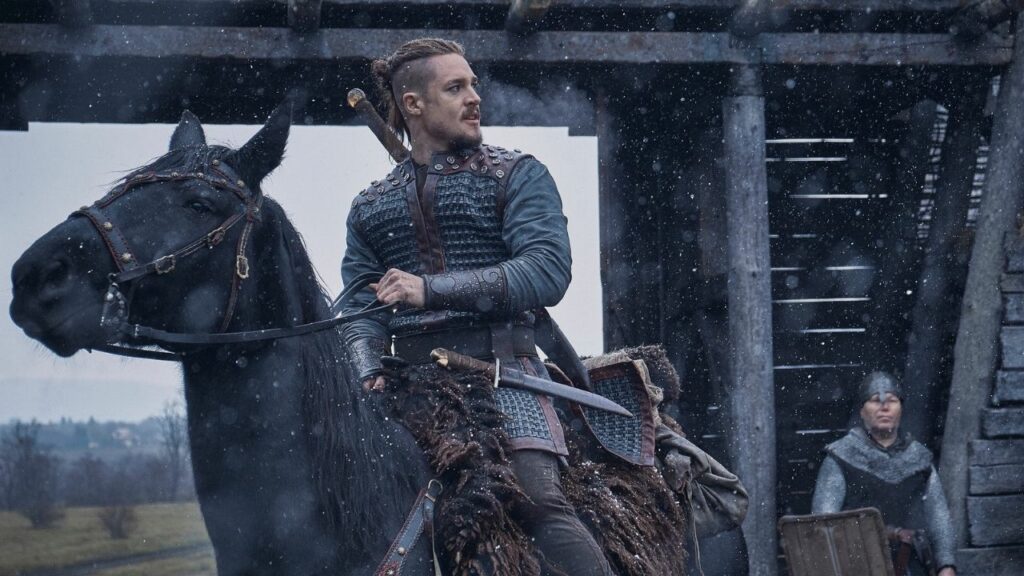 Synopsis: A story of redemption, vengeance, and self-discovery set against the birth of England, this drama series follows young warrior and outsider, Uhtred on a fierce mission to reclaim his birthright. The Last Kingdom combines real historical figures and events with fiction, re-telling the history of King Alfred the Great and his desire to unite the many separate kingdoms into what would become England.
Synopsis: Outlander spans the genres of romance, science-fiction, history and adventure in one epic tale. It follows the story of Claire Randall, a married combat nurse from 1945, who is mysteriously swept back in time to 1743 Scotland. When forced to marry Jamie Fraser, a chivalrous young Scottish warrior, Claire's heart is torn between two vastly different men in two irreconcilable lives.
Merlin (Prime Video, Peacock & Pluto TV)
Synopsis: Merlin will one day be the greatest wizard that the world will ever know, but for now, he is just a young man, geeky and awkward, who must keep his talent hidden in a kingdom where magic is banned or face certain death. In this ambitious and action-packed drama, the myths, monsters and magic of the legends are revitalized and given a modern twist in preparation for their inevitable destinies.
Synopsis: Bjorn Ironside has ambitions for the Kingdom of Kattegat, he dreams of peace and prosperity, but the fates have a different plan for the new King. A threat is looming, an enemy is resurgent–so much more ruthless than the rest. Lagertha too has dreams, to bury her sword and return to the simple life. But as enemy forces gather, Bjorn and Lagertha will rise to the challenge, because they are Viking heroes and can never surrender.
Frontier (Netflix)
Synopsis: The series is an action-packed adventure drama following the chaotic and violent struggle to control wealth and power in the North American fur trade in the late 18th century. Told from multiple perspectives, the series takes place in a world where business negotiations might be resolved with close-quarter hatchet fights, and where delicate relations between Native tribes and Europeans can spark bloody conflicts.
Synopsis: Generals and soldiers, masters and slaves, and husbands and wives all find themselves players in this epic series about the death of the republic, and birth of the most powerful empire in history.
The Musketeers (Prime Video, Hulu, Pluto TV & Tubi)
Synopsis: Packed with exciting heroes, adventure and romance, The Musketeers is a contemporary take on the classic characters created by Alexandre Dumas. Set on the streets of 17th-century Paris, the series follows honorable Musketeers Athos, Aramis and Porthos. With the streets of Paris ruled by an iron fist, the future of the Musketeers is in serious peril as they fight for justice in a tough world.
Synopsis: Jonathan Rhys Meyers stars in this original, history-based drama series as the young, vibrant King Henry VIII, a competitive and lustful monarch who navigates the intrigues of the English court and the human heart with equal vigor and justifiable suspicion. Natalie Dormer ("Anne Boleyn"), Jeremy Northam ("Thomas More"), Maria Doyle Kennedy ("Queen Katherine"), James Frain ("Thomas Cromwell") and Peter O'Toole ("Pope Paul III") round out the all-star cast of this lavish epic.
Synopsis: 1715. The Golden Age of Piracy. New Providence Island is a lawless territory, controlled by history's most notorious pirate captains, including the feared and brilliant Captain Flint. As the British Navy returns to redeem their land, he allies himself with Eleanor Guthrie – daughter of the local kingpin – to hunt the ultimate prize and ensure their survival.
Synopsis: Trouble is brewing in Westeros. For the inhabitants of this world, control of the Iron Throne holds the lure of great power. But in a land where seasons can last a lifetime, winter is coming…and beyond the Great Wall that protects them, a forgotten evil has returned. HBO presents this epic series based on the book series 'A Song of Ice and Fire' by George R.R. Martin.