Despite a massive fan following Netflix's multi-genre series, The Society was canceled after its first season. The brilliant series followed a group of teens who get stranded in their hometown of New England after a camping trip goes wrong. With no adult supervision, internet, or supplies these teens have to establish a new society to have peace. The Society is a dark and nuanced drama series but it was cancelled in 2019 weeks before its second season was scheduled to begin filming. So, if you miss the series here are some more shows you could watch next.
---
Also Read: Shows Like 'The Wilds' To Watch If You Already Miss the Series
---
Synopsis: A group of teen girls from different backgrounds must fight for survival after a plane crash strands them on a deserted island. The castaways both clash and bond as they learn more about each other, the secrets they keep, and the traumas they've all endured. There's just one twist to this thrilling drama… these girls did not end up on this island by accident.
---
Also Read: Shows Like 'Yellowjackets' To Watch While Waiting For Season 2
---
Yellowjackets (Pluto TV, Showtime & Paramount+)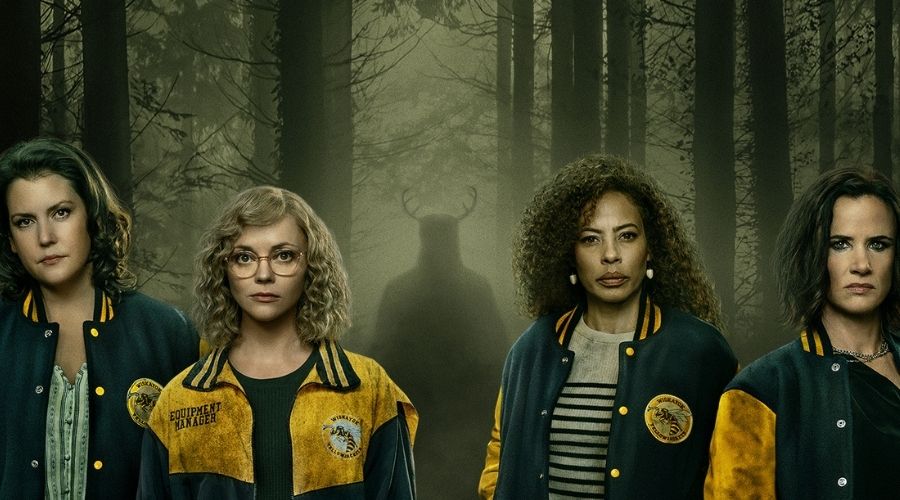 Synopsis: Part survival epic, part psychological horror and part coming-of-age drama, this is the story of a team of wildly talented high school girls' soccer players who survive a plane crash deep in the remote northern wilderness. The series chronicles their descent from a complicated but thriving team to savage clans, while also tracking the lives they've attempted to piece back together 25 years later. What began in the wilderness is far from over. Starring Melanie Lynskey, Tawny Cypress, with Christina Ricci and Juliette Lewis.
---
Also Read: Shows Like '13 Reasons Why' To Watch If You Miss the Series
---
13 Reasons Why (Netflix)
Synopsis: 13 Reasons Why is a Netflix series adapted from the best-selling books by Jay Asher. It follows teenager Clay Jensen (Dylan Minnette) as he returns home from school to find a mysterious box with his name on it lying on his porch. Inside he discovers cassette tapes recorded by Hannah Baker (newcomer Katherine Langford) —his classmate and crush—who tragically committed suicide two weeks earlier. On tape, Hannah explains that there are thirteen reasons why she decided to end her life. Will Clay be one of them? If he listens, he'll find out how he made the list. Through Hannah and Clay's dual narratives, 13 Reasons Why weaves an intricate and heart wrenching story of teenage life that will deeply affect viewers.
---
Also Read: Shows Like 'Stranger Things' To Watch After Season 4
---
Stranger Things (Netflix)
Stranger Things is one of the most-watched shows on Netflix ever. Set in the early '80s the brilliant sci-fi thriller series follows a group of children living in a fictional rural town of Hawkins, Indiana as one of their friends goes missing without a trace and a mysterious girl with supernatural abilities suddenly appears in their lives. The brilliant series stars Millie Bobby-Brown, Finn Wolfhard, Winona Ryder, David Harbour, Garen Matarazzo, Caleb McLaughlin, Noah Schnapp, Joe Keery, Natalia Dyer, and Charlie Heaton.
Dare Me (Netflix)
Synopsis: Dare Me is an unflinching exploration of volatile female friendships, jealousy, loyalty and the dynamics of power in a small Midwestern town. Peering behind the all-American façade, the series dives into the cutthroat world of competitive high school cheerleading, following the fraught relationship between two best friends after a new coach arrives to bring their team to prominence. Part coming-of-age story, part small-town drama, part murder mystery, Dare Me exposes the physical and psychological extremes that some young women are willing to endure in order to get ahead.
---
Also Read: Post-Apocalyptic Shows Like 'The 100' You Should Watch
---
The 100 (Netflix)
Synopsis: It's been nearly 100 years since Earth was devastated by a nuclear apocalypse, with the only survivors being the 400 inhabitants of 12 international space stations that were in orbit at the time. Three generations later, the survivors number 4,000 — and resources are running out on their dying "Ark" (the 12 stations now linked together and repurposed to keep the survivors alive). Draconian measures including capital punishment and population control are the order of the day, as the leaders of the Ark take ruthless steps to ensure their future — including secretly exiling a group of 100 juvenile prisoners to the Earth's surface to test whether it's habitable. No one has set foot on the planet in nearly a century — until now. For the 100 on Earth, the alien planet they've never known is a mysterious realm that can be magical one moment and lethal the next.
---
Also Read: Shows Like 'The Leftovers' To Watch If You Miss the Series
---
The Leftovers (HBO Max)
Synopsis: This enthralling drama series focuses on a suburban town of people whose preconceptions are shattered in the wake of a global event dubbed The Departure, during which, as in the rapture described in the bible, some humans were taken and others left behind. Three years after the fateful October day when 140 million people — two percent of the world's population — disappeared without a trace, the denizens of the town of Mapleton struggle to comprehend and cope. Seen primarily through the eyes of beleaguered police chief Kevin Garvey, the series shows how ordinary folks react to inexplicable events that can unite or divide families and communities, revealing how the strain of an unprecedented calamity can turn people's faith into cynicism, paranoia, madness or cultlike fanaticism. Created by Damon Lindelof, Emmy Award winner for Lost, and acclaimed novelist Tom Perrotta.
---
Also Read: Mind-Bending Shows Like 'Dark' To Watch If You Miss the Series
---
Dark (Netflix)
Synopsis: Dark is set in a German town in present day where the disappearance of two young children exposes the double lives and fractured relationships among four families. In ten, hour-long episodes, the story takes on a supernatural twist that ties back to the same town in 1986. The series is created by award-winning showrunners Baran bo Odar and Jantje Friese, who previously received critical acclaim for their movie Who am I (2014).
---
Also Read: Shows Like 'Counterpart' To Watch If You Miss the Series
---
Counterpart is an intense sci-fi thriller set in a world where the possibility of a parallel world is real and it follows Howard Silk (J.K. Simmons) who works at the Office of Interchange, United Nations division. Howard doesn't know anything about the parallel world because he is a low-level bureaucrat working in the system but problems arise when his counterpart from the parallel world turns out to be a high-ranking spy.
---
Also Read: Shows Like 'Lost' To Watch If You Miss the Series
---
Synopsis: Lost explores the destiny of the passengers of Oceanic Flight 815 who crashed on an island. The survivors not only have to rely on each other, but also cope with the secrets the mysterious island holds. Some become friends, others enemies and some stories remain to be told. There's much more than meets the eye, as it becomes apparent that everyone is somehow connected and that everyone has a purpose.