From the minds of the creators of the Westworld comes a new sci-fi mind-bending series The Peripheral. Starring Chloë Grace Moretz, Jack Reynor, Gary Carr, and Eli Goree the new Prime Video series has definitely some great elements from the much-beloved series Westworld. The series is set follows Flynne Fisher (Moretz) as she finds an alternative reality and some harsh truths about humanity. So, if you liked Prime Video's brilliant series here are some more like it you could watch next.
---
Also Read: Sci-Fi Shows Like 'Westworld' To Watch If You Already Miss the Series
---
Westworld (HBO Max)
Synopsis: In this series set in a futuristic Wild West fantasy park, a group of android 'hosts' deviate from their programmers' carefully planned scripts in a disturbing pattern of aberrant behavior. With an exceptional cast headed by Anthony Hopkins, Ed Harris, Evan Rachel Wood, James Marsden, Thandiwe Newton and Jeffrey Wright, 'Westworld' was inspired by Michael Crichton's 1973 film.
---
Also Read: Shows Like 'Counterpart' To Watch If You Miss the Series
---
Synopsis: Howard Silk (J.K. Simmons) is a lowly cog in the bureaucratic machinery of a Berlin-based United Nations spy agency. When Howard discovers that his organization safeguards the secret of a crossing into a parallel dimension, he is thrust into a shadow world of intrigue, danger, and double cross… where the only man he can trust is his near-identical counterpart from this parallel world.
---
Also Read: Shows Like 'The Handmaid's Tale' To Watch After Season 5
---
The Handmaid's Tale (Hulu)
Synopsis: Adapted from the classic novel by Margaret Atwood, The Handmaid's Tale is the story of life in the dystopia of Gilead, a totalitarian society in what was formerly the United States. Facing environmental disasters and a plunging birthrate, Gilead is ruled by a twisted fundamentalism in its militarized 'return to traditional values'. As one of the few remaining fertile women, Offred (Elisabeth Moss) is a Handmaid in the Commander's household, one of the caste of women forced into sexual servitude as a last desperate attempt to repopulate the world. In this terrifying society, Offred must navigate between Commanders, their cruel Wives, domestic Marthas, and her fellow Handmaids – where anyone could be a spy for Gilead – all with one goal: to survive and find the daughter that was taken from her.
---
Also Read: Best Shows Like 'Black Mirror' To Watch While Waiting For Season 6
---
Black Mirror (Netflix)
Synopsis: Black Mirror is an anthology series that taps into our collective unease with the modern world, with each stand-alone episode a sharp, suspenseful tale exploring themes of contemporary techno-paranoia. Without questioning it, technology has transformed all aspects of our lives; in every home; on every desk; in every palm – a plasma screen; a monitor; a Smartphone – a Black Mirror reflecting our 21st Century existence back at us. The series is created and written by Charlie Brooker, and executive produced by Brooker and Annabel Jones.
---
Also Read: Sci-Fi Shows Like 'Altered Carbon' To Watch If You Miss the Series
---
Altered Carbon (Netflix)
Synopsis: In the future, human minds are digitized and downloaded from body to body. Last night, the wealthiest man on Earth, Laurens Bancroft (James Purefoy) was murdered. To investigate his death, he brings back ex-Envoy soldier Takeshi Kovacs (Joel Kinnaman / Will Yun Lee) and in exchange, Bancroft offers Kovacs the chance to live again.
---
Also Read: Shows Like 'Watchmen' To Watch If You Miss the Series
---
Watchmen (HBO Max)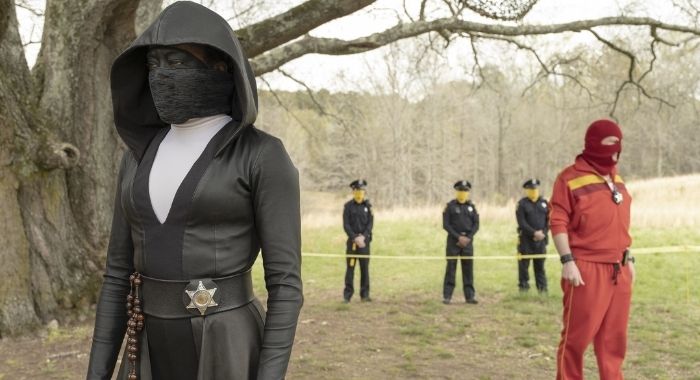 Synopsis: Set in an alternate history where masked vigilantes are treated as outlaws, this epic series from executive producer Damon Lindelof (Lost; HBO's The Leftovers) embraces the nostalgia of the original groundbreaking graphic novel of the same name, while attempting to break new ground of its own. Regina King (HBO's The Leftovers) leads the cast as Angela Abar, who wears two masks; one as a lead detective in The Tulsa Police Force and another as wife and mother of three. The cast also includes Jeremy Irons, Don Johnson, Jean Smart, Tim Blake Nelson, Louis Gossett Jr., Yahya Abdul-Mateen II, Tom Mison, Frances Fisher and Sara Vickers.​
---
Also Read: Shows Like 'Severance' To Watch While Waiting For Season 2
---
Severance (Apple TV+)
Synopsis: In Severance, Mark Scout (Scott) leads a team at Lumon Industries, whose employees have undergone a severance procedure, which surgically divides their memories between their work and personal lives. This daring experiment in 'work-life balance' is called into question as Mark finds himself at the center of an unraveling mystery that will force him to confront the true nature of his work… and of himself.
Dollhouse (Hulu)
Synopsis: Dollhouse follows Echo (Eliza Dushku) an "Active," a member of a highly illegal and underground group who have had their personalities wiped clean so they can be imprinted with any number of new personas. Confined to a secret facility known as the "Dollhouse," Echo and the other Actives including Sierra and Victor carry out engagements assigned by Adelle, one of the Dollhouse leaders. The engagements cater to the wealthy, powerful and connected, and require the Actives to immerse themselves in all manner of scenarios – romantic, criminal, uplifting, dangerous, comical and the occasional "pro bono" good deed. After each scenario, Echo, always under the watchful eye of her handler Boyd, returns to the mysterious Dollhouse where her thoughts, feelings and experiences are erased by Topher, the Dollhouse's genius programmer. Echo enters the next scenario with no memory of before. Or does she?
Synopsis: What makes us human? Can a synthetic creation ever think and feel the way we do? And if so, what do we do about it? Set in a parallel present, the series explores what happens when the line between human and machine becomes blurred. And as the emerging form of intelligent life – the synths – and an established one – humanity – fight for their places in the world, a thrilling multi-stranded narrative evolves which to asks a question with earth-shattering implications: who has the right to determine what it means to be alive? Featuring a top-class cast including Katherine Parkinson, Tom Goodman- Hill, Colin Morgan, Gemma Chan, Ivanno Jeremiah, Emily Berrington, Ruth Bradley and Neil Maskell, Humans is a riveting look at a question that gets just a little less hypothetical every day.
---
Also Read: Shows Like 'Raised By Wolves' To Watch If You Miss the Series
---
Raised By Wolves (HBO Max)
Synopsis: From Executive Producer Ridley Scott, Raised by Wolves centers on two androids tasked with raising human children on a mysterious virgin planet. As the burgeoning colony of humans threatens to be torn apart by religious differences, the androids learn that controlling the beliefs of humans is a treacherous and difficult task.