Netflix's latest brilliant comedy series The Pentaverate, which is created by Mike Myers (Austin Powers) and is based on Myers' 1993 black comedy romantic movie So I Married an Axe Murderer. The Pentaverate tells the story of five men who are in a secret society and have been influencing the world events since the Black Plague in 1937, but things now seem uncertain because a Canadian journalist has been given the task of exposing the secret society and ultimately, save the planet. The Pentaverate is a brilliant comedy mini-series and if you haven't watched it you should watch it right now if you have already binged it here are some more shows like The Pentaverate.
American Vandal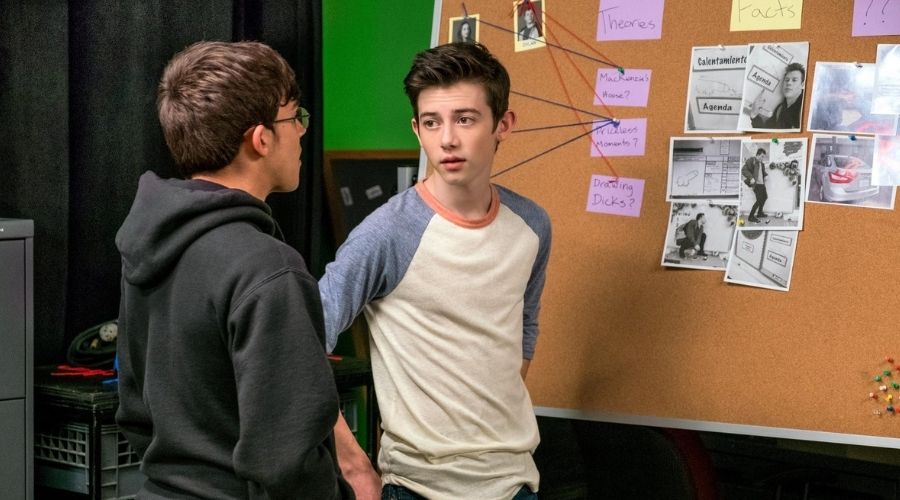 Synopsis: From co-creators Tony Yacenda (Pillow Talking) and Dan Perrault (Honest Trailers), and showrunner Dan Lagana (Zach Stone Is Gonna Be Famous), American Vandal is a half-hour true-crime satire that explores the aftermath of a costly high school prank that left twenty-seven faculty cars vandalized with phallic images. Over the course of the eight-episode season, an aspiring sophomore documentarian investigates the controversial and potentially unjust expulsion of troubled senior (and known dick-drawer) Dylan Maxwell. Not unlike its now iconic true-crime predecessors, the addictive American Vandal will leave one question on everyone's minds until the very end: Who drew the dicks?
Inside Job
Synopsis: Inside Job is an adult animated comedy about the shadow government– and the dysfunctional team whose daily grind is committing the world's conspiracies. From convoluted coverups to secret societies to masked orgy etiquette, navigating office culture at Cognito Inc. can be tricky, especially for anti-social tech genius Reagan Ridley. Even in a workplace filled with reptilian shapeshifters and psychic mushrooms, she's seen as the odd one out for believing the world could be a better place. Reagan thinks she can make a difference, if only she could manage her unhinged, manifesto-writing father, her irresponsible coworkers, and finally snag the promotion she's been dreaming about.
Clark
Synopsis: The fictional drama series Clark follows the man behind the expression "The Stockholm syndrome" on his life journey as he fooled all of Sweden to fall in love with him, despite several counts of drug trafficking, attempted murder, assault, theft and dozens of bank robberies. Based on the truths and lies revealed in Clark Olofsson's autobiography and directed by Jonas Åkerlund, the series provides a fictional take on one of the most controversial personalities in contemporary Swedish history.
Lodge 49
Synopsis: Lodge 49 is a light-hearted, endearing modern fable set in Long Beach, California about a disarmingly optimistic local ex-surfer, Dud (Wyatt Russell), who's drifting after the death of his father and collapse of the family business. Dud finds himself on the doorstep of a rundown fraternal lodge where a middle-aged plumbing salesman and "Luminous Knight" of the order, Ernie (Brent Jennings), welcomes him into a world of cheap beer, easy camaraderie and the promise of Alchemical mysteries that may — or may not — put Dud on the path to recover the idyllic life he's lost.
Truth Seekers
Synopsis: Truth Seekers is a supernatural comedy drama series about a team of part-time paranormal investigators who team up to uncover and film ghost sightings across the UK, sharing their adventures on an online channel for all to see. However, as they stake out haunted churches, underground bunkers and abandoned hospitals with their array of homemade ghost-detecting gizmos, their supernatural experiences grow more frequent, more terrifying and even deadly, as they begin to uncover a conspiracy that could bring about Armageddon for the entire human race. Set in a mysterious world filled with dread and just-out-of-sight monsters, Truth Seekers mixes the very funny with the very scary in an exciting take on genre storytelling, and stars Nick Frost as Gus, Simon Pegg as Dave, Samson Kayo as Elton, Malcolm McDowell as Richard, Emma D'Arcy as Astrid, and Susan Wokoma as Helen.
Murderville
Synopsis: Meet Senior Detective Terry Seattle (Will Arnett), Homicide Division. For Terry, every day means a new murder case and a new celebrity guest star as his partner. But here's the catch: each episode's guest star isn't being given the script. They have no idea what's about to happen to them. Together, the guest star and Terry Seattle will have to improvise their way through the case… but it will be up to each celebrity guest alone to name the killer. Join them as they punch a one-way ticket to Murderville.
The Afterparty
Synopsis: From Academy Award winners Chris Miller and Phil Lord ("Spider-Man: Into the Spider-Verse," "The Lego Movie," "21 Jump Street"), "The Afterparty" is a genre-defying series centered on a murder mystery at a high school reunion, with each episode exploring a different character's account of the fateful evening in question, all through the lens of popular film genres and unique visuals to match the storyteller's perspective.
---
---
Only Murders in the Building
Synopsis: From the minds of Steve Martin, Dan Fogelman & John Hoffman comes a comedic murder-mystery series for the ages. Only Murders in the Building follows three strangers (Steve Martin, Martin Short, and Selena Gomez) who share an obsession with true crime and suddenly find themselves wrapped up in one. When a grisly death occurs inside their exclusive Upper West Side apartment building, the trio suspects murder and employs their precise knowledge of true crime to investigate the truth. As they record a podcast of their own to document the case, the three unravel the complex secrets of the building which stretch back years. Perhaps even more explosive are the lies they tell one another. Soon, the endangered trio comes to realize a killer might be living amongst them as they race to decipher the mounting clues before it's too late.