HBO's 2020 miniseries The Outsider is one of the best supernatural procedural crime drama series out there. Based on Stephen King's novel of the same name and it is developed for television by Richard Price. The series follows a seasoned cop (Ben Mendelsohn) and an investigator (Cynthia Erivo) as they have to question everything they believe in because of a gruesome murder of an 11-year-old boy and the supernatural elements behind it. So, if you miss the horror crime series here are some more shows like The Outsider you could watch.
---
Also Read: Best Mind-Bending Shows Like 'Dark' To Watch If You Miss the Series
---
Dark (Netflix)
Synopsis: Dark is set in a German town in present day where the disappearance of two young children exposes the double lives and fractured relationships among four families. In ten, hour-long episodes, the story takes on a supernatural twist that ties back to the same town in 1986. The series is created by award-winning showrunners Baran bo Odar and Jantje Friese, who previously received critical acclaim for their movie Who am I (2014).
---
Also Read: Best Shows Like 'True Detective' To Watch If You Miss the Series
---
True Detective (HBO Max)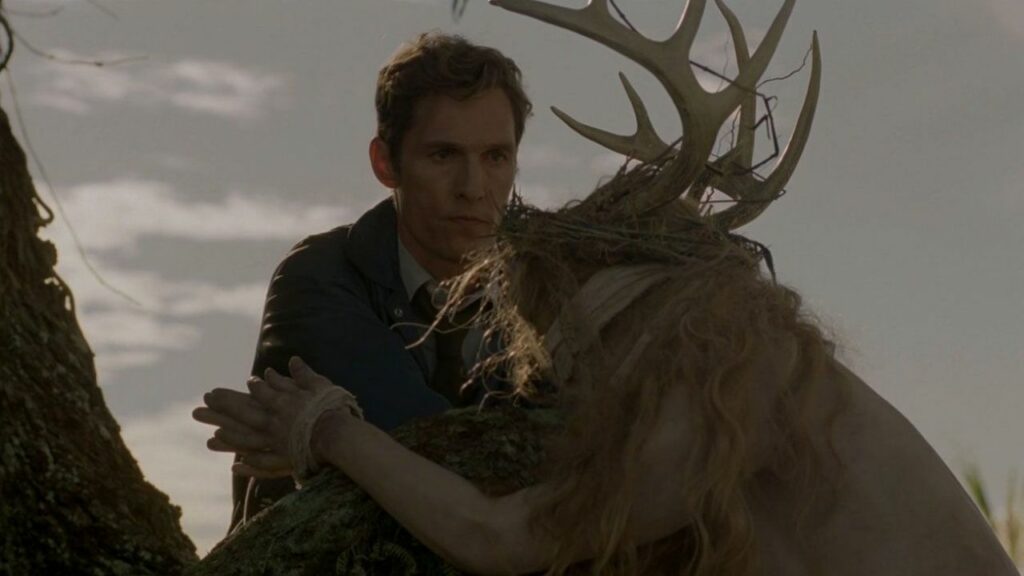 Synopsis: Touch darkness and darkness touches you. From creator/executive producer Nic Pizzolato comes this searing crime drama series that follows troubled cops and the intense investigations that drive them to the edge. Each season features a star-studded new cast involved in cases that will have you on the edge of your seat. In Season 1, it was Matthew McConaughey and Woody Harrelson as two polar opposite cops on the hunt for a serial killer in Louisiana. In Season 2, a bizarre murder case brings together three law-enforcement officers (Colin Farrell, Rachel McAdams, Taylor Kitsch) and a career criminal (Vince Vaughn). Season 3 of the hit series stars Mahershala Ali as a retired detective who has been tormented for 35 years by a case involving the disappearance of a 12-year-old boy and his 10-year-old sister.
---
Also Read: Shows Like 'Castle Rock' To Watch If You Miss the Series
---
Castle Rock (Hulu)
Synopsis: Castle Rock takes viewers into the chilling world of acclaimed best-selling author Stephen King in this psychological horror series from J.J. Abrams' Bad Robot Productions in association with Warner Bros. Television. The drama series stars André Holland (Moonlight, Selma, 42), Melanie Lynskey (Togetherness, Up in the Air), and Bill Skarsgård (It, Atomic Blonde) with Jane Levy (Suburgatory, Shameless) and Sissy Spacek (Carrie, Coal Miner's Daughter) and special guest star Scott Glenn (The Leftovers). A psychological-horror series set in the Stephen King multiverse, Castle Rock combines the mythological scale and intimate character storytelling of King's best-loved works, weaving an epic saga of darkness and light, played out on a few square miles of Maine woodland.
---
Also Read: Shows Like 'Pushing Daisies' To Watch If You Miss the Series
---
Pushing Daisies (HBO Max)
Synopsis: This forensic fairytale follows Ned, a young man with a very special gift. As a boy, Ned discovered that he could return the dead briefly back to life with just one touch. Now a pie maker, Ned puts his ability to good use, not only touching dead fruit and making it ripe with everlasting flavor, but working with a private investigator to crack murder cases by raising the dead and getting them to name their killers. But the tale gets complicated when Ned brings his childhood sweetheart, Chuck, back from the dead–and keeps her alive. Chuck becomes the third partner in Ned and Emerson's private-investigation enterprise, encouraging them to use Ned's skills for good, not just for profit. Life would be perfect for Ned and Chuck, except for one cruel twist: If he ever touches her again, she'll go back to being dead, this time for good.
---
Also Read: Best Shows Like 'Twin Peaks' To Watch If You Miss the Series
---
Synopsis: "She's dead. Wrapped in plastic." Date: Friday, February 24, 1989: Homecoming Queen Laura Palmer is found dead, washed up on a riverbank, and wrapped in plastic sheeting. FBI Special Agent Dale Cooper is called in to investigate the murder of this young woman in the small, Northwestern town of Twin Peaks. What he doesn't know is that in Twin Peaks, no one is innocent.
---
Also Read: Modern Shows Like 'Twin Peaks' To Watch If You Miss the Series
---
The Lost Room (YouTube & Tubi TV)
Synopsis: Pittsburgh detective Joe Miller embarks on a desperate search for his young daughter, Anna, who disappeared from an eerie room in an abandoned New Mexico motel. That room now exists outside of normal time and space, and Joe must find a series of occult objects to use as tools to locate the key to opening the `lost room'. His quest is complicated by others who seek to find the objects for their own hidden motives.
Synopsis: Lots of people find themselves leading a double life… but none quite like this. After Detective Michael Britten (Jason Isaacs) wakes up from a car accident with his wife and teenage son, he learns the devastating news that his wife died in the crash. Trying to put the pieces of his life back together, he wakes up a few days later to realize that his wife is very much alive and his son died in the accident! Did he lose his wife or his son? Or neither of them? Michael goes back to work solving crimes while trying to put things back on a "normal" track, but alternating between realities provides some challenges. Michael begins seeing two different therapists to help him sort things out, but then again why would he want either "reality" to go away when the totality of both means having his family complete? From groundbreaking writer Kyle Killen comes a drama about the power of the mind, where the inception of life is a mystery and reality might just be overrated.
---
Also Read: Horror Shows Like 'The Haunting of Hill House' To Watch If You Miss the Series
---
The Haunting of Hill House (Netflix)
Synopsis: The Haunting of Hill House is a modern reimagining of Shirley Jackson's legendary novel of the same name, about five siblings who grew up in the most famous hauntedhouse in America. Now adults, they're reunited by the suicide of their youngest sister, which forces them to finally confront the ghosts of their own pasts… some which lurk in their minds… and some which may really be lurking in the shadows of the iconic Hill House.
Kolchak: The Night Stalker (Peacock)
Synopsis: Kolchak: The Night Stalker is a classic supernatural drama that follows Carl Kolchak (Darren McGavin, "A Christmas Story"), an intrepid reporter specializing in occult cases. In his investigations, he looks into mysterious crimes with unusual causes and encounters a host of monsters and villains – ranging from werewolves to Satan worshipers to Helen of Troy.
Synopsis: 1938 Los Angeles is a time and place deeply infused with social and political tension. When a grisly murder shocks the city, Detective Tiago Vega and his partner Lewis Michener become embroiled in an epic story that reflects the rich history of Los Angeles: from the building of the city's first freeways and its deep traditions of Mexican-American folklore, to the dangerous espionage actions of the Third Reich and the rise of radio evangelism. Before long, Tiago and his family are grappling with powerful forces that threaten to tear them apart.