The Originals is one of the best shows about family and bloody-bloody vampires. Based on the characters from The Vampire Diaries, the fantasy series follows the Mikaelsons, the original vampire families. The Originals sees the most powerful brother of the Mikaelsons Klaus, trying to take back New Orleans which he believes was always his. The Originals premiered in 2013 and captured the hearts and minds of the audience for five whole seasons and in 2018 the series ended with a spectacular and heartbreaking season finale. So, if you miss the series here are some shows like The Originals you could watch.
---
Also Read: Best Shows Like 'The Vampire Diaries' To Watch If You Miss the Series
---
The Vampire Diaries (HBO Max & Peacock)
Synopsis: The Vampire Diaries is yours for eternity! This passionate eight-volume collection traces the supernatural vampire love triangle between Elena Gilbert and the Salvatore brothers Stefan and Damon – from their first meeting at Mystic Falls High, through college, to the shocking return of Elena's doppelganger Katherine Pierce, who's hell-bent on revenge and destroying Mystic Falls. Elena's diary entries filled with tragic loss and romantic longing, Stefan's steadfast devotion to right and wrong, and Damon's cynical, devil-may-care attitude are the touchstones of this pulsing, action-packed series that grabbed vampire-loving viewers worldwide by the heart…and never let go.
---
Also Read: Shows Like 'Legacies' To Watch If You Miss the Series
---
Legacies (Netflix)
Synopsis: For the last decade, the iconic heroes and villains of The Vampire Diaries and The Originals have captivated audiences worldwide. They left an enduring legacy of love and family in their wake, which continues in Legacies, a thrilling new drama that tells the story of the next generation of supernatural beings at The Salvatore School for the Young and Gifted. It's here that Klaus Mikaelson's daughter, 17-year-old Hope Mikaelson; Alaric Saltzman's twins, Lizzie and Josie Saltzman; and other young adults — including political scion MG and the mysterious Landon Kirby — come of age in the most unconventional way possible, nurtured to be their best selves…in spite of their worst impulses. A supernatural teen soap from executive producer/writer Julie Plec (The Vampire Diaries, The Originals), Legacies blends humor, heart and horror, as teens with terrifying supernatural origins battle not only their demons within, but also the demons that endanger the world at large. Will these young witches, vampires and werewolves become the heroes they want to be — or the villains they were born to be? As they fight to protect their secret, their town of Mystic Falls and eventually the world, they will have to rely on ancient folklore and tales to learn how to battle their far-reaching enemies.
---
Also Read: Shows Like 'Supernatural' To Watch If You Miss the Series
---
Supernatural (Netflix)
Synopsis: Sam (Jared Padalecki) and Dean (Jensen Ackles) spend their lives on the road, battling every kind of otherworldly threat. Over the years, in dozens of bloody adventures, they face everything from the yellow-eyed demon that killed their mother to vampires, ghosts, shapeshifters, angels and fallen gods. They even come face to face with Lucifer and God themselves. With the help of allies both human and nonhuman – including the fallen angel Castiel (Misha Collins) – they discover that every threat they vanquish opens a new door for evil to enter. As dawn arrives, after endless struggle and sacrifice to defeat the world's evils, they know that, come nightfall, something otherworldly – something supernatural – will claw its way from the shadows, demanding their attention.
---
Also Read: Shows Like 'The Order' To Watch If You Miss the Series
---
The Order (Netflix)
Synopsis: At Belgrave University, college freshman Jack Morton joins a fabled secret society where he's thrust into a dangerous game of life or death. As Jack goes deeper, he uncovers dark family secrets and an underground battle between werewolves and the magical dark arts.
---
Also Read: Shows Like 'Buffy The Vampire Slayer' To Watch If You Miss the Series
---
Buffy The Vampire Slayer (Hulu & The Roku Channel)
Synopsis: After moving to Sunnydale, California, Buffy Anne Summers just wants to be a normal teenager. Back in Los Angeles, her first Watcher had died; she inadvertently burned down the gymnasium at her old high school; and her parents got a divorce. The move to Sunnydale is supposed to give both her and her mother, Joyce, a clean slate. But then she meets the school librarian, Rupert Giles, and quickly learns there is no escaping her destiny. With Giles as her new Watcher, she reluctantly steps back into her role as the Slayer. But this time she is not fighting alone. She now has an inner circle of special friends– Willow, Xander, Cordelia, and a mysterious young man named Angel– ready to join the fight and drive in a stake or two if need be.
---
Also Read: Shows Like 'Wynonna Earp' To Watch If You Miss the Series
---
Wynonna Earp (Netflix)
Synopsis: Demon outlaws? Magic guns? Spiked coffee? Just another day at the office for motorcycle riding, whisky-slinging, fast-talking heroine Wynonna Earp. After a troubled adolescence spent in and out of juvie, she's returned to her hometown of Purgatory, hellbent on ending the family curse, which resurrects every one of the villains her legendary ancestor dispatched.
---
Also Read: Shows Like 'True Blood' To Watch If You Miss the Series
---
True Blood (HBO Max)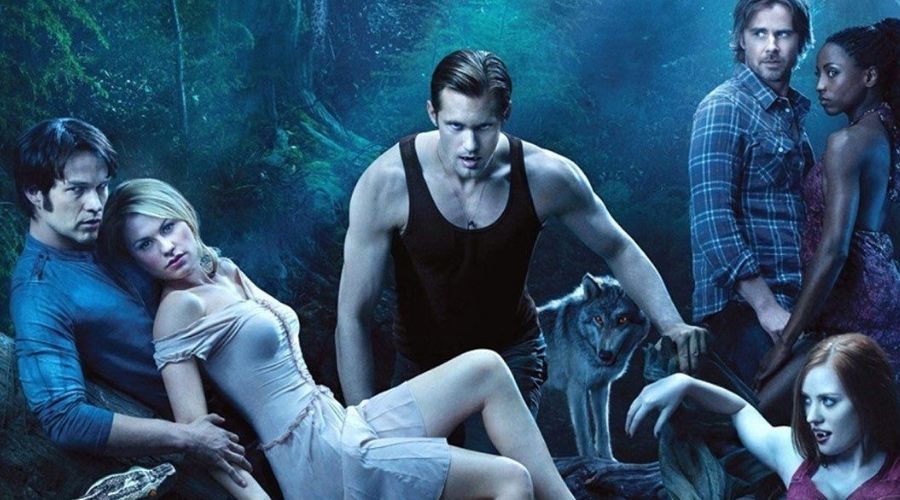 Synopsis: In the near-future, vampires have come out of the coffin…no longer in need of a human fix. But can a young Louisiana waitress (Anna Paquin) forge a love match with a bloodsucker? HBO presents this drama series created by Alan Ball ('Six Feet Under') and based on the best-selling Sookie Stackhouse novels by Charlaine Harris.
---
Also Read: Witchy Supernatural Shows Like 'Chilling Adventures of Sabrina' You Should Watch
---
Chilling Adventures of Sabrina (Netflix)
Synopsis: Chilling Adventures of Sabrina imagines the origin and adventures of Sabrina the Teenage Witch as a dark coming-of-age story that traffics in horror, the occult and, of course, witchcraft. This adaptation finds Sabrina wrestling to reconcile her dual nature —half-witch, half-mortal —while standing against the evil forces that threaten her, her family and the daylight world humans inhabit.
---
Also Read: Shows Like 'Penny Dreadful' To Watch If You Miss the Series
---
Synopsis: Some of literature's most terrifying characters, including Dr. Frankenstein and his monster, Dorian Gray, and iconic figures from the novel Dracula are lurking in the darkest corners of Victorian London. They are joined by a core of original characters in a complex, frightening new narrative. Penny Dreadful is a psychological thriller filled with dark mystery and suspense, where personal demons from the past can be stronger than vampires, evil spirits and immortal beasts.
---
Also Read: Shows Like 'Shadowhunters' To Watch If You Miss the Series
---
Shadowhunters (Hulu)
Synopsis: Based on the bestselling young adult fantasy book series The Mortal Instruments by Cassandra Clare, Shadowhunters' follows 18-year-old Clary Fray, who finds out on her birthday that she is not who she thinks she is but rather comes from a long line of Shadowhunters – human-angel hybrids who hunt down demons. When her mother Jocelyn is kidnapped, Clary is thrown into the world of demon hunting with mysterious Shadowhunter Jace and her best friend, Simon. Now living among faeries, warlocks, vampires and werewolves, Clary begins a journey of self-discovery as she learns more about her past and what her future may hold.