The Office is the best sitcom ever made and millions of fans agree with that statement. The Office is based on a UK series of the same name and it follows the employees of a branch of a paper company located in Scranton. Michael Scott is the branch manager who tries to keep everyone happy but he is not really good at it and mostly is an annoyance, and then there is Jim a salesman and the audience's window into this crazy town, then there is Dwight another salesman, and arguably the heart of the series and Pam the receptionist. There are many more brilliant characters providing tons of laughter to the fans. The Office premiered in 2005 and ended its 9-season run in 2013 and since then many people have tried to make the magic happen again in many different shows but they haven't quite figured it out yet. So, if you also miss the series here are 10 comedy shows you should watch.
Synopsis: When disgraced Harvard philosophy scholar Jack Griffin (Glenn Howerton) loses out on his dream job, he is forced to return to Toledo, Ohio, and work as a high school Advanced Placement biology teacher at Whitlock High School. Jack refuses to teach any biology and instead uses his honor students to help him get revenge on his rival. Principal Durbin (Patton Oswalt) struggles to control the force of nature that is Jack Griffin.
Synopsis: In this outrageous fish-out-of-water comedy, Josh Segal, a bright-eyed New York lawyer, heads to a tiny Southern town for his first big case. His mission? To defend an eccentric, "rollercizing" poetry professor (John Lithgow, 3rd Rock from the Sun) accused of the bizarre murder of his beloved wife. Settling into his makeshift office behind a taxidermy shop and meeting his quirky team of local misfits, Josh suspects that winning his first big case will not be easy—especially when his client is always making himself look guilty. "Making a Murderer" can be funny!
The Office UK (Hulu)
Synopsis: The Office is a scathing satire of corporate life – full of backfiring practical jokes, failed flirting and all around bad behavior. Starring Ricky Gervais and Martin Freeman, this mockumentary series is one of the most renowned comedies of all time.
---
Also Read: Shows Like 'Space Force' To Watch If You Miss the Series
---
Space Force (Netflix)
Synopsis: A decorated pilot with dreams of running the Air Force, four-star general Mark R. Naird (Steve Carell) is thrown for a loop when he finds himself tapped to lead the newly formed sixth branch of the US Armed Forces: Space Force. Skeptical but dedicated, Mark uproots his family and moves to a remote base in Colorado where he and a colorful team of scientists and "Spacemen" are tasked by the White House with getting American boots on the moon (again) in a hurry and achieving total space dominance.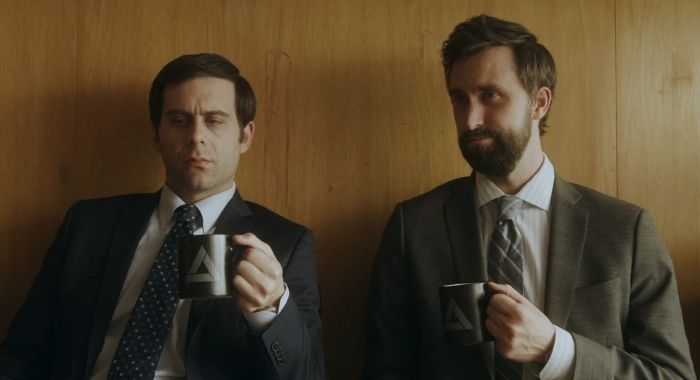 Synopsis: It's another day at heartless, multinational corporate hellhole Hampton DeVille, where junior executives-in-training Matt and Jake are at the beck and call of tyrannical CEO Christian DeVille and his top deputies, brown-nosers John and Kate. Working their way through an ever-revolving series of disasters seems to be Matt and Jake's specialty, and their only ally is human resources rep Grace, who is strung out by Hampton's toxic culture. The dark, edgy comedy is the brainchild of writers/executive producers Matt Ingebretson and Jake Weisman, who star as their namesake characters.
---
Also Read: Shows Like 'Superstore' To Watch If You Miss the Series
---
Synopsis: From a producer of The Office comes Superstore, a hilarious workplace comedy venturing into the world of retail hell. Starring America Ferrera (Ugly Betty) and Ben Feldman (Mad Men, A to Z), the giant megastore is staffed by employees ranging from bright-eyed newbies and the seen-it-all veterans, to the clueless summer hires and the in-it-for-life managers. Together they tackle the day-to-day grind of rabid bargain hunters, riot-causing sales and nap-worthy training sessions.
---
Also Read: Best Shows Like 'Brooklyn Nine-Nine' You Should Watch
---
Brooklyn Nine-Nine (Peacock)
Synopsis: From Dan Goor and Mike Schur, producers of The Office and Parks and Recreation, comes the hilarious Golden Globe® Award-winning comedy, Brooklyn Nine-Nine. Jake Peralta (Andy Samberg, Saturday Night Live) is a Brooklyn detective with a gift for closing cases and little respect for authority. When no-nonsense commanding officer Raymond Holt (Andre Braugher, Homicide: Life on the Street) joins the 99th precinct with something to prove, the two go head to head.
---
Also Read: Shows Like 'Community' To Watch While Waiting For The Movie (#AndAMovie)
---
Community (Netflix & Hulu)
Synopsis: From Dan Harmon (The Sarah Silverman Program) and Emmy Award-winning directors Joe and Anthony Russo (Arrested Development) comes Community, a smart comedy series about a band of misfits who attend Greendale Community College. At the center of the group is Jeff Winger (Joel McHale, The Soup), a fast-talkin' lawyer whose degree has been revoked. With some help from his fellow classmates, Winger forms a study group who eventually learn more about themselves than their course work.
---
Also Read: Comedy Shows Like 'Abbott Elementary' To Watch While Waiting For Season 3
---
Abbott Elementary (Hulu & HBO Max)
Synopsis: In this workplace comedy, a group of dedicated, passionate teachers—and a slightly tone-deaf principal—are brought together in a Philadelphia public school where, despite the odds stacked against them, they are determined to help their students succeed in life. Though these incredible public servants may be outnumbered and underfunded, they love what they do — even if they don't love the school district's less-than-stellar attitude toward educating children. "Abbott Elementary" stars Quinta Brunson as Janine Teagues, Tyler James Williams as Gregory Eddie, Janelle James as Ava Coleman, Chris Perfetti as Jacob Hill, Lisa Ann Walter as Melissa Schemmenti and Sheryl Lee Ralph as Barbara Howard.
The IT Crowd (Netflix)
Synopsis: Roy and Moss toil in the squalid basement of a huge company, fielding IT help desk calls. Roy has a lousy attitude coupled with an eye for the ladies, while Moss is dressed by his mother and has an aerosol can of water clipped to his belt with which to spray his ear when it gets hot. Into their life of 'users', pizza, science fiction and firewalls comes middle manager Jen, a spunky can-do career gal who doesn't know one end of a laptop from the other. Can she introduce real life to men who email the fire brigade in an emergency, who invent a psycho for an internet dating site and display sympathetic PMS symptoms once a month? 'The IT Crowd'. It's more than a way of life, it's a sitcom
---
Also Read: Shows Like 'Parks and Recreation' To Watch If You Miss the Series.
---
Parks and Recreation (Peacock)
Synopsis: From the people who brought you The Office comes Parks and Recreation, the hilarious saga of government employees and local citizens turning a neighborhood hole in the ground into a new public park. Comedy superstar Amy Poehler (Saturday Night Live, Baby Mama) stars as Leslie Knope, an ambitious and hopeful small town government worker, whose dreams are way bigger than her political talents. Created by Primetime Emmy® Award winners Greg Daniels (The Office, King of the Hill, The Simpsons) and Michael Schur (The Office, SNL), and featuring a stellar ensemble cast, Parks and Recreation is a "genuinely funny comedy" (Daniel Carlson, Hollywood Reporter) about bureaucracy, hope and America at the dawn of the Obama age.
---
Also Read: Best Shows Like 'Arrested Development' To Watch If You Miss the Series
---
Arrested Development (Netflix & Hulu)
Synopsis: Holding the Bluths together just barely is son Michael Bluth (Jason Bateman), the only normal guy in a family that's chock full of nuts. Hardworking and sensible, Michael's certain he's going to be given control of his family's Enron-style corporation upon the retirement of his father (Jeffrey Tambor). The fact that he's passed over instead for his mother (Jessica Walter) is only a blip when compared to his father's immediate arrest for dubious accounting practices, and the resulting freeze on the family's previously limitless wealth. Bereft of money, and even less family love, the Bluths have to band together in their moment of need–not easy when everyone's looking out for number 1. In addition to his scabrous parents, Michael has to contend with his lothario older brother (Will Arnett), his basically useless younger brother (Tony Hale), his greedy twin sister (Portia DeRossi), and her sexually ambiguous husband (David Cross). Michael's only comrade in sanity is his son George Michael (Michael Cera), but then again, the teenage boy harbors a secret crush on his cousin (Alia Shawkat).