The Mick is one of the most underrated shows that everybody should have watched but no one did. The brilliant Fox series stars the wonderfully hilarious Kaitlin Olson in the lead role of Mackenzie Murphy, a woman who has had a hard life but when she moves into her rich sister's home to take care of their kids she realizes that they are spoilt. The Mick ran for two wonderful seasons ending its run in 2018. So, if you miss the series here are some shows you could watch next.
---
Also Read: Sitcoms Like 'Malcolm in the Middle' For More Family Fun
---
Malcolm in the Middle (Hulu)
Synopsis: Created by Emmy® Award-winning writer Linwood Boomer, this inventive half-hour series is seen through the eyes of Malcolm (Frankie Muniz), a regular high school kid trying to navigate his way through life despite the various obstacles thrown in his way – a complete misunderstanding of girls, the constant burden of masterminding plans to get himself and his brothers into or out of trouble, and a miserable job at the Lucky Aide…not to mention a severe case of teen angst. Although Malcolm has a genius IQ, he can't seem to make sense of the opposite sex, much less his embarrassing family. Lois (Jane Kaczmarek) is the outspoken, opinionated mom, who still manages to rule the roost even though her boys are growing wise to her crafty ways. Hal (Bryan Cranston), a dad who is just a bumbling, big kid at heart, often finds himself creating more chaos than his five boys combined. Reese (Justin Berfield) has mastered the art of a perfect blank stare, and makes up for his lack of intelligence with deviance. Francis (Christopher Kennedy Masterson), Malcolm's oldest and favorite brother, is willing to move from Alabama to Alaska to New Mexico – as long as it keeps him from moving back home. Dewey (Erik Per Sullivan), no longer the youngest, has learned his tricks from the best and often pulls the wool right over his brothers' eyes. And then there's Jamie, the youngest member…and family scapegoat.
---
Also Read: Shows Like 'A.P. Bio' To Watch If You Miss the Series
---
Synopsis: When disgraced Harvard philosophy scholar Jack Griffin (Glenn Howerton) loses out on his dream job, he is forced to return to Toledo, Ohio, and work as a high school Advanced Placement biology teacher at Whitlock High School. Jack refuses to teach any biology and instead uses his honor students to help him get revenge on his rival. Principal Durbin (Patton Oswalt) struggles to control the force of nature that is Jack Griffin.
Synopsis: When Ben comes to crash on Kate's couch for a few days, he finds a sad state of affairs. For the first time in their lives, Kate needs Ben's help, and he's determined to bring some much-needed chaos into her overly stable world. He starts by looking after Maddie so Kate can get back to making mistakes, since the one real "mistake" she made turned out to be the best thing that ever happened.
---
Also Read: Comedy Shows Like 'Modern Family' To Watch If You Miss the Series
---
Modern Family (Hulu)
Modern Family is one of the longest-running sitcoms and it follows the Dunphy and Pritchett family. The series is a mockumentary-style comedy and it follows Jay Pritchett (Ed O'Neill), his new wife Gloria (Sofia Vergara), his stepson Manny (Rico Rodriguez), and his daughters family Claire Dunphy (Julie Bowen), her husband and the best father Phil Dunphy (Ty Burrell), their children Haley (Sarah Hyland), Alex (Ariel Winter), and Luke (Nolan Gould). The series also follows Jay's son Mitchell (Jesse Tyler Ferguson), his husband Cameron (Eric Stonestreet), and their adopted daughter Lily (Aubrey Anderson-Emmons). Modern Family ran for 11 seasons ending with a banger of a finale in 2020.
The Kids are Alright (Hulu)
Synopsis: Set in the 1970s, this ensemble comedy follows a traditional Irish-Catholic family, the Clearys, as they navigate big and small changes during one of America's most turbulent decades. In a working-class neighborhood outside Los Angeles, Mike and Peggy raise eight boisterous boys who live out their days with little supervision. The household is turned upside down as the times are changing and this family will never be the same. There are 10 people, three bedrooms, one bathroom and everyone in it for themselves.
---
Also Read: Shows Like 'Derry Girls' To Watch If You Miss the Series
---
Derry Girls (Netflix)
Synopsis: Set in Derry Northern Ireland in the 1990s, Derry Girls is a candid, one-of-a-kind comedy about what it's like to be a teenage girl living amongst conflict. It's a warm, laugh out loud funny and honest look at the lives of an ordinary family living through the Troubles in the early nineties. Armed police in armoured Land Rovers, British Army check points and 'peace' walls are all an everyday reality for Erin. But, despite all that, she has other things to worry about, like the fact the boy she's in love with (actually in LOVE with), doesn't know she exists. Or that her Ma and Aunt Sarah make her include her weirdo cousin in EVERYTHING she does. Or that head teacher, Sister Michael, refuses to acknowledge Erin as a literary genius. Not to mention the fact that her second best friend has ALMOST had sex, whereas Erin's never even kissed anyone yet. Like all teenage girls, Erin has her own Troubles. Derry Girls is based on writer Lisa McGee's (Indian Summers, Being Human) own experiences of growing up in Northern Ireland amidst immense civil conflict.
---
Also Read: Comedy Shows Like 'It's Always Sunny in Philadelphia' To Watch While Waiting For Season 16
---
It's Always Sunny in Philadelphia (Hulu)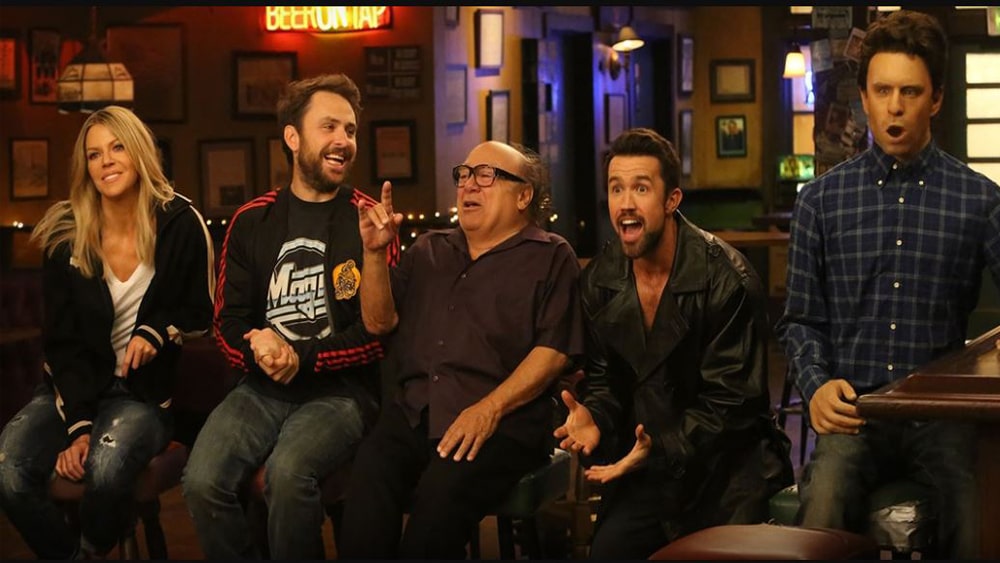 Synopsis: It's Always Sunny in Philadelphia features Mac, Dennis, Charlie, Sweet Dee and Frank, five ne'er-do-wells who own and operate Paddy's Pub in Philadelphia. Their constant scheming usually lands them in a world of hurt, yet they never seem to learn from their mistakes. As they say, some things never change. So prepare for more depraved schemes, half-baked arguments, and absurdly underhanded plots to subvert one another.