The Marvelous Mrs. Maisel is one of the best and most inventive comedy series ever made and it has proven that by winning multiple awards and garnering praise from both the audience and the critics. The Prime Video series is a brilliant feel-good series that recently concluded its fifth and final season. So, we prepared a list of the best shows like The Marvelous Mrs. Maisel you could watch if you have binged the final season and already miss the series.
---
Also Read: Best Shows Like '30 Rock' To Watch If You Miss the Series
---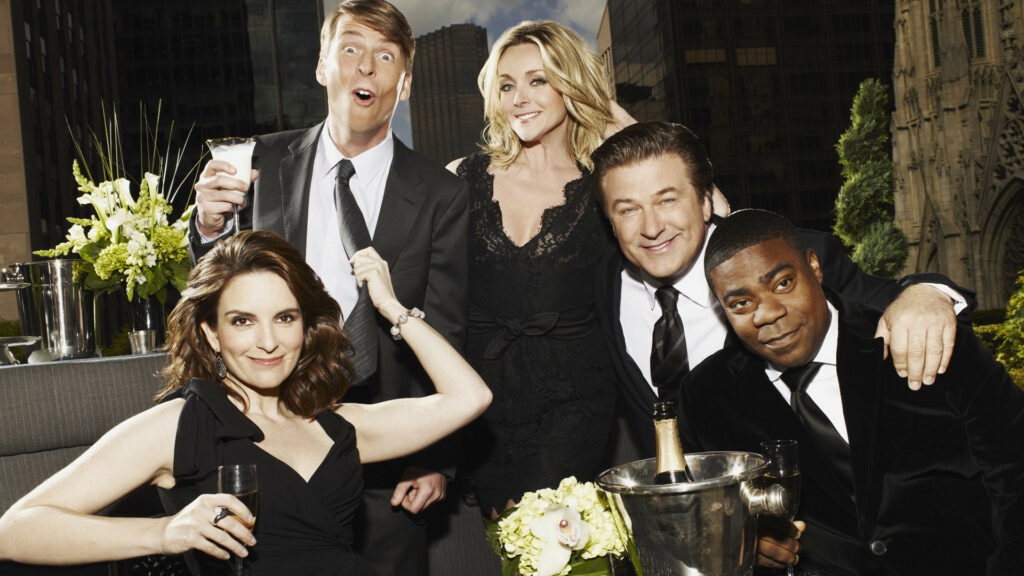 Synopsis: Multiple award-winning comedy "30 Rock" is told through the comedic voice of Emmy and two-time Golden Globe winner Tina Fey as variety show producer Liz Lemon. The series also features two-time Emmy and three-time Golden Globe winner Alec Baldwin as top network executive Jack Donaghy and Emmy nominee Tracy Morgan as Tracy Jordan, the unpredictable star of Lemon's hit variety show, "TGS with Tracy Jordan." Lemon constantly has her hands full, juggling corporate interference from Donaghy and off-the-handle star antics from Jordan, all while attempting to salvage her own personal life. Also rounding out the cast are three-time Emmy nominee Jane Krakowski as Jenna Maroney, the co-star of "TGS," Scott Adsit as the variety show's producer Pete Hornberger, Emmy nominee Jack McBrayer as Kenneth, the over-eager and effortlessly endearing NBC page, Judah Friedlander as Frank, the sardonic slacker on the writing staff, and Keith Powell as Toofer, the sophisticated yet sarcastic, Harvard-alum writer. "30 Rock" has welcomed an impressive array of guest stars, including Elaine Stritch, who garnered a 2007 Emmy Award for her performance as Jack Donaghy's mother and Tim Conway, who won in 2008. Other Emmy-nominated guest stars include Alan Alda, Jennifer Aniston, Will Arnett, Elizabeth Banks, Steve Buscemi, Matt Damon, Edie Falco, Carrie Fisher, John Hamm, Steve Martin and Rip Torn.
---
Also Read: Comedy Shows Like 'Broad City' To Watch If You Miss the Series
---
Broad City (Hulu)
Synopsis: Hack Into Broad City is an exclusive web series that eavesdrops on the candid, often-outrageous video chat sessions between Abbi and Ilana, the two best friends at the heart of Broad City.
---
Also Read: Shows Like 'Orange is the New Black' To Watch If You Miss the Series
---
Orange is the New Black (Netflix)
Synopsis: Created by Jenji Kohan (Weeds), Orange is The New Black is a woman's prison dramedy that takes no prisoners. Based on the acclaimed memoir of the same name by Piper Kerman, the series follows engaged Brooklynite Piper Chapman (Taylor Schilling), who decade-long relationship with a drug runner, Alex (Laura Prepon), results in her arrest and a 15 month long detention in a federal penitentiary. To pay her debt to society, Piiper must trade her comfortable New York life with her fiance, Larry (Jason Biggs), for an orange prison jumpsuit and a baffling prison culture where she is forced to question everything she believes about herself and the world at large. As she struggles to adjust to her new reality, she finds unexpected laughter, tears, conflict and camaraderie amidst an eccentric and outspoken group of inmates.
---
Also Read: Shows Like 'Parks and Recreation' To Watch If You Miss the Series
---
Parks and Recreation (Peacock)
Synopsis: From the people who brought you The Office comes Parks and Recreation, the hilarious saga of government employees and local citizens turning a neighborhood hole in the ground into a new public park. Comedy superstar Amy Poehler (Saturday Night Live, Baby Mama) stars as Leslie Knope, an ambitious and hopeful small town government worker, whose dreams are way bigger than her political talents. Created by Primetime Emmy® Award winners Greg Daniels (The Office, King of the Hill, The Simpsons) and Michael Schur (The Office, SNL), and featuring a stellar ensemble cast, Parks and Recreation is a "genuinely funny comedy" (Daniel Carlson, Hollywood Reporter) about bureaucracy, hope and America at the dawn of the Obama age.
---
Also Read: Comedy Shows Like 'Unbreakable Kimmy Schmidt' To Watch If You Miss the Series
---
Unbreakable Kimmy Schmidt (Netflix)
Synopsis: From the executive producers of 30 Rock (Tina Fey and Robert Carlock) comes the "wise, wicked comedy" (Jeff Jensen, EW), Unbreakable Kimmy Schmidt. Rescued after fifteen years in an underground doomsday cult, Kimmy (Ellie Kemper) decides to rebuild her life in New York City armed with only a fifth-grade education and a firm belief that truly anything is possible. She quickly finds a roommate, Titus Andromedon (Primetime Emmy® nominee Tituss Burgess), a job working for a spoiled Manhattan mom, Jacqueline Voorhees (Primetime Emmy® nominee Jane Krakowski), and a new beginning. Watch season one of the Primetime Emmy®-nominated series on these shiny discs that Kimmy is only now just learning about!
---
Also Read: Shows Like 'Insecure' To Watch If You Miss the Series
---
Insecure (Max)
Synopsis: Created by and starring Issa Rae, this comedy series looks at the friendship of two modern-day black women, as well as all of their uncomfortable experiences and racy tribulations. As they navigate the tricky professional and personal terrain of Los Angeles, best friends Issa (Rae) and Molly (Yvonne Orji) face the challenges of being black women who defy all stereotypes.
---
Also Read: Shows Like 'Crazy Ex-Girlfriend' To Watch If You Miss the Series
---
Crazy Ex-Girlfriend (Netflix & Apple TV)
Synopsis: Rebecca Bunch is a successful, driven, and possibly crazy young woman who impulsively gives up everything – her partnership at a prestigious law firm and her upscale apartment in Manhattan – in a desperate attempt to find love and happiness in that exotic hotbed of romance and adventure: suburban West Covina. Calif. (it's only two hours from the beach! Four in traffic).
Synopsis: Weeds is a single-camera comedy about a single mother who makes ends meet by selling marijuana in the fictional suburb of Agrestic, California. The series exposes the dirty little secrets that lie behind the pristine lawns and shiny closed doors of homes in this gated community. Mary Louise Parker stars as the suburban mom who resorts to selling weed to support her family after her husband unexpectedly dies.
---
Also Read: Shows Like 'Fleabag' If You Miss the Series
---
Synopsis: Fleabag is a hilarious and poignant window into the mind of a dry-witted, sexual, angry, grief-riddled woman, as she hurls herself at modern living in London. Award-winning playwright Phoebe Waller-Bridge writes and stars as Fleabag, an unfiltered woman trying to heal, while rejecting anyone who tries to help her and keeping up her bravado all along. Unfettered, unfiltered, and based on the play that won the Fringe First Award at Edinburgh, Fleabag is the thoroughly disarming confessional of a woman so totally detached, she's utterly lost.
Chewing Gum (Netflix)
Synopsis: Tracey Gordon is a 24-year-old religious Beyoncé-obsessed virgin. Growing up through the church, with her strict preacher Mother, she has ended up rather 'underdeveloped' in certain areas – but Tracey wants more. We follow Tracey as she embarks on her journey into adulthood, crashing her way through what she should and shouldn't be doing.