Everybody wonders about the biggest events of history, and what would have happened if they didn't pan out as they did. Based on Philip K. Dick's award-winning novel, this brilliant Prime Video alternate history drama The Man in the High Castle wonders what if the Allied Powers had lost World War II. The Rufus Sewell series ran for four brilliant seasons and if you still miss the series here are some more shows you should watch next.
11.22.63 (Hulu)
Synopsis: Imagine having the power to change history. Would you journey down the "rabbit hole?" This eight –part event series follows Jake Epping (James Franco), an ordinary high school teacher, presented with the unthinkable mission of traveling back in time to prevent the assassination of John F. Kennedy on November 22, 1963. Jake travels to the past in order to solve the most enduring mystery of the 20th century: who killed JFK, and could it have been stopped? But as Jake will learn, the past does not want to be changed. And trying to divert the course of history may prove fatal.
---
Also Read: Shows Like 'Watchmen' To Watch If You Miss the Series
---
Watchmen (HBO Max)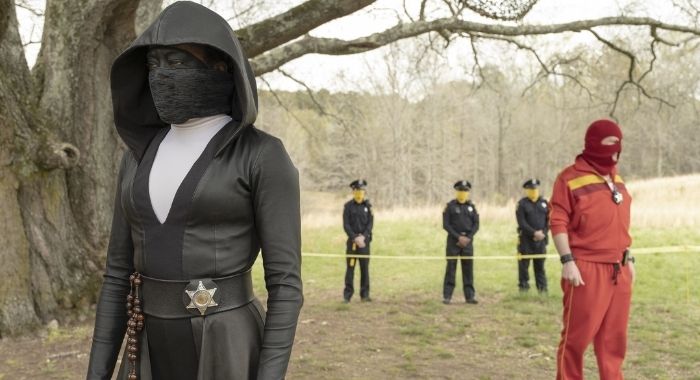 Synopsis: Set in an alternate history where masked vigilantes are treated as outlaws, this epic series from executive producer Damon Lindelof (Lost; HBO's The Leftovers) embraces the nostalgia of the original groundbreaking graphic novel of the same name, while attempting to break new ground of its own. Regina King (HBO's The Leftovers) leads the cast as Angela Abar, who wears two masks; one as a lead detective in The Tulsa Police Force and another as wife and mother of three. The cast also includes Jeremy Irons, Don Johnson, Jean Smart, Tim Blake Nelson, Louis Gossett Jr., Yahya Abdul-Mateen II, Tom Mison, Frances Fisher and Sara Vickers.​
The Plot Against America (HBO Max)
Synopsis: Based on a novel by Philip Roth published in 2004. It is an alternative history in which Franklin D. Roosevelt is defeated in the presidential election of 1940 by Charles Lindbergh. This limited-series follows the fortunes of the Roth family during the Lindbergh presidency, as antisemitism becomes more accepted in American life and Jewish-American families like the Roths are persecuted on various levels.
Synopsis: The Second World War's Battle of Britain has ended in victory for Hitler's Germany and the population of 1940s Britain struggles to adjust to life under Nazi occupation. Detective Douglas Archer, forced to work under the brutal SS in London, is determined to continue to do his job in the service of his country.
---
Also Read: Shows Like 'Hunters' To Watch While Waiting For Season 2
---
Synopsis: Hunters, created by David Weil, premiered exclusively February 21, 2020 on Prime Video. Executive produced by Academy Award-winner Jordan Peele and led by legendary Academy Award-winner Al Pacino and Logan Lerman, Hunters follows a diverse band of Nazi hunters living in 1977 New York City. The Hunters, as they're known, have discovered that hundreds of high-ranking Nazi officials are living among us and conspiring to create a Fourth Reich in the United States. The eclectic team of Hunters will set out on a quest to bring the Nazis to justice and thwart their new genocidal plans. The series also stars Jerrika Hinton, Josh Radnor, Kate Mulvany, Tiffany Boone, Greg Austin, Louis Ozawa, Carol Kane, Saul Rubinek, Dylan Baker and Lena.
---
Also Read: Shows Like 'Counterpart' To Watch If You Miss the Series
---
Synopsis: Howard Silk (J.K. Simmons) is a lowly cog in the bureaucratic machinery of a Berlin-based United Nations spy agency. When Howard discovers that his organization safeguards the secret of a crossing into a parallel dimension, he is thrust into a shadow world of intrigue, danger, and double cross… where the only man he can trust is his near-identical counterpart from this parallel world.
---
Also Read: Shows Like 'For All Mankind' To Watch While Waiting For Season 4
---
For All Mankind (Apple TV+)
Synopsis: For All Mankind is created by Emmy® Award winner Ronald D. Moore (Outlander, Battlestar Galactica), Matt Wolpert and Ben Nedivi. Told through the lives of NASA astronauts, engineers and their families, For All Mankind presents an aspirational world where NASA and the space program remained a priority and a focal point of our hopes and dreams.
1983 (Netflix)
Synopsis: The deeply frozen Cold War is heating up. Twenty years after a devastating terrorist attack in 1983 that halted the course of Poland's liberation and the subsequent downfall of the Soviet Union, an idealistic law student and a disgraced police investigator stumble upon a conspiracy that has kept the Iron Curtain standing and Poland living under a repressive police state. Now, in 2003, after two decades of peace and prosperity, the leaders of the regime enact a secret plan made with an unlikely adversary in the 1980s that will radically transform Poland and affect the lives of every citizen in the nation — and the world. What these two men discover has the potential to ignite a revolution and those in power will stop at nothing to keep it a secret.
---
Also Read: Shows Like 'The Americans' To Watch If You Miss the Series
---
The Americans (Hulu)
Synopsis: The Americans is a period drama about the complex marriage of two KGB spies posing as Americans in suburban Washington D.C. during the Reagan administration. The arranged marriage of Philip (Matthew Rhys) and Elizabeth Jennings (Keri Russell) grows more passionate and genuine by the day, but as the pressures and demands of the job grow heavier, the personal toll becomes almost too exhausting to bear. Having revealed their true identities to their teenage daughter Paige (Holly Taylor), Philip and Elizabeth's ability to protect their cover and their family's safety deteriorates. After a particularly fraught mission, Philip and Elizabeth decide to end their tour and take their family home to Russia. However, a game-changing development in one of their ongoing cases forces them to abandon those plans for the sake of the motherland. Now, Paige delves deeper into the family business, even as Philip takes a step back from it. The Jennings struggle to maintain a smokescreen of normalcy, especially around their son, Henry (Keidrich Sellati), who remains blissfully ignorant of the spies in his midst. Their neighbor and Philip's best friend, FBI Agent Stan Beeman (Noah Emmerich), has also yet to discover their true identities. Although he's transferred divisions, Stan remains their greatest threat since his friend and former partner, Agent Dennis Aderholt (Brandon J. Dirden), leads the force tasked with uncovering the Soviet Illegals hiding in plain sight. With Gorbachev in power in the Soviet Union, the winds of change are sweeping through both Russia and America, creating new perils. A growing rift within the KGB draws disillusioned former officer Oleg Burov (Costa Ronin) back into the fray, and may set Philip and Elizabeth on opposing sides as the Cold War reaches its boiling point.
---
Also Read: Shows Like 'The Handmaid's Tale' To Watch While Waiting For Season 5
---
The Handmaid's Tale (Hulu)
Synopsis: Adapted from the classic novel by Margaret Atwood, The Handmaid's Tale is the story of life in the dystopia of Gilead, a totalitarian society in what was formerly the United States. Facing environmental disasters and a plunging birthrate, Gilead is ruled by a twisted fundamentalism in its militarized 'return to traditional values'. As one of the few remaining fertile women, Offred (Elisabeth Moss) is a Handmaid in the Commander's household, one of the caste of women forced into sexual servitude as a last desperate attempt to repopulate the world. In this terrifying society, Offred must navigate between Commanders, their cruel Wives, domestic Marthas, and her fellow Handmaids – where anyone could be a spy for Gilead – all with one goal: to survive and find the daughter that was taken from her.