The Game is one of the best spies shows ever made. The British series stars brilliant actors like Brian Cox (Succession), Tom Hughes (Victoria), and Victoria Hamilton (The Crown). The Game only ran for one season but in those six episodes, it created one of the most intense and compelling stories anyone would hope for in a spy drama. So, if you like the series and miss it here are some more spy shows you should watch next.
Line of Duty (Peacock)
Synopsis: Set in the fictional police anti-corruption unit AC-12, "Line of Duty" is a cat-and-mouse thriller that takes a probing look into modern policing and corruption. The British drama features an all-star cast including Keeley Hawes, Vicky McClure, Martin Compston, Adrian Dunbar, Lennie James, Neil Morrissey and Gina McKee.
The Spy (Netflix)
Synopsis: The Spy is inspired by the real-life story of former Mossad agent, Eli Cohen, who successfully goes undercover in Syria in the early 1960s. Cohen becomes close enough to ambitious military leaders and their rich friends to earn a game-changing level of trust about Syria's biggest anti-Israel secret initiatives. The series stars, Emmy-nominated Sacha Baron Cohen (Who is America?) as Eli Cohen, a man who wants nothing more than to be of service to his country, but he does his job so well that he finds it hard to strip off his double identity. Noah Emmerich (The Americans) plays Dan Peleg, Eli's Mossad handler who tires to ease his own guilt over the sacrifices Eli makes, Hadar Ratzon Rotem (Homeland) portrays Eli's wife, Nadia, who is left to raise their family on her own and knows something isn't right about her husband's government job, and Waleed Zuaiter (Colony) plays Amin Al-Hafz, a military officer who thinks he's found the perfect ally in the undercover Cohen.
---
Also Read: Shows Like 'Homeland' To Watch If You Miss the Series
---
Homeland (Hulu)
Synopsis: Homeland is an edge-of-your-seat sensation. CIA officer Carrie Mathison (Claire Danes) is tops in her field despite being bipolar, which makes her volatile and unpredictable. With the help of her long-time mentor Saul Berenson (Mandy Patinkin), Carrie fearlessly risks everything, including her personal well-being and even sanity, at every turn. You won't be able to turn away from this gripping, emotional thriller in which nothing short of the fate of our nation is at stake.
---
Also Read: Spy Shows Like 'Slow Horses' To Watch While Waiting For New Episodes
---
Slow Horses (Apple TV+)
Synopsis: Slow Horses is a darkly humorous espionage drama that follows a dysfunctional team of British intelligence agents who serve in a dumping ground department of MI5 known un-affectionately as Slough House. Oldman stars as Jackson Lamb, the brilliant but irascible leader of the spies, who end up in Slough House due to their career-ending mistakes as they frequently find themselves blundering around the smoke and mirrors of the espionage world.
---
Also Read: Shows Like 'The Americans' To Watch If You Miss the Series
---
The Americans (Hulu)
Synopsis: The Americans is a period drama about the complex marriage of two KGB spies posing as Americans in suburban Washington D.C. during the Reagan administration. The arranged marriage of Philip (Matthew Rhys) and Elizabeth Jennings (Keri Russell) grows more passionate and genuine by the day, but as the pressures and demands of the job grow heavier, the personal toll becomes almost too exhausting to bear. Having revealed their true identities to their teenage daughter Paige (Holly Taylor), Philip and Elizabeth's ability to protect their cover and their family's safety deteriorates. After a particularly fraught mission, Philip and Elizabeth decide to end their tour and take their family home to Russia. However, a game-changing development in one of their ongoing cases forces them to abandon those plans for the sake of the motherland. Now, Paige delves deeper into the family business, even as Philip takes a step back from it. The Jennings struggle to maintain a smokescreen of normalcy, especially around their son, Henry (Keidrich Sellati), who remains blissfully ignorant of the spies in his midst. Their neighbor and Philip's best friend, FBI Agent Stan Beeman (Noah Emmerich), has also yet to discover their true identities. Although he's transferred divisions, Stan remains their greatest threat since his friend and former partner, Agent Dennis Aderholt (Brandon J. Dirden), leads the force tasked with uncovering the Soviet Illegals hiding in plain sight. With Gorbachev in power in the Soviet Union, the winds of change are sweeping through both Russia and America, creating new perils. A growing rift within the KGB draws disillusioned former officer Oleg Burov (Costa Ronin) back into the fray, and may set Philip and Elizabeth on opposing sides as the Cold War reaches its boiling point.
The Little Drummer Girl (The Roku Channel)
Synopsis: Based on John le Carré's best-selling literary masterpiece of the same name, The Little Drummer Girl is a passionate love story and a deeply immersive thriller. As audacious now as when the book was first published, it portrays a world in which the lines between hero and villain, and between love and hate, are dangerously in flux. The six-part miniseries stars Emmy® and Golden Globe® Award winner Alexander Skarsgård (Big Little Lies) as Becker, twice Academy Award-nominated Michael Shannon (The Shape of Water) as Kurtz and BAFTA-nominated Florence Pugh (Lady Macbeth) as Charlie. Set in the late 1970s, the pulsating thriller follows Charlie (Pugh), a young, fiery but unfulfilled British actress and idealist whose resolve is tested after she meets the mysterious Becker (Skarsgård) while on holiday in Greece. It quickly becomes apparent that his intentions are not what they seem, and her encounter with him entangles her in a complex plot devised by the spy mastermind Kurtz (Shannon). Charlie takes on the role of a lifetime as a double agent in the 'Theatre of the Real', but despite her natural mastery of the task at hand, she increasingly finds herself inexorably drawn into a dangerous world of duplicity and compromised humanity. Blurring the fine lines between love and hate; truth and fiction; and right and wrong; The Little Drummer Girl weaves a suspenseful and explosive story of espionage and high-stakes international intrigue.
Spies of Warsaw (YouTube TV)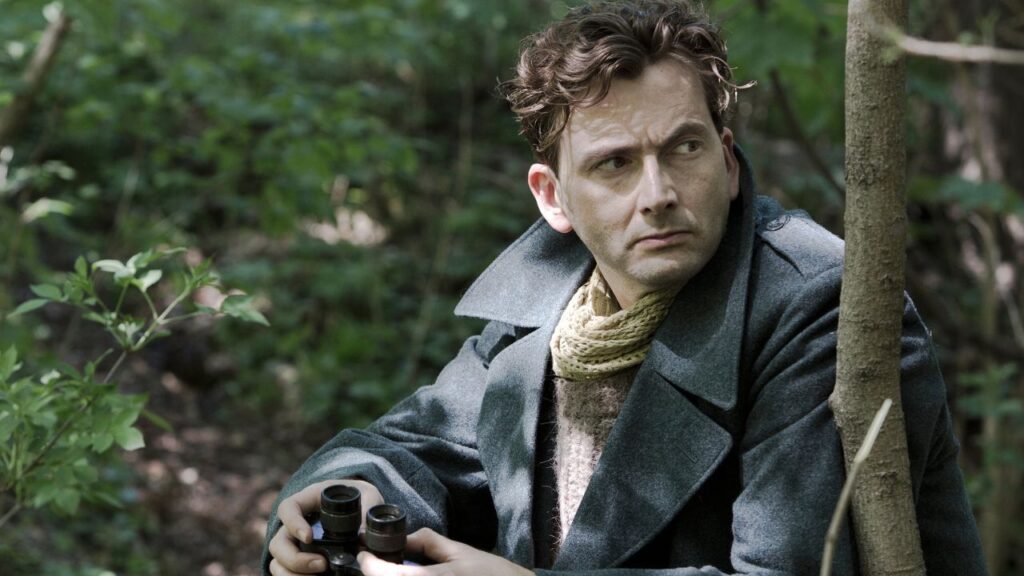 Synopsis: David Tennant and Janet Montgomery star in this adaptation of Alan Furst's celebrated spy novel set in Poland, Paris and Berlin in the years leading up to the Second World War. At the French embassy in Warsaw, the new military attaché, Colonel Jean-Francois Mercier, is drawn into a world of abduction, betrayal and intrigue in the diplomatic salons and back alleys of the city.
Synopsis: Berlin Station is a contemporary spy series that follows Daniel Miller (Richard Armitage), an undercover agent who has just arrived at the CIA station in Berlin, Germany. Miller has a clandestine mission: to determine the identity of a now-famous whistleblower masquerading as "Thomas Shaw." Guided by jaded veteran Hector DeJean (Rhys Ifans) Daniel learns to contend with the rough-and-tumble world of the field officer – agent-running, deception, danger and moral compromises. As he dives deeper into the German capital's hall of mirrors and uncovers the threads of a conspiracy that leads back to Washington, Daniel wonders: Can anyone ever be the same after a posting to Berlin?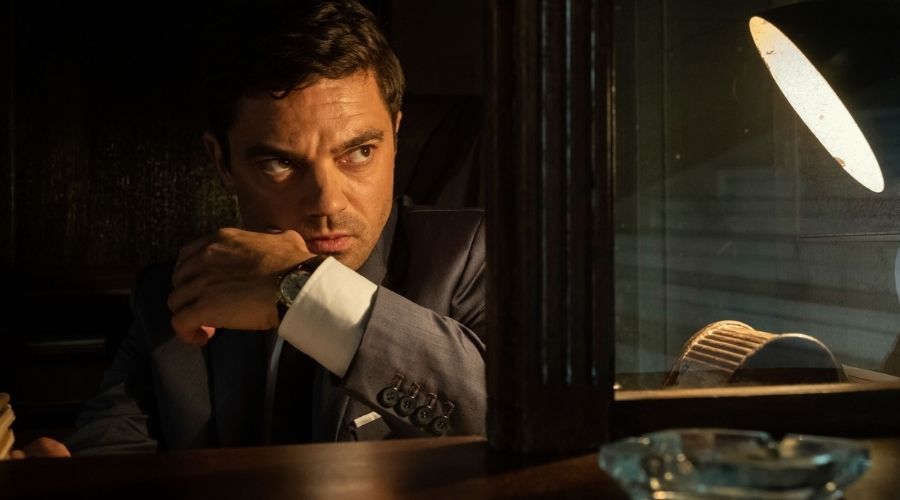 Synopsis: Berlin, 1961. Four occupying powers control the fate of the city, marked by fear of an escalation that could mean the Third World War. The city teems with spies, traitors and double agents of the KGB, SDECE, CIA and MI6. There is no wall yet. The transition between East and West is still possible. In the tense situation, the British spy FIELDING SCOTT must find the traitor in his ranks. An explosive mission because of the tense situation in the city that has become the supposedly most dangerous place in the world.
---
Also Read: Shows Like 'Bodyguard' To Watch While Hoping For Season 2
---
The Bodyguard (Netflix)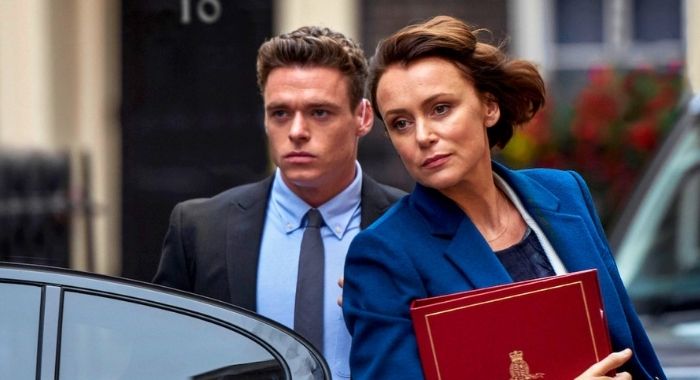 Synopsis: Set in and around the corridors of power, Bodyguard tells the fictional story of David Budd (Richard Madden), a heroic but volatile war veteran now working as a Specialist Protection Officer for the Royalty and Specialist Protection Branch (RaSP) of London's Metropolitan Police Service. When he is assigned to protect the ambitious and powerful Home Secretary Julia Montague (Keeley Hawes), whose politics stand for everything he despises, Budd finds himself torn between his duty and his beliefs. Responsible for her safety, is he actually her biggest threat?