The Flight Attendant stars The Big Bang Theory alum Kaley Cuoco in the lead who also serves as an executive producer. The series is based on Chris Bohjalian's 2018 New York Bestselling novel of the same name, the dark comedy novel follows a young woman who gets involved in an international murder mystery. The series is written by Susanna Fogel who is well known for her work from The Spy Who Dumped Me, and Booksmart. While the HBO Max series was supposed to be limited series because it was received so well by the critics and the audience we also got a second season of the series but The Flight Attendant was canceled after its second season. So, if you also miss the series here are some shows like The Flight Attendant you could watch next.
---
Also Read: Shows Like 'Big Little Lies' To Watch If You Miss the Series
---
Big Little Lies (HBO Max)
HBO's brilliant drama series Big Little Lies became an instant hit for the cable network when it debuted in 2017 and it was loved by both critics and the audience. The HBO series is based on the novel of the same name by Liane Moriarty and it was for the small screen by creator David E. Kelley. From the get-go, Big Little Lies sets up a mysterious death in its first episode and then we see the lead-up to the murder in the rest of the season. Big Little Lies is set in a rich community of Monterey, CA, and it follows a group of mothers that live in the community. The series stars Reese Witherspoon as Madeline, Nicole Kidman as Celeste, Laura Dern as Renata, Shailene Woodley as Jane, and Zoë Kravitz as Bonnie.
---
Also Read: Dark Comedy Shows Like 'Search Party' To Watch If You Miss the Series
---
Search Party (HBO Max)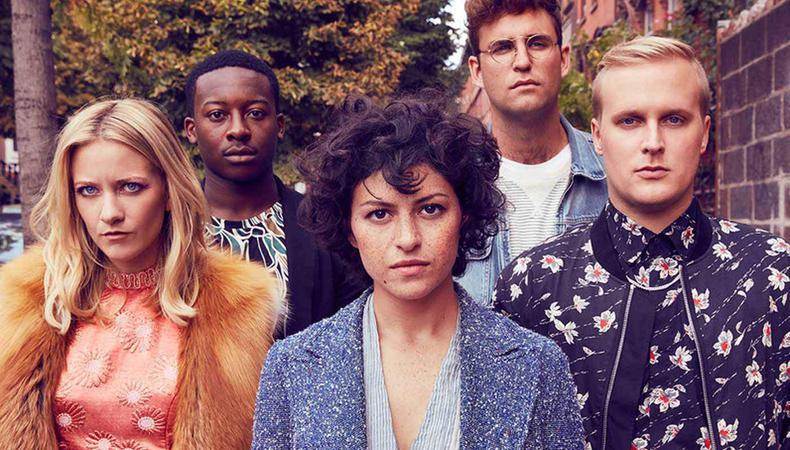 Search Party is one of those shows that are hard to come by as shows like this largely go unnoticed and underappreciated like it did while it was on TBS, but after the series made its home on HBO Max, the dark comedy series has garnered a big audience for itself. Search Party follows a group of narcissistic millennials who are best at not getting out of their own way. The series ended with its fifth and final season.
---
Also Read: Shows Like 'Broadchurch' To Watch If You Miss the Series
---
Broadchurch (The Roku Channel)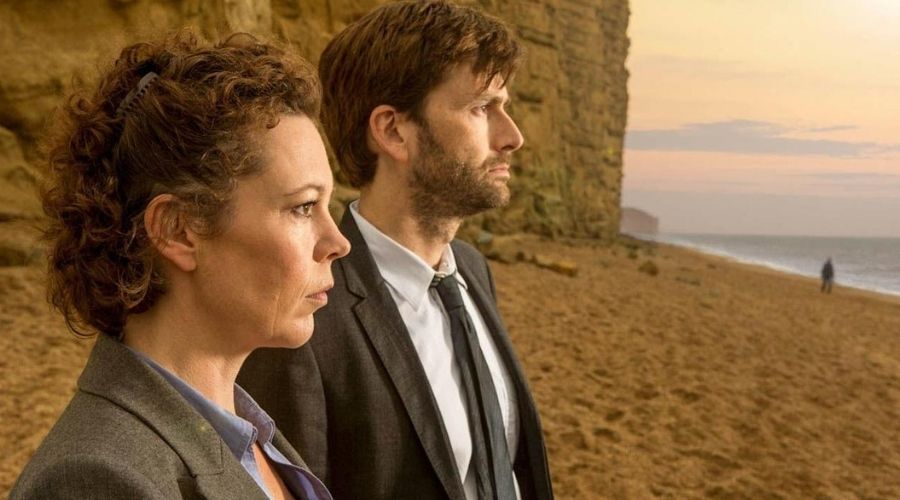 Broadchurch is a brilliant British drama series and while it is more of a crime thriller series, it does have a drama element to it. Created by Chris Chibnall, Broadchurch ran for three seasons from 2013 to 2017. Broadchurch stars David Tennant (Doctor Who) and Olivia Colman (The Crown) as the lead characters in the series and the supporting cast includes Jodie Whittaker, Andrew Buchan, and Charlotte Beaumont. The series is set in a small fictional town named Broadchurch and it follows detectives Alec Hardy (Tennant) and Ellie Miller (Colman) as they investigate a tragic murder of an 11-year-old boy while also dealing with the media attention surrounding the murder.
---
Also Read: Shows Like 'Only Murders in the Building' To Watch After Season 2
---
Only Murders in the Building (Hulu)
Steve Martin, Martin Short, and Selena Gomez star in Hulu's original crime comedy series Only Murders in the Building, and with that cast, it is almost impossible that you get a bad show, because Only Murders in the Building is one of the most well-recieved Hulu series of 2021. The series follows three eccentric strangers who team up to investigate a mysterious murder in their apartment building while discussing their findings over a true-crime podcast.
Only Murders in the building is like one of those old comedy detective crime series that was televised for the masses, but with a new twist and even more twisted humor.
---
Also Read: Shows Like 'Killing Eve' To Watch If You Miss the Series
---
Killing Eve (Hulu)
Killing Eve is one of the best television series ever made and it ended with its fourth and final season in 202. The brilliant espionage thriller series first premiered in 2018 and soon after that people and critics realized that this might be the best show on television. Created by Phoebe Waller-Bridge the British series stars Jodie Comer as Villanelle, Sandra Oh as Eve Polastri, Fiona Shaw as Carolyn, and Kim Bodnia as Konstantin. Killing Eve follows a bored MI5 agent Eve who gets fascinated by a female assassin Villanelle, and even though Eve's mission is to catch her and Villanelle's goal is to kill Eve, they are strangely drawn to each other.
---
Also Read: Shows Like 'Mare of Easttown' To Watch If You Miss the Series
---
Mare of Easttown (HBO Max)
Mare of Easttown is another brilliant HBO drama series and it follows Mare Sheehan (Kate Winslet) as she investigates the murder of a local teen mother, Erin (Cailee Spaeny). The series starts out with the horrific murder and throughout Mare tries to put the pieces together and find out who committed the murder while also dealing with her own personal demons. Mare of Easttown also stars Evan Peters and Jean Smart. Mare of Easttown debuted on HBO in 2021 and it was loved by both critics and the audience. Winslet was praised for her leading role in the series and the series earned 16 Emmy Nominations.
---
Also Read: Best Shows Like 'The Undoing' You Should See
---
The Undoing (HBO Max)
The Undoing is an HBO limited series and it reunited the Big Little Lies creator David E. Kelley and Nicole Kidman for the first time after the Big Little Lies series ended The Undoing is adapted from a novel named You Should Have Known by author Jean Hanff Korelitz. The series stars Kidman and Hugh Grant in lead roles. The Undoing follows a seemingly perfect couple Jonathan (Grant) and Grace Fraser (Kidman). Grace is a successful and wealthy therapist living in New York but their perfect family begins to unravel when the Fraser family gets caught up in the middle of a murder case. While The Undoing wasn't as big of a success as Big Little Lies, the HBO limited series is still a brilliantly written thriller drama in the same genre as the aforementioned series.
---
Also Read: Movies & Shows Like 'The Afterparty' To Watch While Waiting For Season 2
---
The Afterparty (Apple TV+)
The Afterparty is a brilliantly written Apple TV+ murder mystery comedy series with a brilliant ensemble cast including Dave Franco, Sam Richardson, Ben Schwartz, Tiffany Haddish, Ilana Glazer, Zoë Chao, Ike Barinholtz, and more. The Afterparty follows a group of friends who are meeting after a long time because of a school reunion and that's when a friend of theirs mysteriously dies which is later concluded by police as murder. The series tells the same event from the perspective of different characters to piece together the whole scenario and find out who the murderer is.
---
Also Read: Journalism Shows Like 'Tokyo Vice' To Watch After Finishing the Thrilling Series
---
Tokyo Vice (HBO Max)
Tokyo Vice is an HBO Max series about an American journalist Jake Adelstein, who moves to Japan to study Japanese literature and later started working for a reputable newspaper in Tokyo, where he came in contact with the underground criminal organizations running in the city. He tries to report on them while being constantly threatened by the criminals and slowed down by some police officers. The HBO Max series is a thrilling ride in the deep and dangerous underbelly of Tokyo with Jake played by Ansel Elgort.
---
Also Read: Shows Like 'Sharp Objects' To Watch If You Miss the Series
---
Sharp Objects (HBO Max)
Sharp Objects is an HBO limited series with brilliantly written flawed and messy characters. Camille Preaker is the lead character in the series and she is played by the genius actor Amy Adams. Sharp Objects is based on a novel of the same name by the "Gone Girl" famed author Gillian Flynn. The HBO series follows Camille Preaker, a crime reporter who is struggling with alcoholism as she returns to her hometown to investigate the murder of two young girls. Camille stays with her critical socialite mother, Adora played by Patricia Clarkson. As the story progresses Camille is forced to face her own past and demons. Almost every critic alive praised Sharp Objects writing for its brilliant story and characters.