The Expanse is definitely one of the most brilliant and well-thought-out sci-fi series ever made. With genius stories and characters, The Expanse really gave us a look at what might our future holds. The Expanse goes into every aspect of our society like politics and human relations while also being a brilliant sci-fi series. The Expanse ran for its first three seasons on Syfy and then after it was canceled by Syfy, it was picked up again by Prime Video for three more brilliant seasons. So, if you miss The Expanse here are some shows you could watch next.
---
Also Read: Shows Like 'For All Mankind' To Watch While Waiting For Season 4
---
For All Mankind (Apple TV+)
Synopsis: For All Mankind is created by Emmy® Award winner Ronald D. Moore (Outlander, Battlestar Galactica), Matt Wolpert and Ben Nedivi. Told through the lives of NASA astronauts, engineers and their families, For All Mankind presents an aspirational world where NASA and the space program remained a priority and a focal point of our hopes and dreams.
Battlestar Galactica (Peacock)
Synopsis: "Battlestar Galactica" is an intriguing take on the classic adventure of a ragtag fleet of humans, the sole survivors of a devastating nuclear attack by the robot Cylons. Faced with an un-winnable battle against a deadly enemy, they are forced to flee under the protection of their one remaining warship, the outdated Battlestar Galactica. Pursued by the Cylons-some of whom have now taken human form-Commander Adama (Olmos) and President Roslin (McDonnell) lead these last remnants of humanity in search of a new home – a planet called Earth.
Killjoys (fubo TV)
Synopsis: There is a planetary system known as the Quad, it is a place on the brink of a bloody interplanetary class war. There is a threesome of fun, loving, and intriguing bounty hunters. They attempt to remain impartial as they chase deadly citizens and other impostors living on the four planets, yet their ingenious ways to capture these deadly citizens confront their own personal issues in more than one way.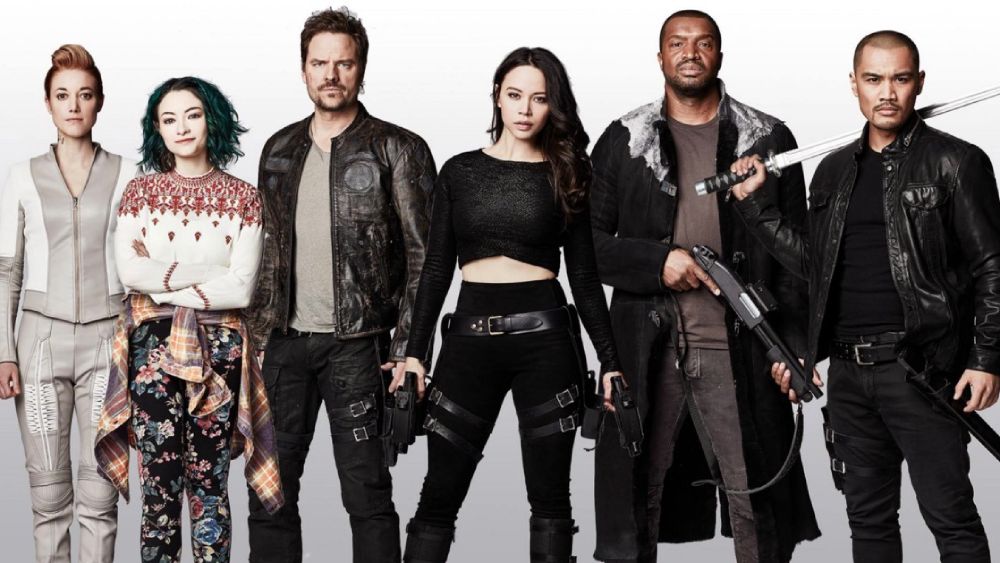 Synopsis: The crew of a derelict ship awakens from stasis with no memories of who they are or how they got onboard. Their search for answers only leads to more questions, as they discover how their own sordid pasts inform an increasingly dangerous future.
Salvation (Paramount+ & Pluto TV)
Synopsis: Salvation is a suspense thriller that centers on Liam Cole, an MIT grad student, and Darius Tanz, a tech superstar, who bring Pentagon official Grace Barrows a staggering discovery—that an asteroid is just six months away from colliding with Earth. In season two, the secret is out—the world learns the truth about the impending threat of an asteroid on a collision course with earth. The question is: will the truth bring out the best … or the worst in us? The answer, of course, is both.
---
Also Read: Sci-Fi Shows Like 'Foundation' To Watch While Waiting For Season 2
---
Foundation (Apple TV+)
Synopsis: Based on the award-winning novels by Isaac Asimov, "Foundation" chronicles a band of exiles on their monumental journey to save humanity and rebuild civilization amid the fall of the Galactic Empire.
---
Also Read: Mind-Bending Shows Like 'Fringe' To Watch If You Miss the Series
---
Synopsis: The critically acclaimed FRINGE explores the ever-blurring line between science fiction and reality, where hybrid monsters tear through sewers, thieves walk through walls and portals open to parallel universes. Unable to police a world in which science has advanced beyond our wildest dreams — and nightmares — FBI Special Agent Olivia Dunham seeks help from eccentric 'fringe' scientist Dr. Walter Bishop and his jack-of-all trades son, Peter. Under the direction of Special Agent Phillip Broyles and assisted by Agents Astrid Farnsworth, Charlie Francis and Lincoln Lee, the Fringe Team investigates unusual incidents that defy human logic and unimaginable events that threaten our very existence on a universal scale.
Lost in Space (Netflix)
Synopsis: Lost in Space is a Netflix Original based on Irwin Allen's classic 1960's science fiction series. In this modern update from Legendary Television, the Robinson family, part of a highly trained mission to establish a new colony in space, is unexpectedly pulled off course forcing them to crash land on a lost planet.
---
Also Read: Sci-Fi Shows Like 'Altered Carbon' To Watch If You Miss the Series
---
Altered Carbon (Netflix)
Synopsis: In the future, human minds are digitized and downloaded from body to body. Last night, the wealthiest man on Earth, Laurens Bancroft (James Purefoy) was murdered. To investigate his death, he brings back ex-Envoy soldier Takeshi Kovacs (Joel Kinnaman / Will Yun Lee) and in exchange, Bancroft offers Kovacs the chance to live again.
Star Trek: Discovery (Paramount+)
Synopsis: Ten years before Kirk, Spock and the Enterprise, the USS Discovery discovers new worlds and lifeforms as one Starfleet officer learns to understand all things alien.