The Essex Serpent is the latest prestige television event in the Apple TV+ library released after Slow Horses and Severance. The streaming service has made a name for itself by getting brilliant shows on the platform. The Essex Serpent is a historical drama based on a novel of the same name by the writer Sarah Perry. The series tells the story of Cora Seaborne (Claire Danes), who moves to a small village in Essex after the death of her abusive husband to investigate the sightings of a mythical serpent in the area. She soon forms an unexpected bond with the local pastor Will Ransome (Tom Hiddleston) but when things go wrong the village residents accuse her of drawing the serpent to their village. So, if you like historical dramas and Tom Hiddleston this is the perfect series for you but the fun doesn't have to stop there because we have a list of 7 more shows that you may like to watch after the series.
---
---
Vikings
Synopsis: Bjorn Ironside has ambitions for the Kingdom of Kattegat, he dreams of peace and prosperity, but the fates have a different plan for the new King. A threat is looming, an enemy is resurgent–so much more ruthless than the rest. Lagertha too has dreams, to bury her sword and return to the simple life. But as enemy forces gather, Bjorn and Lagertha will rise to the challenge, because they are Viking heroes and can never surrender.
Poldark
Synopsis: It's 1783 and Ross Poldark returns from the American War of Independence to his beloved Cornwall to find his world in ruins: his father dead, the family mine long since closed, his house wrecked and his sweetheart pledged to marry his cousin. But Ross finds that hope and love can be found when you are least expecting it.
Dickinson
Synopsis: Dickinson audaciously explores the constraints of society, gender, and family from the perspective of a rebellious young poet, Emily Dickinson (Steinfeld). Set in the 19th century, Dickinson is a coming-of-age story that finds Emily Dickinson to be an unexpected hero for our millennial era.
---
---
The Last Kingdom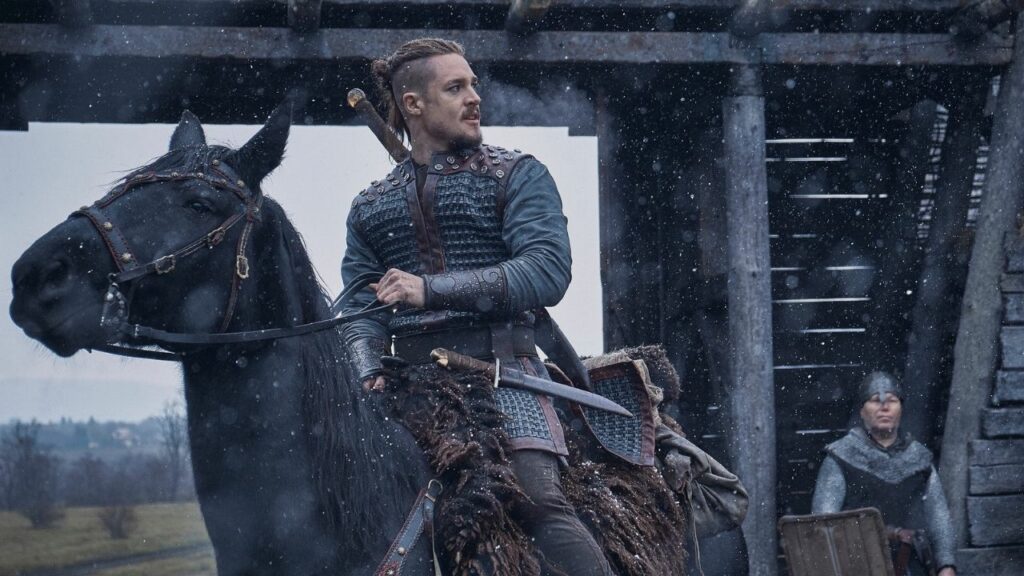 Synopsis: A story of redemption, vengeance, and self-discovery set against the birth of England, this drama series follows young warrior and outsider, Uhtred on a fierce mission to reclaim his birthright. The Last Kingdom combines real historical figures and events with fiction, re-telling the history of King Alfred the Great and his desire to unite the many separate kingdoms into what would become England.
The Great
Synopsis: EMMY® NOMINATED The Great is a satirical, comedic drama about the rise of Catherine the Great from outsider to the longest reigning female ruler in Russia's history. A fictionalized, fun and anachronistic story of an idealistic, romantic young girl, who arrives in Russia for an arranged marriage to the mercurial Emperor Peter. Hoping for love and sunshine, she finds instead a dangerous, depraved, backward world that she resolves to change. All she has to do is kill her husband, beat the church, baffle the military and get the court onside. A very modern story about the past which encompasses the many roles she played over her lifetime as lover, teacher, ruler, friend, and fighter. Incorporating historical facts occasionally, the series stars Elle Fanning as Catherine, Nicholas Hoult, Phoebe Fox, Adam Godley, Gwilym Lee, Charity Wakefield, Douglas Hodge, Sacha Dhawan, Sebastian de Souza, Bayo Gbadamosi and Belinda Bromilow.
The Crown
Synopsis: The British Empire is in decline, the political world is in disarray, and a young woman takes the throne… a new era is dawning. Queen Elizabeth II is a 25-year-old newlywed faced with the daunting prospect of leading the world's most famous monarchy while forging a relationship with legendary Prime Minister Sir Winston Churchill. Golden Globe® winner for Best TV Drama Series, "The Crown," created by Peter Morgan, explores the Queen's private journey behind the public facade with daring frankness.
---
---
Outlander
Synopsis: Based on Diana Gabaldon's best-selling book series and Executive Produced by Ronald D. Moore, Outlander spans the genres of romance, science fiction, history and adventure as it follows Claire Randall, a married World War II combat nurse who mistakenly falls back in time to 1743. Forced by circumstance to marry Jamie Fraser, an outlawed Highlander, she finds herself falling in love and torn by her loyalties to two men in vastly different times. Claire must reconcile her modern mindset with this 18th Century world amidst threats from ruthless Redcoats, volatile clan politics and a brutal witch trial – and ultimately discovers that there is a fate worse than death as she must struggle to save Jamie's heart, as well as his soul.