The Defenders is one of the best superhero team-ups ever put to screen. The Netflix Original compiled almost all of the heroes in its slate including Daredevil, Luke Cage, Jessica Jones, and Iron Fist, and made a team-up miniseries like Avengers. While it didn't have as big of a budget as the Marvel Studios, what it did have were brilliant and complex characters with a good enough story to garner acclaim from both the critics and the audiences. So, if you liked The Defenders here are some more superhero shows like it you could watch next.
Iron Fist (Disney+)
Synopsis: Fifteen years after being presumed dead in a plane crash, Danny Rand (Finn Jones) mysteriously returns to New York City determined to reclaim his birthright and family company. However, when a long-destined enemy rises in New York, this living weapon is forced to choose between his family's legacy and his duties as the Iron Fist.
---
Also Read: Shows Like 'Daredevil' To Watch While Waiting For Season 4
---
Daredevil (Disney+)
Synopsis: Daredevil follows Matt Murdock, attorney by day and vigilante by night. Blinded in an accident as a child, Murdock uses his heightened senses as Daredevil, fighting crime on the streets of New York after the sun goes down. His efforts are not welcomed by powerful businessman Wilson Fisk-aka Kingpin- and others whose interests collide with those of Daredevil.
---
Also Read: Shows Like 'Jessica Jones' To Watch While Hoping For a Revival Series
---
Jessica Jones (Disney+)
Synopsis: When a tragedy puts an the end to her short-lived career as a superhero, Jessica settles in NYC and opens her own detective agency, called Alias Investigations, which seems to be called into cases involving people who have special abilities. Suffering from post-traumatic stress syndrome, Jessica wants to do good, but her primary interest isn't in saving the world, it's saving her apartment and getting through each day. Based on a graphic novel intended for adults, this is not a superhero story for the kids.
---
Also Read: Shows Like 'Doom Patrol' To Watch After Season 4
---
Doom Patrol (HBO Max)
Synopsis: DOOM PATROL reimagines one of DC's most beloved groups of Super Heroes: Robotman aka Cliff Steele (series star BRENDAN FRASER), Negative Man aka Larry Trainor (series star MATT BOMER), Elasti-Woman aka Rita Farr (series star APRIL BOWLBY) and Crazy Jane (series star DIANE GUERRERO), led by modern-day mad scientist Niles Caulder aka The Chief (series star TIMOTHY DALTON). Each member of the Doom Patrol suffered a horrible accident that gave them superhuman abilities, but also left them scarred and disfigured. Traumatized and downtrodden, the team found their purpose through The Chief, coming together to investigate the weirdest phenomena in existence. Following the mysterious disappearance of The Chief these reluctant heroes will find themselves in a place they never expected to be, called to action by none other than Cyborg (series star JOIVAN WADE), who comes to them with a mission hard to refuse. Part support group, part Super Hero team, the Doom Patrol is a band of superpowered freaks who fight for a world that wants nothing to do with them. Based on the characters created for DC by Arnold Drake, Bob Haney and Bruno Premiani.
---
Also Read: Shows Like 'Peacemaker' To Watch While Waiting For Season 2
---
Peacemaker (HBO Max)
Synopsis: Peacemaker explores the continuing story of the character that John Cena reprises in the aftermath of executive producer James Gunn's 2021 film The Suicide Squad – a compellingly vainglorious man who believes in peace at any cost, no matter how many people he has to kill to get it! The series stars John Cena as Peacemaker, Danielle Brooks as Adebayo, Freddie Stroma as Vigilante, Jennifer Holland as Harcourt, Chukwudi Iwuji as Murn, Steve Agee as Economos and Robert Patrick as Auggie Smith.
---
Also Read: Shows Like 'The Boys' To Watch While Waiting For Season 4
---
The Boys (HBO Max)
Synopsis: The Boys is an irreverent take on what happens when superheroes, who are as popular as celebrities, as influential as politicians and as revered as Gods, abuse their superpowers rather than use them for good. It's the powerless against the super powerful as The Boys embark on a heroic quest to expose the truth about "The Seven", and their formidable Vought backing.
---
Also Read: Shows Like 'The Umbrella Academy' To Watch After Season 3
---
The Umbrella Academy (Netflix)
Synopsis: On the same day in 1989, forty-three infants are inexplicably born to random, unconnected women who showed no signs of pregnancy the day before. Seven are adopted by a billionaire who creates The Umbrella Academy and prepares his "children" to save the world. Now, the six surviving members reunite upon the news of their father's passing and must work together to solve a mystery surrounding his death. But the estranged family begins to come apart due to their divergent personalities and abilities, not to mention the imminent threat of a global apocalypse. The Umbrella Academy is based on the comic book series created and written by Gerard Way, illustrated by Gabriel Bá, and published by Dark Horse Comics.
---
Also Read: Gritty Superhero Shows Like DC's 'Titans'
---
Titans (HBO Max)
Synopsis: Titans follows young heroes from across the DC Universe as they come of age and find belonging in a gritty take on the classic Teen Titans franchise. Dick Grayson and Rachel Roth, a special young girl possessed by a strange darkness, get embroiled in a conspiracy that could bring Hell on Earth. Joining them along the way are the hot-headed Starfire and loveable Beast Boy. Together they become a surrogate family and team of heroes.
---
Also Read: Shows Like 'Watchmen' To Watch If You Miss the Series
---
Watchmen (HBO Max)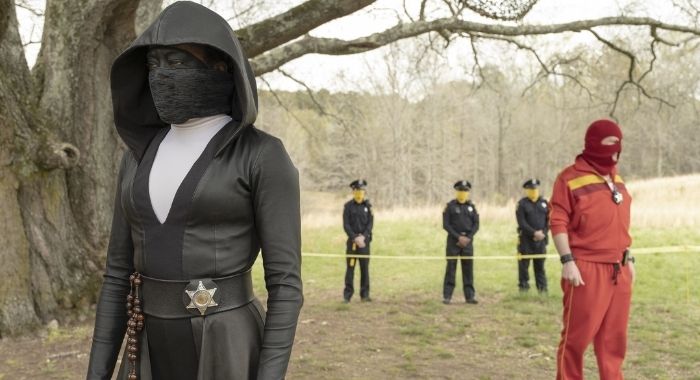 Synopsis: Set in an alternate history where masked vigilantes are treated as outlaws, this epic series from executive producer Damon Lindelof (Lost; HBO's The Leftovers) embraces the nostalgia of the original groundbreaking graphic novel of the same name, while attempting to break new ground of its own. Regina King (HBO's The Leftovers) leads the cast as Angela Abar, who wears two masks; one as a lead detective in The Tulsa Police Force and another as wife and mother of three. The cast also includes Jeremy Irons, Don Johnson, Jean Smart, Tim Blake Nelson, Louis Gossett Jr., Yahya Abdul-Mateen II, Tom Mison, Frances Fisher and Sara Vickers.​
Sense8 (Netflix)
Synopsis: One moment links 8 minds in disparate parts of the world, putting 8 strangers in each other's lives, each other's secrets, and in terrible danger. From the unparalleled creative minds of The Wachowskis ("The Matrix" trilogy, "Cloud Atlas") and J. Michael Straczynski (Clint Eastwood's "Changeling," "World War Z"), as well as Grant Hill ("The Matrix" trilogy, "Cloud Atlas").