The Blacklist is one of the best mystery series and a big amount of credit for that goes to the writers of the hit NBC series who were able a create a storyline that has managed to keep the viewers interested in the series for ten seasons with Season 11 on the way. The Blacklist has become a staple for NBC, as it still pulls a big number of viewers constantly for the network. While there are not many shows that are as long as The Blacklist but know some shows that have similar storylines and mystery elements that you might like if you loved The Blacklist.
---
Also Read: Shows Like 'Quantico' To Watch If You Miss the Series
---
Quantico (Hulu)
Synopsis: A diverse group of recruits has arrived at the FBI Quantico Base for training. They are the best, the brightest, and the most vetted, so it seems impossible that one of them is suspected of masterminding the biggest attack on New York City since 9/11. Stars Yasmine Al Massri (Nimah Amin), Johanna Braddy (Shelby Wyatt), Priyanka Chopra (Alex Parrish), Jake McLaughlin (Ryan Booth), Aunganue Ellis (Miranda Shaw), Tate Ellington (Simon Asher), Graham Rogers (Caleb Haas).
Designated Survivor (Netflix)
Synopsis: A lower-level cabinet member who is suddenly appointed President of the United States after a catastrophic attack on the U.S. Capitol during the State of the Union. In this dramatic thriller, Kirkman will struggle to keep the country and his own family from falling apart, while navigating the highly volatile political arena and while leading the search to find who is responsible for the attack.
---
Also Read: Shows Like 'Blindspot' To Watch If You Miss the Series
---
Blindspot (Hulu)
Synopsis: Sullivan Stapleton (300: Rise of an Empire), Jaimie Alexander (Thorfilms) and Oscar® nominee Marianne Jean-Baptiste (Without a Trace) star in this one-hour action thriller from Berlanti Productions (The Flash, Arrow, Pan) and writer/executive producer Martin Gero. Stapleton stars as hardened FBI agent Kurt Weller, who is drawn into a complex conspiracy when a naked amnesiac, Jane Doe (Alexander), is found in Times Square covered in a series of cryptic tattoos …including his name on her back. As Weller and his teammates at the FBI — among them, wartime vet Edgar Reed, the secretive Tasha Zapata and Assistant Director Mayfair (Jean-Baptiste) — begin to investigate the veritable treasure map that are Jane Doe's tattoos, they are drawn into a high-stakes underworld that twists and turns through a labyrinth of secrets and revelations — the information they uncover might ultimately change the world. At the center of this mystery is the relationship between Weller and Jane Doe. With every passing day, Jane unveils a new skill or a hidden talent without understanding its origin, while Weller is drawn deeper into his troubled, complicated relationship with this enigmatic woman. They both strive to make a connection, unaware of the dangerous blindspot that threatens them.
---
Also Read: Shows Like 'White Collar' To Watch If You Miss the Series
---
Synopsis: White Collar is about the unlikely partnership between a con artist and an FBI agent who have been playing cat and mouse for years. Neal Caffrey (Matt Bomer), a charming criminal mastermind, is finally caught by his nemesis, FBI Agent Peter Burke (Tim DeKay). When Neal escapes from a maximum-security prison to find his long-lost love, Peter nabs him once again. Rather than returning to jail, Neal suggests an alternate plan: he'll provide his criminal expertise to assist the Federal Agents in catching other elusive criminals. Initially wary, Peter quickly finds that Neal provides insight and intuition that can't be found on the right side of the law.
The Blacklist: Redemption (Crackle)
Synopsis: The Blacklist: Redemption follows undercover operative Tom Keen who has been recruited into Grey Matters, a secret and lucrative private military organization that executes the impossible assignments that governments and corporations must otherwise disavow. Grey Matters is headed by mysterious leader Susan "Scottie" Hargrave.
Synopsis: From Emmy Award winner Dick Wolf and the team behind the "Law & Order" brand, FBI is a fast-paced drama about the inner workings of the New York office of the Federal Bureau of Investigation. This elite unit brings to bear all their talents, intellect and technical expertise on major cases in order to keep New York and the country safe. Born into a multigenerational law enforcement family, Special Agent Maggie Bell commits deeply to the people she works with as well as those she protects. Her partner is Special Agent Omar Adom 'OA' Zidan, a West Point graduate via Bushwick who spent two years undercover for the DEA before being cherry-picked by the FBI. Overseeing them is Special Agent in Charge, Isobel Castille, who operates under intense pressure and has undeniable command authority. The team also includes Assistant Special Agent in Charge Jubal Valentine, the nerve center of the office whose ability to easily relate to and engage with both superiors and subordinates makes him a master motivator. Newest to the team – and the FBI – is smart and outspoken Special Agent Tiffany Wallace, who spent six years with the NYPD and is now partner to Special Agent Stuart Scola, an Ivy League educated Wall Streeter-turned-FBI agent. These first-class agents tenaciously investigate cases of tremendous magnitude, including terrorism, organized crime and counterintelligence.
---
Also Read: Shows Like 'Homeland' To Watch If You Miss the Series
---
Synopsis: Homeland is an edge-of-your-seat sensation. CIA officer Carrie Mathison (Claire Danes) is tops in her field despite being bipolar, which makes her volatile and unpredictable. With the help of her long-time mentor Saul Berenson (Mandy Patinkin), Carrie fearlessly risks everything, including her personal well-being and even sanity, at every turn. You won't be able to turn away from this gripping, emotional thriller in which nothing short of the fate of our nation is at stake.
---
Also Read: Shows Like 'Person of Interest' To Watch If You Miss the Series
---
Synopsis: Jim Caviezel (The Thin Red Line), Michael Emerson (Lost) and Taraji P. Henson (Hustle & Flow) team up in this thought-provoking crime action drama from The Dark Knight's Jonathan Nolan and J.J. Abrams' Bad Robot Productions (Fringe, Lost, Alias). Set in New York City, this procedural centers on an ex-CIA agent, presumed dead, who partners with a mysterious billionaire to prevent violent crimes. Using data siphoned off the U.S. intelligence agencies' threat matrix — information not related to terrorism, but rather violent crimes of a personal nature — during each episode, the former CIA agent and his enigmatic partner identify a "person of interest" and set about solving the mystery of the impending crime. Tapping into the world's Big Brother-like surveillance network, the shadowy duo knows that something bad is going to happen; it's their mission to discover what that event will be…. and somehow prevent it.
---
Also Read: Shows Like 'Bodyguard' To Watch While Hoping For Season 2
---
Bodyguard (Netflix)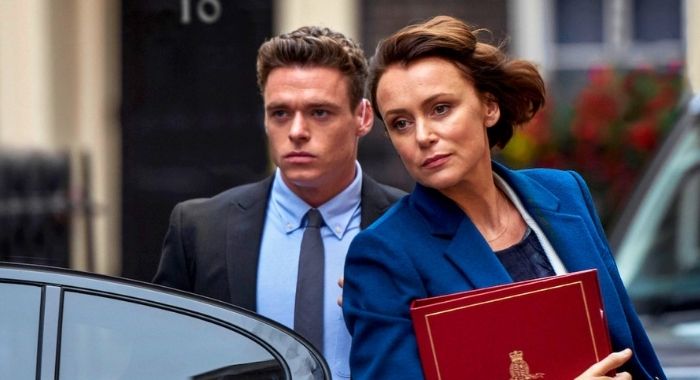 Synopsis: Set in and around the corridors of power, Bodyguard tells the fictional story of David Budd (Richard Madden), a heroic but volatile war veteran now working as a Specialist Protection Officer for the Royalty and Specialist Protection Branch (RaSP) of London's Metropolitan Police Service. When he is assigned to protect the ambitious and powerful Home Secretary Julia Montague (Keeley Hawes), whose politics stand for everything he despises, Budd finds himself torn between his duty and his beliefs. Responsible for her safety, is he actually her biggest threat?
Synopsis: In this pulse-pounding, high-stakes two hander, Morena Baccarin stars as Elena Federova, a recently captured international arms dealer and brilliant criminal mastermind who orchestrates a number of coordinated bank heists throughout New York City for a mysterious purpose. Her antagonist is Val Turner (Ryan Michelle Bathé), the principled, relentless and socially outcast FBI agent who will stop at nothing to foil her ambitious plan. The gripping heist drama reveals how far some people will go for love, justice and the most valuable commodity in the world: the truth.