The Big Door Prize is Apple TV+'s brilliant comedy-drama series. Based on a book of the same name by M.O. Walsh The Big Door Prize series is set in a small town, which is changed forever when a mysterious machine makes its entry into the grocery store and promises to reveal every town's resident real potential. Chris O'Dowd stars as Dusty in the series, a mild-mannered teacher, and the series also follows the people of the town as their lives are changed forever because of the machine in the grocery store. The Big Door Prize has been renewed for Season 2 so while you waiting for the next season to come out here are some shows you could watch until then.
---
Also Read: Movies & Shows Like 'Maniac' To Watch If You Miss the Series
---
Maniac (Netflix)
Synopsis: Set in a world somewhat like our world, in a time quite similar to our time, Maniac tells the stories of Annie Landsberg (Emma Stone) and Owen Milgrim (Jonah Hill), two strangers drawn to the late stages of a mysterious pharmaceutical trial, each for their own reasons. Annie's disaffected and aimless, fixated on broken relationships with her mother and her sister; Owen, the fifth son of wealthy New York industrialists, has struggled his whole life with a disputed diagnosis of schizophrenia. Neither of their lives have turned out quite right, and the promise of a new, radical kind of pharmaceutical treatment—a sequence of pills its inventor, Dr. James K. Mantleray (Justin Theroux), claims can repair anything about the mind, be it mental illness or heartbreak—draws them and ten other strangers to the facilities of Neberdine Pharmaceutical and Biotech for a three-day drug trial that will, they're assured, with no complications or side-effects whatsoever, solve all of their problems, permanently.
---
Also Read: Shows Like 'Atlanta' To Watch If You Already Miss the Series
---
Atlanta (Hulu)
Synopsis: Two cousins work through the Atlanta music scene in order to better their lives and the lives of their families. Donald Glover serves as Executive Producer, along with Paul Simms, Dianne McGunigle and Stephen Glover.
Amazing Stories (Apple TV+)
Synopsis: A reimagining of the original anthology series by Steven Spielberg, each episode of "Amazing Stories" will transport the audience to worlds of wonder through the lens of today's most imaginative filmmakers, directors and writers.
---
Also Read: Shows Like 'Dirk Gently's Holistic Detective Agency' To Watch If You Miss the Series
---
Dirk Gently's Holistic Detective Agency (Hulu)
Synopsis: Welcome back to the world of Dirk Gently's Holistic Detective Agency. Every season is a dizzying, smart, dangerous, unexpected (for us, not the people involved), and fun adventure that explores a different genre. Season one is about time travel with body-swapping.
---
Also Read: Shows Like 'Room 104' To Watch If You Like the Series
---
Room 104 (Max)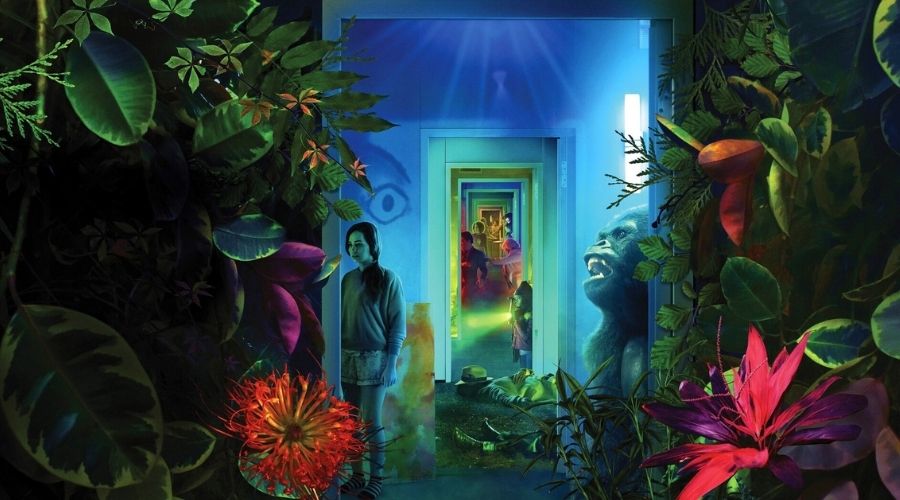 Synopsis: Tap your inner voyeur and prepare to see something totally unexpected in this electrifying HBO anthology series–created by Jay and Mark Duplass ('Animals.,' 'Togetherness')–that peeks inside a room at an average American corporate motel, exploring the stories of the characters who pass through it on any given night.
---
Also Read: Mind-Bending Shows Like 'Dark' To Watch If You Miss the Series
---
Dark (Netflix)
Netflix's mind-bending German thriller series Dark is the best sci-fi and time-travel series of all time and that is a statement that millions of people will agree with. Dark begins with the disappearance of two children which later on evolves into a sinister conspiracy that involves time travel and connections that tie the whole town together. Dark ran for three seasons and with every new season, the series got better and better, which seemed impossible because every season of the series was so perfect.
---
Also Read: Shows Like 'The Twilight Zone' To Watch If You Miss the Series
---
Synopsis: "The Twilight Zone" was the brainchild of Emmy Award-winner Rod Serling, who served as host and wrote over 80 episodes of the original show's 150-plus episode run. It's a strange mix of horror, science-fiction, drama, comedy and superstition. Serling introduced each episode, and many of the black and white hours concluded with a surprise ending. Actors such as Burt Reynolds, Roddy McDowell and Robert Redford made appearances in some of the more well-known stories.