Netflix's latest series The Bastard Son & The Devil Himself is one of the best YA series to come out since The Magicians. Based on the YA novel Half Bad by Sally Green, the Netflix series follows Nathan Byrn, an illegitimate son of a blood witch Marcus Edge. The series follows Nathan as he struggles to find out who he is and who are his true friends. So, if you liked the Netflix series here are some more brilliant shows you should watch next.
---
Also Read: Fantasy Shows Like 'The Magicians' To Watch If You Miss The Series
---
The Magicians
Synopsis: Based upon Lev Grossman's best-selling books, The Magicians centers around Brakebills University, a secret institution specializing in magic. There, amidst an unorthodox education of spellcasting, a group of twenty-something friends soon discover that a magical fantasy world they read about as children is all too real— and poses grave danger to humanity.
---
Also Read: Witchy Supernatural Shows Like 'Chilling Adventures of Sabrina' You Should Watch
---
Chilling Adventures of Sabrina
Synopsis: In the town of Greendale, where it always feels like Halloween, sixteen-year-old Sabrina Spellman faces a daunting decision. Born half-witch, half-mortal, she must choose between two worlds: the supernatural world of her family and the human world of her friends – while standing against the evil forces that threaten her, her family, and the daylight world humans inhabit. Raised by stern Aunt Zelda and maternal Aunt Hilda, Sabrina finds comfort in best friends Harvey, Roz, and Theo, as well as Ambrose, her warlock cousin, and partner in crime. Proving herself a powerful adversary as she hones her sorcery skills at the Academy of Unseen Arts, Sabrina soon learns the Dark Lord's true intentions and ultimate plan for her future. Tonally in the vein of Rosemary's Baby and The Exorcist, this dark coming-of-age story, based on the Archie Comics graphic novel, is a fiendishly enticing reimagining of the beloved comic book characters.
Misfits
Synopsis: Meet Kelly, Nathan, Curtis, Alisha and Simon, five unruly teenagers forced to do community service as payback for their crimes. When a freak electrical storm hits their town, strange things begin to happen to them and they soon realize they've turned into superheroes. Each of them possess a power they didn't choose or want, a power which reveals each of their deepest, darkest insecurities. But while they just want to finish their community service and get through the challenges of everyday teenage life, fate has another task in store for them – they must save their town from the evil that has descended upon it. If you think life's tough for your average superhero, it's even tougher when you have a curfew…
Blue Exorcist
Synopsis: Rin, along with his twin brother Yukio Okumura are raised by an eminent priest, Shiro Fujimoto, but one day Rin discovers that their biological father is actually Satan! As the border between "Assiah" (the human world) and "Gehenna" (demon's world) is intruded upon by evils, Rin vows to become the ultimate exorcist to defeat his own father, Satan. To hone his raw skills, Rin enters True Cross Academy to train with other exorcist candidates.
Ragnarok
Synopsis: In Norse Mythology, the world will end with Ragnarok, the final clash between the Gods and the Giants. The Giants won the battle and have reigned over the Earth ever since. They have wrought havoc and exploited the Earth and made themselves its rulers – causing so much damage that the world is on the brink of collapse. But now, in modern-day Norway, destiny has finally chosen to reincarnate one of the old Gods. He is destined to be the one to take up arms against injustice, evil and the supremacy of the Giants. Only problem: he just wants to be an ordinary teenager, living with his mom and little brother in the Norwegian town of Edda. Not some God.
A Discovery of Witches
Synopsis: Adapted from Deborah Harkness' best selling novel A Discovery of Witches is a contemporary love story set in our world, but one which humans share with the declining species of witches, vampires and daemons – creatures existing and working amongst us, but hiding, unknown to most humans, in plain sight. Teresa Palmer plays brilliant academic and historian Diana Bishop, a reluctant witch denying her heritage. The discovery of a manuscript in Oxford's Bodleian Library throws her into the heart of a dangerous mystery and into the path of enigmatic geneticist Matthew Clairmont played by Matthew Goode, an ancient vampire hiding dark family secrets. As Diana and Matthew embark on a journey to understand the significance of the mysterious manuscript and as their relationship develops and their heritage comes in to play, events threaten to unravel the fragile peace that has long existed between humans, witches, vampires and daemons.
---
Also Read: Shows Like Marvel's 'Legion' If You Miss The Series
---
Legion
Synopsis: LEGION follows the story of David Haller, a troubled young man who may be more than human. Since he was a teenager, David has struggled with mental illness. Diagnosed as schizophrenic, he has been in and out of psychiatric hospitals for years. But after a strange encounter with a fellow patient, David is confronted with the possibility that the voices he hears and the visions he sees might be real.
---
Also Read: Best Shows Like 'His Dark Materials' To Watch While Waiting For Season 3
---
His Dark Materials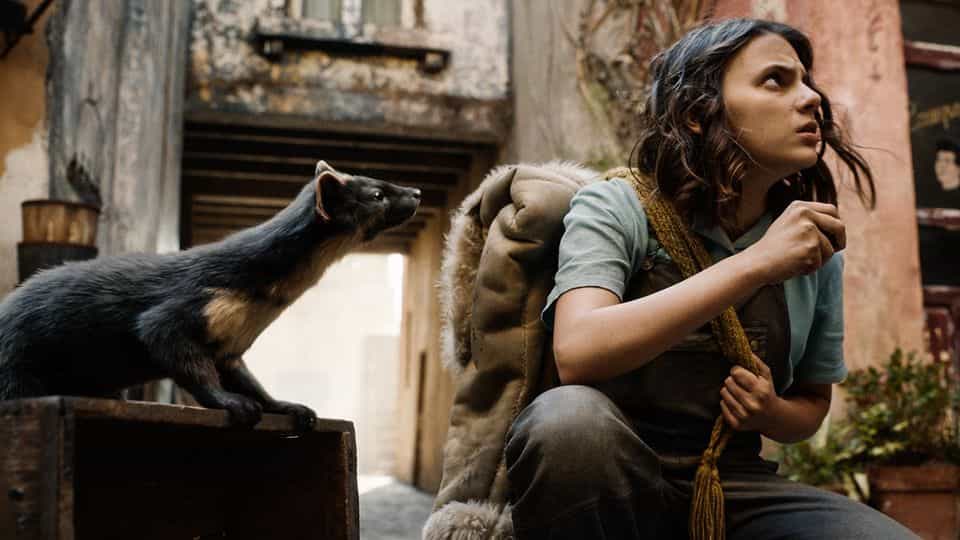 Synopsis: His Dark Materials stars Dafne Keen, James McAvoy, Ruth Wilson and Lin-Manuel Miranda. Adapting Philip Pullman's award-winning trilogy of the same name, which is considered a modern masterpiece of imaginative fiction, the first season follows Lyra, a seemingly ordinary but brave young woman from another world. Her search for a kidnapped friend uncovers a sinister plot involving stolen children, and becomes a quest to understand a mysterious phenomenon called Dust. As she journeys through the worlds, including our own, Lyra meets Will, a determined and courageous boy. Together, they encounter extraordinary beings and dangerous secrets, with the fate of both the living — and the dead — in their hands.
The Letter for the King
Synopsis: The Letter for the King is the story of a ruthless prince who threatens to cast the world into darkness, when a young knight in training named Tiuri (Amir Wilson) embarks on an epic quest to deliver a secret letter to the king. Along the way, he unexpectedly finds himself at the center of a magical prophecy foretelling the rise of a hero who can defeat the prince and restore peace. If he's going to survive the journey, Tiuri will have to learn what it means to be a true knight — and a true leader. The story is based on the best-selling novel of the same name and also stars Ruby Serkis, Thaddea Graham and Gijs Blom. The Letter for the King is written by Will Davies (How To Train Your Dragon, Johnny English, Puss in Boots) who also serves as executive producer.
I Am Not Okay With This
Synopsis: I Am Not Okay With This is a brilliant and messy origin story of a teenage girl who is navigating the muddy waters of high school all while dealing with her newfound immense powers. The series is based on a graphic novel of the same name by Charles Forsman.
The Order
Synopsis: The Order follows Jack and his classmates or Werewolf buddies as they uncover dark secrets about wizardry and secret societies that use magic to further their own agendas.