Swarm is definitely one of the most thrilling new shows to come out recently. The Prime Video is created by Donald Glover and stars Dominique Fishback in the lead role of Dre. Swarm tells the story of a toxic and mentally unstable fan who is obsessed with a pop star. Dre goes to unthinkable lengths for her obsession and destroys her life. If you liked Swarm and are hoping for Season 2 here are some shows you could watch until it is confirmed.
---
Also Read: Thrilling Shows Like 'The Outsider' To Watch If You Miss the Series
---
The Outsider (HBO Max)
Synopsis: The gruesome murder of an 11-year-old boy in the Georgia woods leads a local detective into a disturbing search for the truth in Season 1 of this drama series based on Stephen King's bestselling novel. When an insidious supernatural force edges its way into the case, it leads a seasoned cop (Ben Mendelsohn) and an unorthodox investigator (Cynthia Erivo) to question everything they believe in. The stellar supporting cast includes Bill Camp, Mare Winningham, Paddy Considine, Julianne Nicholson, Yul Vazquez, Jeremy Bobb, Marc Menchaca and Jason Bateman.
Deadly Women (Hulu)
Synopsis: They are history's most-intriguing and horrifying women. A sisterhood whose crimes are written in blood. Deadly Women explores the world of the female killer. A world shaped by spiraling forces — of obsession, greed and revenge.
Synopsis: From breakout creator Little Marvin and executive producer Lena Waithe, Them is a limited anthology series that explores terror in America. The 1950s set first season centers on a Black family who moves from North Carolina to an all-white Los Angeles neighborhood during the period known as The Great Migration. The family's idyllic home becomes ground zero where malevolent forces, next-door and otherworldly, threaten to taunt, ravage and destroy them.
---
Also Read: Shows Like 'Severance' To Watch While Waiting For Season 2
---
Severance (Apple TV+)
Synopsis: In Severance, Mark Scout (Scott) leads a team at Lumon Industries, whose employees have undergone a severance procedure, which surgically divides their memories between their work and personal lives. This daring experiment in 'work-life balance' is called into question as Mark finds himself at the center of an unraveling mystery that will force him to confront the true nature of his work… and of himself.
Synopsis: Inside No. 9 is a black comedy series written by and starring Reece Shearsmith and Steve Pemberton (The League of Gentlemen, Psychoville). An anthology of tales of the genuinely unexpected, each 30-minute episode tells a stand-alone story: from a murder on a French train to a burglary in a modernist mansion; from a séance in a Victorian villa to a crisis in a volunteer call centre.
---
Also Read: Shows Like 'Hannibal' To Watch If You Miss the Series
---
Hannibal (Hulu)
Synopsis: One of the most fascinating literary characters comes to life on television for the first time: psychiatrist-turned-serial-killer, Dr. Hannibal Lecter. In this drama from Bryan Fuller ("Pushing Daisies," "Heroes"), based on the characters from Thomas Harris' classic novels, we see where this incredible story began.
---
Also Read: Shows Like 'Penny Dreadful' To Watch If You Miss the Series
---
Synopsis: An erotically-charged, profoundly unsettling new saga, PENNY DREADFUL completely reinvents literature's most iconic and terrifying characters. Dorian Gray, Victor Frankenstein and timeless figures from Dracula join a core of original characters in a dark and brutal quest to save a soul — even as they grapple with their own monstrous temptations.
---
Also Read: Shows Like 'Bates Motel' To Watch If You Miss the Series
---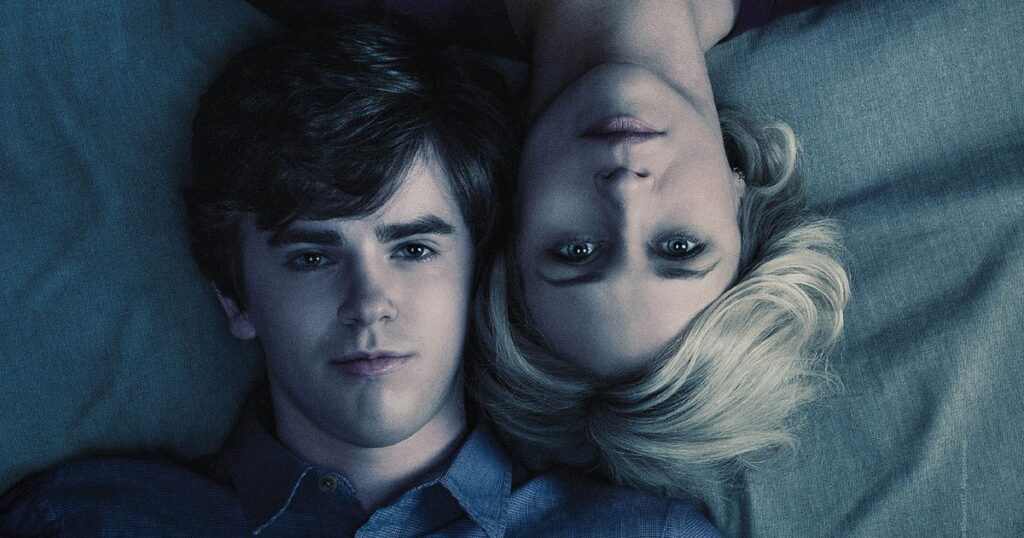 Synopsis: From Executive Producers Carlton Cuse (Lost) and Kerry Ehrin (Friday Night Lights and Parenthood), Bates Motel delves into the sadistic and twisted relationship between serial killer-to-be, Norman Bates, and his mother Norma. A prelude to the classic horror film Psycho, the series takes a contemporary glimpse into Norman's formative years and reveals how he became one of the most infamous murderer.
---
Also Read: Thrilling Shows Like 'You' To Watch While Waiting For Season 5
---
You (Netflix)
Synopsis: From executive producer/writers Greg Berlanti and Sera Gamble, and based on Caroline Kepnes' best-selling novel of the same name, YOU is a 21st century love story about an obsessive, yet brilliant twentysomething who uses the hyper connectivity of today's technology to make the woman of his dreams fall in love with him. "What would you do for love?" When a brilliant bookstore manager crosses paths with an aspiring writer, his answer becomes clear: anything. Using the Internet and social media as his tools to gather the most intimate of details and get close to her, a charming and awkward crush quickly becomes obsession as he quietly and strategically removes every obstacle — and person — in his way.
Synopsis: When notorious serial killer Joe Carroll (James Purefoy) escapes from death row and embarks on a new killing spree, the FBI calls former agent Ryan Hardy (Kevin Bacon), who captured Carroll nine years earlier, after Carroll murdered 14 female students on a college campus where he taught literature. Knowing Carroll better than anyone and close with Carroll's ex-wife, Hardy works closely with an FBI team and soon discovers that Carroll was not only communicating with a network of killers in the outside world, but has much more planned than just a prison escape – and there's no telling how many additional killers are out there. As Hardy and the FBI team are challenged by the ever-growing web of murder around them, masterminded by the diabolical Carroll, Hardy will not only get a second chance to capture Carroll, but another shot at redemption, as he faces not one but an entire cult of serial killers.