Supernatural was one of the longest-running live-action series, running for fifteen action-packed seasons that made the Winchester brothers a legend known throughout the world. The CW fantasy series follows the Winchester brothers Sam (Jared Padalecki) and Dean (Jensen Ackles) as they go on the road with their 1967 Chevy Impala to hunt all kinds of supernatural entities. When the series begins we see Sam, enjoying a healthy normal life by going to college at Stanford and having a loving girlfriend, but all of that changes when his Dean comes to him after their father John Winchester (Jeffrey Dean Morgan) goes missing while hunting a supernatural entity. While hunting monsters like vampires, werewolves, spirits, and shapeshifters is part of their daily lives but their main goal is to hunt down the yellow-eyed monster who killed their mother. Supernatural is a brilliantly entertaining series that gives us thrills for a long-time and if you also miss the thrill ride here are some shows you could watch after the CW series.
---
Also Read: Shows Like 'The Winchesters' To Watch If You Liked the 'Supernatural' Spin-Off
---
The Winchesters (The CW)
Synopsis: Supernatural star Jensen Ackles and Danneel Ackles team up with Supernatural writer Robbie Thompson for this thrilling prequel to the long-running hit series. Before Sam and Dean, there were their parents, John and Mary. Told from the perspective of narrator Dean Winchester (Ackles), THE WINCHESTERS is the epic, untold love story of how John Winchester met Mary Campbell and put it all on the line to not only save their love, but the entire world. When John returns home from fighting in Vietnam, a mysterious encounter sparks a new mission to trace his father's past. In his journey, he crosses paths with 19-year-old demon hunter Mary, who is also searching for answers after the disappearance of her own father. Together, the two join forces with young hunter-in-training Latika and easygoing hunter Carlos to uncover the hidden truths about both their families. Their investigation leads them to a rare book emporium, whose owner Ada takes an interest to the occult and could provide the missing pieces to their puzzle. But secrets run deep for both the Winchesters and Campbells, and despite the best efforts of John's mother Millie to protect her son from pursuing a dangerous life of demon hunting, John and Mary are both determined to work together to uphold their families' legacies while beginning to form a family of their own.
---
Also Read: Shows Like 'Grimm' To Watch If You Miss the Series
---
Grimm is a fantasy procedural NBC series that ran for six brilliant seasons blending multiple genres in an immersive story. The series follows Detective Nick Burkhardt (David Guintoli), a Portland cop who finds out that he is an important member of a long line of magical enforcers named Grimm, who keep the secret world of supernatural creatures separate from the world of normal humans. When Nick finds out that he is a Grimm he is barely able to handle anything because until recently he was one of those normal humans, whom he is now trying to protect from the various supernatural creatures. Nick isn't alone in this fight though because he has the support of a wonderful friend and partner Hank (Russell Hornsby), girlfriend Juliette (Elizabeth Tulloch), and a new supernatural friend Monroe (Silas Weir Mitchell).
---
Also Read: Supernatural Shows Like 'Angel' To Watch If You Miss the Series
---
Angel (Hulu & The Roku Channel)
Angel is a spinoff of the popular supernatural series "Buffy the Vampire Slayer" but unlike the original series, Angel has a much darker story and isn't afraid to kill the main characters. While the concept of hunting demons is the same but in Angel, everything has gone corporate. Angel has left the small California town of Sunnydale and has moved to Los Angeles and there he tries to kill the evil lurking beneath the glittery facade of the city.
---
Also Read: Shows Like 'Lucifer' to Watch If You Miss the Series
---
Lucifer (Netflix)
Lucifer is one of those shows that fans love with all their heart and it was proved because the fans of the series were the ones that saved it from cancellation. The series follows the titular character Lucifer (Tom Ellis) as he gets bored from ruling over hell and wants to have some fun in Los Angeles, but things don't go as planned and he decides to team up with a mysterious LAPD detective named Chloe Decker (Lauren German) and solve crimes while also dealing with problems from heaven and hell. Lucifer's cast also includes Lesley-Ann Brandt as Mazikeen, Kevin Alejandro as Dan, D.B. Woodside as Amenadiel, Rachael Harris as Linda Martin, and Aimee Garcia as Ella Lopez. Lucifer ran from the first season to the third season on Fox and then after its cancellation, it was acquired by Netflix for three more seasons.
---
Also Read: Shows Like 'American Gods' To Watch If You Miss the Series
---
American Gods (Starz & The Roku Channel)
American Gods are one of the most fascinating adaptations of Neil Gaiman's works, as the series is filled with brilliant characters and their unique motivations. While American Gods is one of the most unique shows based on an even more unique novel series. The series follows Shadow Moon (Ricky Whittle) who meets the mysterious Mr. Wednesday (Ian McShane) after being released from prison. After meeting Mr. Wednesday our protagonist Shadow Moon is pulled into a conflict between the Old Gods and the New Gods. The Starz series premiered in 2017 with its first season being showered with rave reviews from critics and audiences.
---
Also Read: Shows Like 'Preacher' To Watch If You Miss the Series
---
Preacher (Hulu)
AMC's Preacher is one of the best shows about religion and it blends the horror and comedy genres perfectly to give you a brilliant yet immensely weird series. Based on a comic book series of the same name by Garth Ennis and Steve Dillon, Preacher follows Jesse Custer, a hard-drinking and often violent preacher, who has doubts about his faith but he ends up with a very powerful force from Heaven which gives him immense powers. This force in turn makes him a target for many groups including supernatural killers, religious fanatics, and even angels from Heaven. The series ended with its fourth and final season in 2019, giving the fans a satisfying ending to the Preacher saga.
---
Also Read: Shows Like 'Buffy The Vampire Slayer' To Watch If You Miss the Series
---
Buffy the Vampire Slayer (Hulu & The Roku Channel)
Buffy The Vampire Slayer is one of the best fantasy series that captured the hearts and minds of its audience for over seven years. The Josh Whedon series blended fantasy, comedy, and monsters into a brilliant piece of television and it follows the titular Buffy Summers who tries to live a normal high school life, while also trying to fulfill her duties as a vampire and demon hunter. Buffy The Vampire Slayer ended its run with its seventh and final season over nineteen years ago and the fans of the series are still raving about it.
Syfy's original series "Warehouse 13" was a brilliant blend of action, comedy, sci-fi, and supernatural genres. The series follows Secret Service agents Pete Lattimer (Eddie McClintock) and Myka Bering (Joanne Kelly) as they are assigned to the secret storage facility named Warehouse 13 which is located in a remote location in South Dakota, and when they hear the news of their new assignment they think that they screwed up big but in reality, they have been trusted with immense responsibility. While they think that this job isn't really a brilliant thing at the start but as time goes they come around to it. Throughout the series the duo is tasked with finding out powerful supernatural artifacts, some of which have gone missing and some have just been discovered. The series also stars Saul Rubinek as NSA cryptographer Artie Nielsen and Genelle Williams as Leena, the proprietor of Leena's Bed and Breakfast where the Warehouse 13 team lives.
---
Also Read: Shows Like 'The X-Files' To Watch If You Miss the Series
---
The X-Files (Hulu)
The X-Files is one of the biggest series of the 1990s, also regarded as one of the most influential series the Fox series follows Fox Mulder and Dana Scully investigating the most mind-bending paranormal activities. The series' original run was for 9 seasons with the series being revived in 2016 for two more seasons making the total season number 11 seasons.
---
Also Read: Supernatural Shows Like 'Wynonna Earp' To Watch If You Miss the Series
---
Wynonna Earp (Netflix)
Syfy's original series Wynonna Earp is a really entertaining supernatural western action-drama series. The series is based on the comic book of the same name and it follows the titular character played by Melanie Scrofano, a high-functioning alcoholic who happens to be a direct descendant of the legendary lawman and gunslinger Wyatt Earp. Because of a family curse, Wynonna now has to kill the men and women Wyatt Earp killed in his time because all of them have become revenants or demons, who are walking the earth in the present. Wynonna has the help of the very sexy gun named Peacemaker, which she has to use to shoot the revenants right in their head to send them right back to hell. Also Doc Holliday (Tim Rozon) is also alive in the present and he is immortal now, other people helping Wynonna are his sister Waverly (Dominque Provost-Chalkley), and the U.S. Deputy Marshal Xavier Dolls played by Shamier Anderson. Wynonna Earp ran for seasons and during that time it earned a considerable amount of fanbase.
---
Also Read: Shows Like 'The Hardy Boys' To Watch While Waiting For the Final Season
---
The Hardy Boys (Hulu)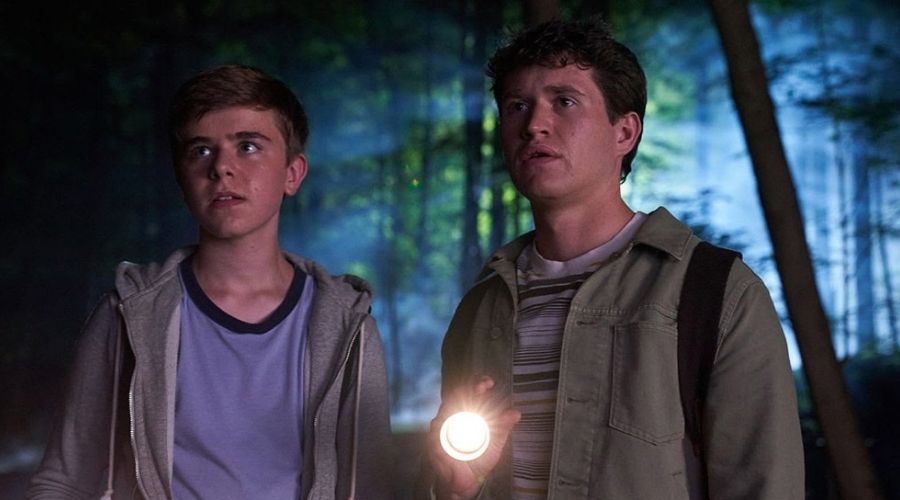 The Hardy Boys is one of the oldest multimedia franchises that has stood the test of time and passed. Hulu's take on the famous Hardy Boys is somewhat of a gritty reboot and it follows the Hardy brothers Frank (Rohan Campbell) and Joe (Alexander Elliot) as they move to their parent's hometown Bridgeport after a tragic family loss. In Bridgeport, the boys are staying with their Aunt Trudy (Bea Santos), after their father Fenton Hardy (James Tupper) has taken off to solve a secret case. While living in Bridgeport Frank and Joe start their own investigating thinking that they can help their father and also find an answer to a mystery they want to solve, but as soon as they start the whole town becomes a suspect.