The HBO series Succession created by Jesse Armstrong, has finally ended with its fourth and final season and today we are talking about I guess my feelings on the finale episode titled "With Open Eyes." Following the last episode's events we knew that we were heading into the endgame of the series and in the typical Succession way we are ending it in a boardroom filled with people wearing grey and black suits. The ending of the series was tragically hilarious and many fans might have an issue with it but it is also true that they understand that it had to end that way. So, if you also like Succession and want to watch some more shows like it here are some options for you.
Babylon
Synopsis: Babylon takes us behind the scenes of London's Metropolitan Police as a newly transplanted American PR guru (Brit Marling) tries to fashion a new image and approach for the organization's heavily resistant Commissioner (James Nesbitt). Directed by Academy Award® winning director Danny Boyle (Slumdog Millionaire).
---
Also Read: Shows Like 'The Thick Of It' To Watch If You Miss the Series
---
The Thick Of It (Britbox)
Synopsis: Award-winning comedian Armando Iannucci directs this satirical comedy set in the world of British politics. The team at the Department of Social Affairs and Citizenship find themselves in a world dominated by internal politics, power and the media. They have no choice but to do as Number 10 tells them, else face the wrath of the Prime Minister's Machiavellian spin doctor, Malcolm Tucker.
---
Also Read: Shows Like 'Billions' To Watch While Waiting For Season 7
---
Synopsis: Billions is a bold, contemporary drama that melds the worlds of ultra-wealth, influence and corruption as personified in two highly ambitious opposing figures: hard-charging, blue-blooded, politically connected U.S. Attorney Chuck Rhoades (Emmy and Golden Globe winner Paul Giamatti) and brilliant, calculating, blue-collar billionaire hedge fund king, Bobby "Axe" Axelrod (Emmy and Golden Globe winner Damian Lewis). Set amongst the Machiavellian machinations of New York City power politics and finance, BILLIONS weaves a complex, intricate narrative featuring a high-stakes game of predator-versus-prey.
---
Also Read: Shows Like 'Dynasty' To Watch If You Miss the Series
---
Dynasty (Netflix)
Synopsis: Fallon Carrington is charismatic, cunning, and poised to become the new COO of her father's global energy empire – or so she thinks. When her father, Blake Carrington, summons Fallon and her brother, Steven, home in Atlanta, Fallon is horrified to learn that the reunion isn't to announce her promotion – but rather to make the acquaintance of their stepmother-to-be, Cristal.
Revenge (Hulu)
Synopsis: Emily Thorne (Emily Van Camp) is new to the Hamptons. She's met some of her wealthy neighbors, has made a few new friends and seemingly blends into the town. But something is a little odd about a young girl living in a wealthy town all on her own, and the truth is that Emily isn't exactly new to the neighborhood. In fact, this was once her old neighborhood, until something bad happened that ruined her family and their reputation. Now Emily is back, and she's returned to right some of those wrongs in the best way she knows how – with a vengeance.
Bloodline (Netflix)
Synopsis: When the black sheep son of a respected family threatens to expose dark secrets from their past, sibling loyalties are put to the test.
---
Also Read: Shows Like 'Arrested Development' To Watch If You Miss the Series
---
Arrested Development (Netflix)
Synopsis: Synopsis: Holding the Bluths together just barely is son Michael Bluth (Jason Bateman), the only normal guy in a family that's chock full of nuts. Hardworking and sensible, Michael's certain he's going to be given control of his family's Enron-style corporation upon the retirement of his father (Jeffrey Tambor). The fact that he's passed over instead for his mother (Jessica Walter) is only a blip when compared to his father's immediate arrest for dubious accounting practices, and the resulting freeze on the family's previously limitless wealth. Bereft of money, and even less family love, the Bluths have to band together in their moment of need–not easy when everyone's looking out for number 1. In addition to his scabrous parents, Michael has to contend with his lothario older brother (Will Arnett), his basically useless younger brother (Tony Hale), his greedy twin sister (Portia DeRossi), and her sexually ambiguous husband (David Cross). Michael's only comrade in sanity is his son George Michael (Michael Cera), but then again, the teenage boy harbors a secret crush on his cousin (Alia Shawkat).
Empire (Hulu)
Synopsis: A hip-hop mogul and CEO of Empire Entertainment, Lucious Lyon, must choose a successor among his three sons who are battling for control over his multi-million dollar company, while his ex-wife schemes to reclaim what is hers.
---
Also Read: Shows and Movies Like 'Yellowstone' You Should Watch
---
Synopsis: Kevin Costner stars as John Dutton, patriarch of a Montana ranching family, and owner of the largest ranch in the U.S. It's the story of Dutton's fight to defend his land and his family from the modern day forces that threaten his way of life.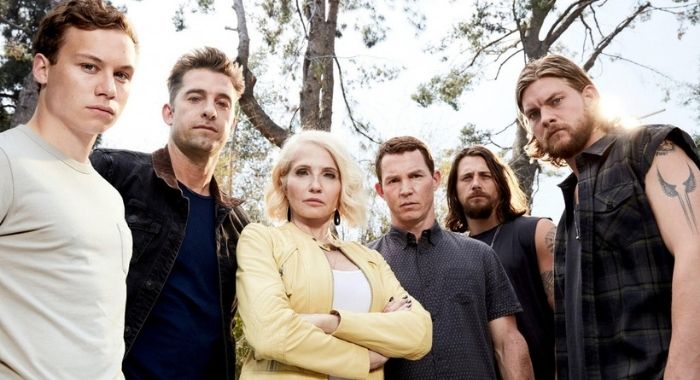 Synopsis: This bold family crime drama centers on teenage J Cody, who moves in with his freewheeling relatives in their Southern California beach town after his mother dies of an overdose. Quickly pulled into the family's life of excess, he soon discovers that it's all being funded by criminal activities. Joining the family comes with more danger and excitement than he might be ready to handle.
---
Also Read: Shows Like 'Kin' To Watch After Season 2
---
Synopsis: New Irish Crime Drama Series, where a boy is killed and his family embarks on a gangland war with an international cartel – a war that is impossible to win. But the Kinsellas have something the cartel does not: the unbreakable bonds of blood and family.