What happens when you put the creators of 'The Office' and Steve Carell back together in a big-budget Netflix sitcom, you get Space Force. The Netflix workplace comedy series is a fun watch and even though it didn't impress many people, it definitely is deserving of a watch. Space Force got two brilliant seasons on Netflix and then it was canceled. So, if you miss the series here are some more shows you could watch next.
---
Also Read: Shows Like 'Avenue 5' To Watch After Season 2
---
Avenue 5 (HBO Max)
Synopsis: All aboard for a hilarious journey across the universe in this HBO comedy series from Armando Iannucci (HBO's "Veep"). Set 40 years in the future when travelling the solar system is a booming business, the series follows life on board Avenue 5, a mash-up of a cruise liner and an interplanetary rocket ship packed with luxury amenities. Hugh Laurie stars.
---
Also Read: Shows Like 'The Office' If You Miss the Series
---
Synopsis: Steve Carell (The 40-Year-Old Virgin, The Daily Show) stars in The Office, a fresh and funny mockumentary-style glimpse into the daily interactions of the eccentric workers at the Dunder Mifflin paper supply company. Based on the smash-hit British series of the same name and adapted for American Television by Greg Daniels (King of the Hill, The Simpsons), this fast-paced comedy parodies contemporary American water-cooler culture. Earnest but clueless regional manager Michael Scott (Carell) believes himself to be an exceptional boss and mentor, but actually receives more eye-rolls than respect from his oddball staff.
---
Also Read: Shows Like 'The Orville' To Watch After Binging Season 3
---
The Orville (Hulu)
Synopsis: From Emmy Award-winning executive producer and creator Seth MacFarlane, THE ORVILLE is a live-action, one-hour space adventure series set 400 years in the future that follows The Orville, a mid-level exploratory spaceship. Its crew, both human and alien, face the wonders and dangers of outer space, while also dealing with the familiar, often humorous problems of everyday life.
Star Trek: Lower Decks (Paramount+)
Synopsis: Developed by Emmy Award winner Mike McMahan, STAR TREK: LOWER DECKS, a new half-hour animated comedy series, focuses on the support crew serving on one of Starfleet's least important ships, the U.S.S. Cerritos, in 2380. Ensigns Mariner, Boimler, Rutherford and Tendi have to keep up with their duties and their social lives, often while the ship is being rocked by a multitude of sci-fi anomalies.
---
Also Read: Comedy Shows Like 'Silicon Valley' to Watch If You Miss the Series
---
Silicon Valley (HBO Max)
Synopsis: From the offbeat mind of Mike Judge ('Office Space,' 'Beavis & Butthead') comes this comedy series that delves into the outrageous world of tech start-ups and the socially awkward underdogs trying to navigate its lucrative potential.
Intelligence (Peacock)
Synopsis: David Schwimmer and Nick Mohammed star in this workplace comedy set in the UK's Government Communications Headquarters which is a weedier, geekier, more bureaucratic version of MI5 and MI6.
---
Also Read: Shows Like 'Upload' To Watch If You Have Already Binged Season 2
---
Synopsis: From Emmy-Award winning writer Greg Daniels (The Office, Parks and Recreation) comes Upload, a new sci-fi comedy series set in a technologically advanced future where hologram phones, 3D food printers and automated grocery stores are the norm. Most uniquely, humans can choose to be "uploaded" into a virtual afterlife. The series follows a young app developer, Nathan Brown (Robbie Amell), who winds up in the hospital following a self-driving car accident, needing to quickly decide his fate. After a rushed deliberation with his shallow girlfriend Ingrid (Allegra Edwards), he chooses to be uploaded to her family's luxurious virtual afterlife, the Horizen company's "Lakeview." Once uploaded in Lakeview, Nathan meets his customer service "Angel" Nora Anthony (Andy Allo), who at first is his charismatic concierge and guide, but quickly becomes his friend and confidante, helping him navigate this new digital extension of life.
Veep (HBO Max)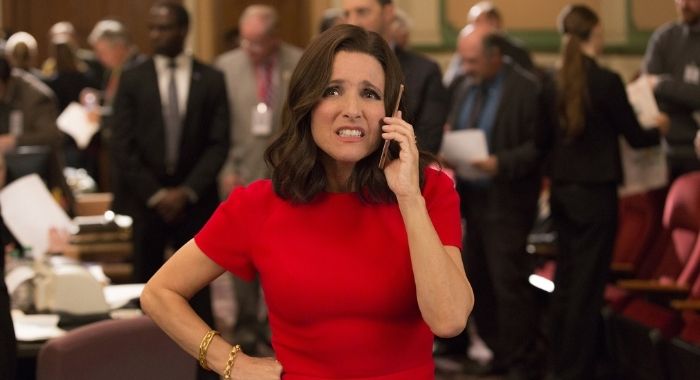 Synopsis: Julia Louis-Dreyfus stars in this comedy series that follows the whirlwind day-to-day existence of former President and Vice President Selina Meyer as she tries to claw her way back to being Commander in Chief in spite of her screwball staff. The ensemble cast includes Tony Hale as Selina's right-hand man; Anna Chlumsky as her chief of staff, and more.
Synopsis: Award-winning comedian Armando Iannucci directs this satirical comedy set in the world of British politics. The team at the Department of Social Affairs and Citizenship find themselves in a world dominated by internal politics, power and the media. They have no choice but to do as Number 10 tells them, else face the wrath of the Prime Minister's Machiavellian spin doctor, Malcolm Tucker.
The IT Crowd (Netflix)
Synopsis: Roy and Moss toil in the squalid basement of a huge company, fielding IT help desk calls. Roy has a lousy attitude coupled with an eye for the ladies, while Moss is dressed by his mother and has an aerosol can of water clipped to his belt with which to spray his ear when it gets hot. Into their life of 'users', pizza, science fiction and firewalls comes middle manager Jen, a spunky can-do career gal who doesn't know one end of a laptop from the other. Can she introduce real life to men who email the fire brigade in an emergency, who invent a psycho for an internet dating site and display sympathetic PMS symptoms once a month? 'The IT Crowd'. It's more than a way of life, it's a sitcom.