Six Feet Under is one of the most brilliantly f**ked up dark comedy series. The series followed the Fisher family and they're associates as they run their funeral home left to the Fisher brothers by their father Nathaniel Fisher Sr. The series starred Peter Krause, Michael C. Hall, Frances Conroy, Lauren Ambrose, Freddy Rodriguez, Mathew St. Patrick, and Rachel Griffins. Six Feet Under debuted with its first season in 2001 with great reception from critics and audiences alike and then the series ran for four more brilliant seasons ending with its fifth and final season in 2005. While there is some chatter about a continuation of the story, nothing of it has materialized yet. So, if you also miss the series here are some more shows you could watch.
---
Also Read: Shows Like 'Barry' To Watch After Season 4
---
Synopsis: A dark comedy starring Bill Hader (Saturday Night Live), who created and executive produced the series along with Alec Berg (HBO's Silicon Valley), Barry focuses on a depressed, low-rent hitman from the Midwest (Hader, in the title role) who falls in love with acting while on a job in LA.
---
Also Read: Shows Like 'Fleabag' If You Miss the Series
---
Synopsis: Fleabag is a hilarious and poignant window into the mind of a dry-witted, sexual, angry, grief-riddled woman, as she hurls herself at modern living in London. Award-winning playwright Phoebe Waller-Bridge writes and stars as Fleabag, an unfiltered woman trying to heal, while rejecting anyone who tries to help her and keeping up her bravado all along. Unfettered, unfiltered, and based on the play that won the Fringe First Award at Edinburgh, Fleabag is the thoroughly disarming confessional of a woman so totally detached, she's utterly lost.
Synopsis: When Daniel Holden is released after nearly 20 years of complete isolation on Death Row, he returns as an outsider to his family, to his community and to the times. Having spent his entire adult life waiting to die, the walls suddenly come crumbling down setting Daniel free in a world he no longer understands. Daniel's unexpected release throws his families' small town into disarray, which ripples out to all the people connected to his case – the prosecutor who rode the notoriety to become a State Senator, the Sheriff who pushed the boundaries of the investigation, and the entire town of Paulie that blamed him for killing one of their own. Like a deadly spark, Daniel's release reignites the mystery, the power plays, and the questionable justice that condemned him.
---
Also Read: Shows Like 'Mad Men' To Watch If You Miss The Series
---
Mad Men (YouTube TV Primetime)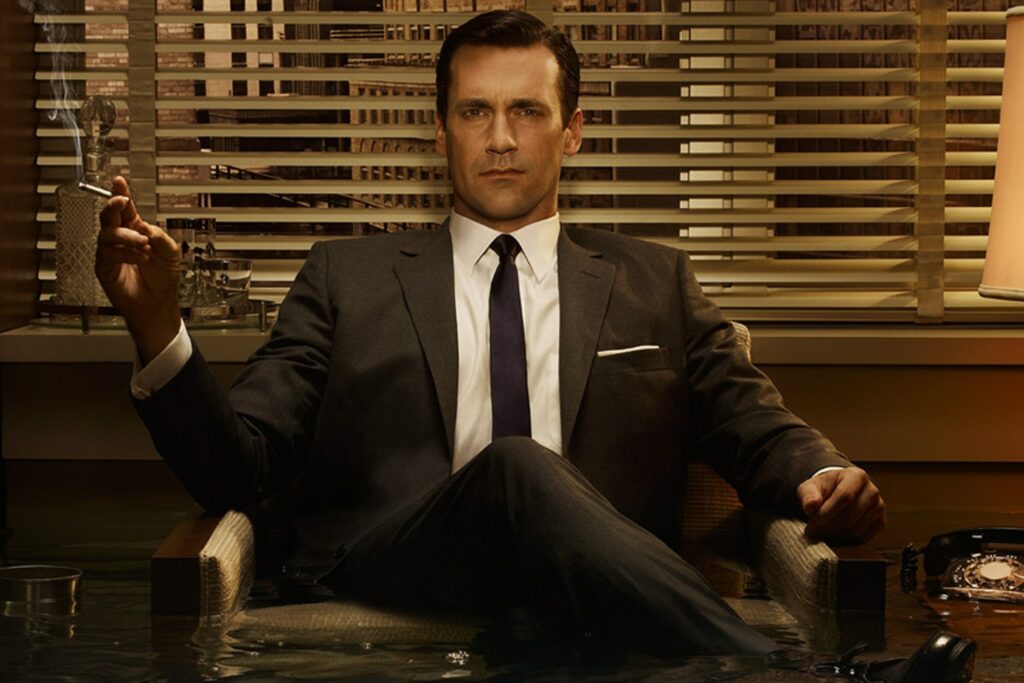 Synopsis: Set in 1960-1970 New York, the sexy, stylised and provocative AMC drama Mad Men follows the lives of the ruthlessly competitive men and women of Madison Avenue advertising. The indefatigable Don Draper (Jon Hamm) is the top ad executive, but there are plenty of young guns eager to topple him from his perch, in the Golden Globe-winning TV drama from 'Sopranos' writer Matthew Weiner.
---
Also Read: Shows Like 'Pushing Daisies' To Watch If You Miss the Series
---
Pushing Daisies (HBO Max)
Synopsis: This forensic fairytale follows Ned, a young man with a very special gift. As a boy, Ned discovered that he could return the dead briefly back to life with just one touch. Now a pie maker, Ned puts his ability to good use, not only touching dead fruit and making it ripe with everlasting flavor, but working with a private investigator to crack murder cases by raising the dead and getting them to name their killers. But the tale gets complicated when Ned brings his childhood sweetheart, Chuck, back from the dead–and keeps her alive. Chuck becomes the third partner in Ned and Emerson's private-investigation enterprise, encouraging them to use Ned's skills for good, not just for profit. Life would be perfect for Ned and Chuck, except for one cruel twist: If he ever touches her again, she'll go back to being dead, this time for good.
---
Also Read: Best Shows Like 'After Life' To Watch If You Miss the Series
---
After Life (Netflix)
Synopsis: Set in the small fictitious town of Tambury, the show follows Tony, a writer for the local newspaper whose life is upended after his wife dies from cancer. Whilst still struggling with immense grief for his wife, Tony starts to realise that making other people feel good is what can give him hope and a reason to live. After all, every end is a new beginning.
---
Also Read: Dark Comedy Shows Like 'Dead Like Me' To Watch If You Miss the Series
---
Dead Like Me (The Roku Channel)
Synopsis: Centers on a disaffected young woman who is suddenly killed when a piece of the MIR space station hurtles to Earth and hits her in the head. Georgia (George) Lass is surprised to discover that an afterlife does exist, and that she's already been assigned a job. Her new boss is Rube, a "reaper" — one of the many who pluck the souls of the living and escort them to their eternal reward.
---
Also Read: Shows Like 'The Leftovers' To Watch If You Miss the Series
---
The Leftovers (HBO Max)
Synopsis: This enthralling drama series focuses on a suburban town of people whose preconceptions are shattered in the wake of a global event dubbed The Departure, during which, as in the rapture described in the bible, some humans were taken and others left behind. Three years after the fateful October day when 140 million people — two percent of the world's population — disappeared without a trace, the denizens of the town of Mapleton struggle to comprehend and cope. Seen primarily through the eyes of beleaguered police chief Kevin Garvey, the series shows how ordinary folks react to inexplicable events that can unite or divide families and communities, revealing how the strain of an unprecedented calamity can turn people's faith into cynicism, paranoia, madness or cultlike fanaticism. Created by Damon Lindelof, Emmy Award winner for Lost, and acclaimed novelist Tom Perrotta.
Kidding (Fubo TV)
Synopsis: In his first series regular role in over two decades, Jim Carrey stars as Jeff, aka Mr. Pickles, an icon of children's television and a beacon of kindness and wisdom to America's impressionable young minds and the parents who grew up with him. But when this beloved personality's family begins to implode, Jeff finds no fairy tale, fable or puppet will guide him through the crisis, which advances faster than his means to cope. The result: a kind man in a cruel world faces a slow leak of sanity as hilarious as it is heartbreaking.
---
Also Read: Shows Like 'BoJack Horseman' To Watch If You Miss the Series
---
BoJack Horseman (Netflix)
Synopsis: BoJack Horseman was created by Raphael Bob-Waksberg. The series is executive produced by Raphael Bob-Waksberg, Steven A. Cohen and Noel Bright. Will Arnett (Flaked, Arrested Development) and Aaron Paul (Breaking Bad) also serve as executive producers. BoJack was designed by graphic artist Lisa Hanawalt and animated by LA-based ShadowMachine. The show is a Tornante Production, brought to life by Michael Eisner's The Tornante Company.