Shooter is one of the most thrilling and brilliant action series ever. Based on a 207 movie of the same name and the first three novels in the Bob Lee Swagger series by Stephen Hunter. The USA Network series stars Ryan Phillippe in the lead role of Bob Lee Swagger, an ex-Marine sniper who has to protect his family after someone frames him for a plot to assassinate the president. Shooter ran for three seasons after which it was canceled on a massive cliffhanger but the fans of the series still watch it because the series is so good. If you miss Shooter here are some shows you could watch next.
---
Also Read: Shows Like 'Bodyguard' To Watch While Hoping For Season 2
---
Bodyguard (Netflix)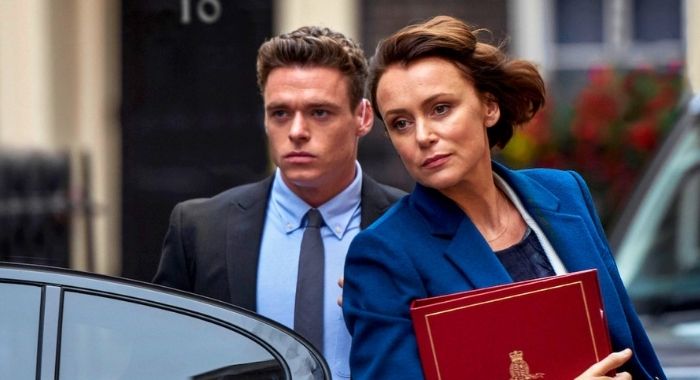 Synopsis: Set in and around the corridors of power, Bodyguard tells the fictional story of David Budd (Richard Madden), a heroic but volatile war veteran now working as a Specialist Protection Officer for the Royalty and Specialist Protection Branch (RaSP) of London's Metropolitan Police Service. When he is assigned to protect the ambitious and powerful Home Secretary Julia Montague (Keeley Hawes), whose politics stand for everything he despises, Budd finds himself torn between his duty and his beliefs. Responsible for her safety, is he actually her biggest threat?
---
Also Read: Shows Like 'Condor' To Watch If You Loved the Spy Series
---
Synopsis: Based on the novel "Six Days of the Condor" by James Grady and screenplay "Three Days of the Condor" by Lorenzo Semple Jr. and David Rayfiel, Condor follows CIA analyst (Max Irons) who stumbles onto a plan that threatens the lives of millions. Joe Turner has always been conflicted about his work for the CIA. But when something he's discovered gets his entire office killed, leaving Joe as the only survivor and forcing him to go on the run, the theoretical reservations he's harbored turn into all-too-real moral dilemmas. Under pressure, Joe will be forced to redefine who he is and what he's capable of in order to discover the truth and to stop a plot that threatens the lives of millions. Starring Max Irons, William Hurt, Leem Lubany, Angel Bonnani, Kristen Hager, with Mira Sorvino and Bob Balaban and special guest star Brendan Fraser.
---
Also Read: Shows Like 'Reacher' To Watch While Waiting For Season 2
---
Synopsis: Reacher follows Jack Reacher, a veteran military police investigator who has just recently entered civilian life. Reacher is a drifter, carrying no phone and the barest of essentials as he travels the country and explores the nation he once served. When Reacher arrives in the small town of Margrave, Georgia, he finds a community grappling with its first homicide in 20 years. The cops immediately arrest him and eyewitnesses claim to place Reacher at the scene of the crime. While he works to prove his innocence, a deep-seated conspiracy begins to emerge, one that will require Reacher's keen mind and hard-hitting fists to deal with. One thing above all is for sure: They picked the wrong guy to take the fall.
---
Also Read: Shows Like 'Tom Clancy's Jack Ryan' To Watch While Waiting For Season 4
---
Tom Clancy's Jack Ryan (Prime Video)
Synopsis: When CIA analyst Jack Ryan stumbles upon a suspicious series of bank transfers his search for answers pulls him from the safety of his desk job and catapults him into a deadly game of cat and mouse throughout Europe and the Middle East, with a rising terrorist figurehead preparing for a massive attack against the US and her allies.
---
Also Read: Shows Like 'The Night Agent' To Watch While Hoping For Season 2
---
The Night Agent (Netflix)
Synopsis: Based on the novel by Matthew Quirk, The Night Agent is a sophisticated, character-based, action-thriller centering on a low level FBI Agent who works in the basement of the White House, manning a phone that never rings — until the night that it does, propelling him into a fast moving and dangerous conspiracy that ultimately leads all the way to the Oval Office.
---
Also Read: Shows Like 'The Terminal List' to Watch While Waiting For Season 2
---
Synopsis: Navy SEAL Commander James Reece turns to vengeance as he investigates the mysterious forces behind the murder of his entire platoon. Free from the military's command structure, Reece applies the lessons he's learned from nearly two decades of warfare to hunt down the people responsible.
---
Also Read: Shows Like 'The Punisher' To Watch If You Miss the Series
---
The Punisher (Disney+)
Synopsis: Frank Castle, also known as "The Punisher", believes he has exacted revenge on the criminals responsible for the tragic murder of his family. However, he soon uncovers a larger, deeper conspiracy behind the events that occurred, involving his time serving in the Marine Corps. Alongside run-ins with law enforcement, his ex-best friend Billy Russo, and former NSA analyst Micro, Frank seeks to uncover the truth once and for all.
---
Also Read: Shows Like 'Homeland' To Watch If You Miss the Series
---
Synopsis: Homeland is an edge-of-your-seat sensation. CIA officer Carrie Mathison (Claire Danes) is tops in her field despite being bipolar, which makes her volatile and unpredictable. With the help of her long-time mentor Saul Berenson (Mandy Patinkin), Carrie fearlessly risks everything, including her personal well-being and even sanity, at every turn. You won't be able to turn away from this gripping, emotional thriller in which nothing short of the fate of our nation is at stake.