Apple TV+'s new crime thriller series Shantaram, starring Sons of Anarchy's famed actor Charlie Hunnam. Based on the best-selling novel of the same name by Gregory David Roberts, which was inspired by a true story. Shantaram has the man-on-the-run premise with Lin (Hunnam), an escaped Australian convict who is trying to find a new life in India, but his problems are not over as new issues arise with the mob. So, if you liked Shantaram and want to watch more shows like that, here are some options for you.
Clark (Netflix)
Synopsis: The fictional drama series Clark follows the man behind the expression "The Stockholm syndrome" on his life journey as he fooled all of Sweden to fall in love with him, despite several counts of drug trafficking, attempted murder, assault, theft and dozens of bank robberies. Based on the truths and lies revealed in Clark Olofsson's autobiography and directed by Jonas Åkerlund, the series provides a fictional take on one of the most controversial personalities in contemporary Swedish history.
Escape at Dannemora (Paramount+)
Synopsis: This limited series is based on the stranger-than-fiction account of a prison break in upstate New York in the summer of 2015 that spawned a massive manhunt for two convicted murderers. The prisoners were aided in their escape by a married female prison employee with whom they both became sexually entangled. It stars Oscar® winners Benicio del Toro and Patricia Arquette, and Golden Globe® nominee Paul Dano. Emmy® winner Ben Stiller executive produces and directs all episodes.
Banshee (HBO Max)
Synopsis: Banshee stars Antony Starr as Lucas Hood, an ex-con and master thief who assumes the identity of the sheriff of Banshee, Pennsylvania, where he continues his criminal activities, even as he's hunted by the shadowy gangsters he betrayed years earlier. The action drama charts the twists and turns that follow Hood, who improbably becomes sheriff of the rural, Amish-area town while searching for a woman he last saw 15 years ago when he gave himself up to the police to let her escape after a jewel heist. Living in Banshee under an assumed name, Carrie Hopewell (Ivana Milicevic) is now married to the local DA, has two children (one of whom may be Lucas'), and is trying desperately to keep a low profile – until Lucas arrives to shake up her world and rekindle old passions. Complicating matters is the fact that Banshee is riddled by corruption, with an Amish overlord, Kai Proctor (Ulrich Thomsen), brutally building a local empire of drugs, gambling, and graft.
Sacred Games (Netflix)
Synopsis: A link in their pasts leads an honest cop to a fugitive gang boss, whose cryptic warning spurs the officer on a quest to save Mumbai from cataclysm.
The Fugitive (The Roku Channel)
Synopsis: Mike Ferro is an innocent man on the run, desperate to clear his name. Clay Bryce is the determined cop trying to track him down. Let the chase begin.
---
Also Read: Shows Like 'Mad Men' To Watch If You Miss The Series
---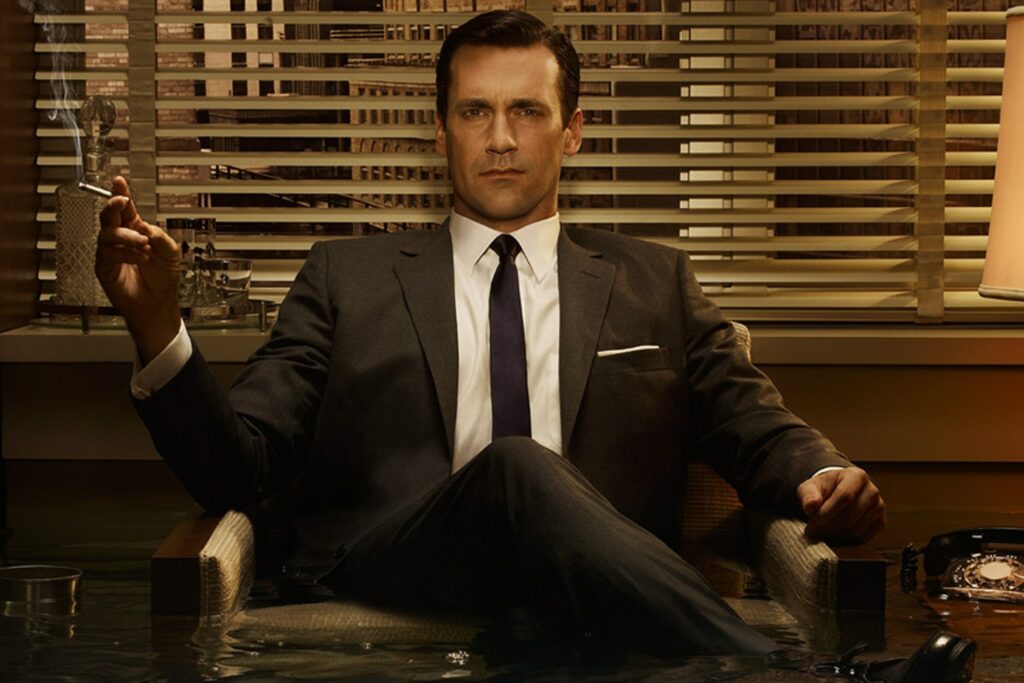 Synopsis: Set in 1960-1970 New York, the sexy, stylised and provocative AMC drama Mad Men follows the lives of the ruthlessly competitive men and women of Madison Avenue advertising. The indefatigable Don Draper (Jon Hamm) is the top ad executive, but there are plenty of young guns eager to topple him from his perch, in the Golden Globe-winning TV drama from 'Sopranos' writer Matthew Weiner.
White Teeth (The Roku Channel)
Synopsis: This epic, sparkling comedy-adapted from the award-winning novel by Zadie Smith-tells the story of three families living in Willesden, northwest London. Their lives, past and present, are woven together with comedy and flair over three decades in the melting pot of modern Britain.
---
Also Read: Shows Like 'The Americans' To Watch If You Miss the Series
---
The Americans (Hulu)
Synopsis: The Americans is a period drama about the complex marriage of two KGB spies posing as Americans in suburban Washington D.C. during the Reagan administration. The arranged marriage of Philip (Matthew Rhys) and Elizabeth Jennings (Keri Russell) grows more passionate and genuine by the day, but as the pressures and demands of the job grow heavier, the personal toll becomes almost too exhausting to bear. Having revealed their true identities to their teenage daughter Paige (Holly Taylor), Philip and Elizabeth's ability to protect their cover and their family's safety deteriorates. After a particularly fraught mission, Philip and Elizabeth decide to end their tour and take their family home to Russia. However, a game-changing development in one of their ongoing cases forces them to abandon those plans for the sake of the motherland. Now, Paige delves deeper into the family business, even as Philip takes a step back from it. The Jennings struggle to maintain a smokescreen of normalcy, especially around their son, Henry (Keidrich Sellati), who remains blissfully ignorant of the spies in his midst. Their neighbor and Philip's best friend, FBI Agent Stan Beeman (Noah Emmerich), has also yet to discover their true identities. Although he's transferred divisions, Stan remains their greatest threat since his friend and former partner, Agent Dennis Aderholt (Brandon J. Dirden), leads the force tasked with uncovering the Soviet Illegals hiding in plain sight. With Gorbachev in power in the Soviet Union, the winds of change are sweeping through both Russia and America, creating new perils. A growing rift within the KGB draws disillusioned former officer Oleg Burov (Costa Ronin) back into the fray, and may set Philip and Elizabeth on opposing sides as the Cold War reaches its boiling point.