Netflix's Shadow and Bone was an instant hit with the fans, with its charming and talented cast, and genius creators. Shadow and Bone introduced the fans to amazing world-building, fan-favorite characters from Leigh Bardugo's Grishaverse novels like Kaz Brekker, The Darkling, and Jesper. Dark forces conspire against orphan mapmaker Alina Starkov when she unleashes an extraordinary power that could change the fate of her war-torn world.
After a long wait, we recently got the second season of Shadow and Bone in March. So, while you wait for The Crows to come back for Season 3 here are some shows you could watch while waiting.
Once Upon a Time (Disney+)
Synopsis: Emma Swan wonders if the residents of Storybrooke, Maine are somehow actual characters from legendary children's tales. Parallel worlds unravel in this modern take on classic fables where a curse has trapped famed storybook characters in our world.
---
Also Read: Fantasy Shows Like 'Locke & Key' To Watch After the Netflix Series
---
Locke & Key (Netflix)
Synopsis: After their father is murdered under mysterious circumstances, the three Locke siblings and their mother move into their ancestral home, Keyhouse, which they discover is full of magical keys that may be connected to their father's death. As the Locke children explore the different keys and their unique powers, a mysterious demon awakens — and will stop at nothing to steal them. From Carlton Cuse (Lost, Bates Motel) and Meredith Averill (The Haunting of Hill House), the series is a coming-of-age mystery about love, loss, and the unshakable bonds that define family.
---
Also Read: Fantasy Shows Like 'The Magicians' To Watch If You Miss The Series
---
The Magicians (Netflix)
Synopsis: Based upon Lev Grossman's best-selling books, The Magicians centers around Brakebills University, a secret institution specializing in magic. There, amidst an unorthodox education of spellcasting, a group of twenty-something friends soon discover that a magical fantasy world they read about as children is all too real— and poses grave danger to humanity.
---
Also Read: Witchy Supernatural Shows Like 'Chilling Adventures of Sabrina' You Should Watch
---
Chilling Adventures of Sabrina (Netflix)
Synopsis: In the town of Greendale, where it always feels like Halloween, sixteen-year-old Sabrina Spellman faces a daunting decision. Born half-witch, half-mortal, she must choose between two worlds: the supernatural world of her family and the human world of her friends – while standing against the evil forces that threaten her, her family, and the daylight world humans inhabit. Raised by stern Aunt Zelda and maternal Aunt Hilda, Sabrina finds comfort in best friends Harvey, Roz, and Theo, as well as Ambrose, her warlock cousin, and partner in crime. Proving herself a powerful adversary as she hones her sorcery skills at the Academy of Unseen Arts, Sabrina soon learns the Dark Lord's true intentions and ultimate plan for her future. Tonally in the vein of Rosemary's Baby and The Exorcist, this dark coming-of-age story, based on the Archie Comics graphic novel, is a fiendishly enticing reimagining of the beloved comic book characters.
---
Also Read: Best Shows Like 'Shadowhunters' To Watch If You Miss the Series
---
Shadowhunters (Hulu)
Synopsis: Based on the bestselling young adult fantasy book series The Mortal Instruments by Cassandra Clare, Shadowhunters' follows 18-year-old Clary Fray, who finds out on her birthday that she is not who she thinks she is but rather comes from a long line of Shadowhunters – human-angel hybrids who hunt down demons. When her mother Jocelyn is kidnapped, Clary is thrown into the world of demon hunting with mysterious Shadowhunter Jace and her best friend, Simon. Now living among faeries, warlocks, vampires and werewolves, Clary begins a journey of self-discovery as she learns more about her past and what her future may hold.
---
Also Read: Shows Like 'Carnival Row' To Watch While Waiting For Season 2
---
Synopsis: Orlando Bloom (Pirates of the Caribbean) and Cara Delevingne (Suicide Squad) star in the Amazon Original series Carnival Row, a one-hour fantasy drama set in a Victorian fantasy world filled with mythological immigrant creatures whose exotic homelands were invaded by the empires of man. This growing population struggles to coexist with humans — forbidden to live, love or fly with freedom. But even in darkness, hope lives, as a human detective, Rycroft Philostrate (Bloom), and a refugee faerie named Vignette Stonemoss (Delevingne) rekindle a dangerous affair despite an increasingly intolerant society. Vignette harbors a secret that endangers Philo's world during his most important case yet: a string of gruesome murders threatening the uneasy peace of the Row.
---
Also Read: Fantasy Shows Like 'The Wheel of Time' To Watch While Waiting For Season 2
---
Synopsis: The lives of five young villagers change forever when a strange and powerful woman arrives, claiming one of them is the child of an ancient prophecy with the power to tip the balance between Light and Dark forever. They must choose whether to trust this stranger – and each other – with the fate of the world before the Dark One breaks out of His prison, and the Last Battle begins.
---
Also Read: Best Shows Like 'His Dark Materials' To Watch If You Miss the Series
---
His Dark Materials (Max)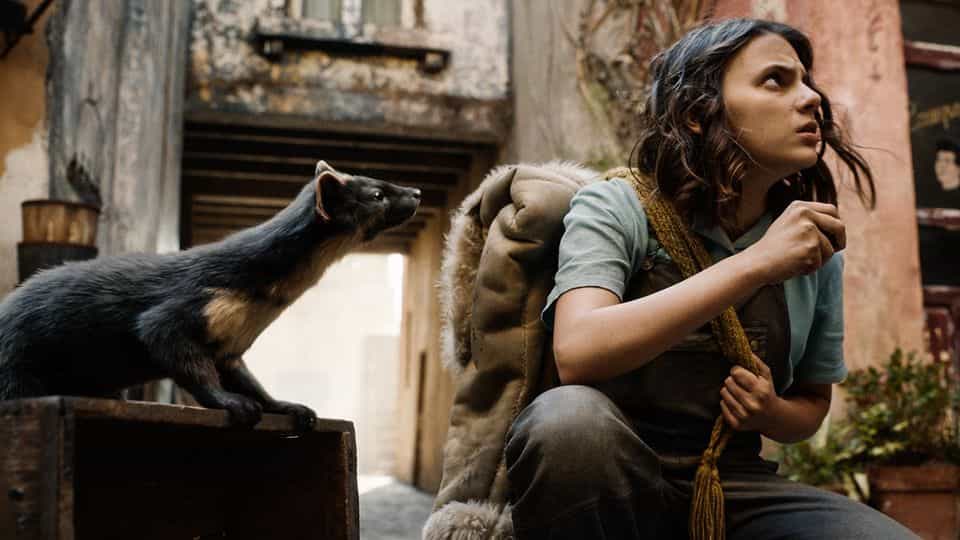 Synopsis: His Dark Materials stars Dafne Keen, James McAvoy, Ruth Wilson and Lin-Manuel Miranda. Adapting Philip Pullman's award-winning trilogy of the same name, which is considered a modern masterpiece of imaginative fiction, the first season follows Lyra, a seemingly ordinary but brave young woman from another world. Her search for a kidnapped friend uncovers a sinister plot involving stolen children, and becomes a quest to understand a mysterious phenomenon called Dust. As she journeys through the worlds, including our own, Lyra meets Will, a determined and courageous boy. Together, they encounter extraordinary beings and dangerous secrets, with the fate of both the living — and the dead — in their hands.
---
Also Read: Lone Wolf Fantasy Shows Like 'The Witcher' You Can Watch While Waiting For Season 3
---
The Witcher (Netflix)
Synopsis: Netflix, "The Witcher" is an epic tale of fate and family. Geralt of Rivia, a solitary monster hunter, struggles to find his place in a world where people often prove more wicked than beasts. But when destiny hurtles him toward a powerful sorceress, and a young princess with a dangerous secret, the three must learn to navigate the increasingly volatile Continent together.
Cursed (Netflix)
Synopsis: Based on the upcoming book of the same name, Cursed is a re-imagining of the Arthurian legend, told through the eyes of Nimue, a teenage heroine with a mysterious gift who is destined to become the powerful (and tragic) Lady of the Lake. After her mother's death, she finds an unexpected partner in Arthur, a young mercenary, in a quest to find Merlin and deliver an ancient sword. Over the course of her journey, Nimue will become a symbol of courage and rebellion against the terrifying Red Paladins, and their complicit King Uther.
---
Also Read: Best Shows Like 'Stranger Things' To Watch While Waiting For Season 5
---
Stranger Things (Netflix)
Synopsis: 99 out of a hundred times, the missing kid is with a parent or relative. What about the other time? A love letter to the supernatural classics of the 80's, Stranger Things is the story of a young boy who vanishes into thin air. As friends, family and local police search for answers, they are drawn into an extraordinary mystery involving top-secret government experiments, terrifying supernatural forces and one very strange little girl. Stranger Things stars Winona Ryder, David Harbour, Finn Wolfhard, Millie Brown, Gaten Matarazzo, Caleb McLaughlin, Noah Schnapp, Natalia Dyer, Cara Buono, Charlie Heaton, and Matthew Modine.