Sex and the City is one of those shows that has left its mark on television history. The original series won eight Golden Globes and Seven Emmys, and it ended in 2004, nearly eighteen years after we got a new Sex and the City series, And Just Like That… Which has been renewed for a second season, but if you miss the original series here are some shows you could watch to fill up your time.
---
Also Read: Shows Like 'And Just Like That' To Watch After Season 1
---
And Just Like That… (HBO Max)
Synopsis: The iconic characters and world of Sex and the City are the exciting jumping off point for this all-new series, which finds Carrie, Miranda, and Charlotte navigating the complicated reality of friendship, family, and New York in their 50s.
The Bold Type (Hulu)
Synopsis: Revealing a glimpse into the outrageous lives and loves of those behind the global women's magazine, "Scarlet", The Bold Type centers around the rising generation of women finding their own voices in a sea of intimidating leaders. Inspired by the life of former Cosmopolitan magazine editor-in-chief (Joanna Coles), the series weaves together stories that explore self-expression, sexuality, freedom and equality.
Synopsis: From writer Tracy Oliver (Girls Trip), Harlem is a new comedy following a group of stylish and ambitious best girlfriends in Harlem NYC, the mecca of Black culture in America. Camille is a popular young anthropology professor at Columbia with extensive knowledge of the dating norms of many cultures, but has a hard time navigating her own love life; Tye is a successful, queer dating app creator who prefers keeping vulnerability—and romantic partners—at arm's length; Quinn is a hopeless romantic and trust fund fashion designer who is trying to give back to the world while running a struggling business; Angie is a confident, vibrant, and filter-free singer and actress who also lives rent-free and fabulously with Quinn. Together, they level up from their 20s into the next phase of their careers, relationships, and big city dreams.
Synopsis: 40-year-old Liza (Sutton Foster) passes herself off as 26 to land a job in the field of her dreams. Now she just has to make sure no one discovers her secret. Also stars Hilary Duff, Debi Mazar, Nico Tortorella and Miriam Shor.
Run the World (Starz & The Roku Channel)
Synopsis: "Run the World" is an eight-episode, half-hour series that tells the story of a group of Black women – vibrant, fiercely loyal best friends – who work, live, and play in Harlem as they strive for world domination. At its core, it's an unapologetically female show about enviable friendship and not only surviving – but thriving together.
---
Also Read: Comedy Shows Like 'The Mindy Project' To Watch If You Miss the Series
---
The Mindy Project (Netflix, Hulu & Prime Video)
Synopsis: A single-camera comedy, starring Mindy Kaling, that follows a skilled OB/GYN navigating the tricky waters of both her personal and professional life, as she pursues her dreams of becoming the perfect woman, finding the perfect man and getting her perfect romantic comedy ending.
---
Also Read: Shows Like 'The Sex Lives of College Girls' To Watch While Hoping For Season 3
---
The Sex Lives of College Girls (HBO Max)
Synopsis: Created by Emmy®-nominated writer/producer Mindy Kaling and Justin Noble, The Sex Lives of College Girls follows four college roommates as they arrive at New England's prestigious Essex College. A bundle of contradictions and hormones, these girls are equal parts lovable and infuriating as they live out their new, free lives on campus.
---
Also Read: Shows Like HBO's 'Girls' To Watch If You Miss the Series
---
Girls (HBO Max)
Synopsis: Hannah and her friends are just four girls trying to figure out what they want–from life…from men…from themselves. In Season 1 of this coming-of-age comedy series, Hannah (Lena Dunham) struggles to achieve her dream of becoming a successful writer in the wake of being cut off financially by her parents. Fortunately, she has three close friends for support–Marnie (Allison Williams), Jessa (Jemima Kirke), and Shoshanna (Zosia Mamet)–in this intimate and often-comical look at friendship, relationships and self-discovery.
---
Also Read: Shows Like The CW's 'Gossip Girl' To Watch If You Miss the Series
---
Gossip Girl (HBO Max)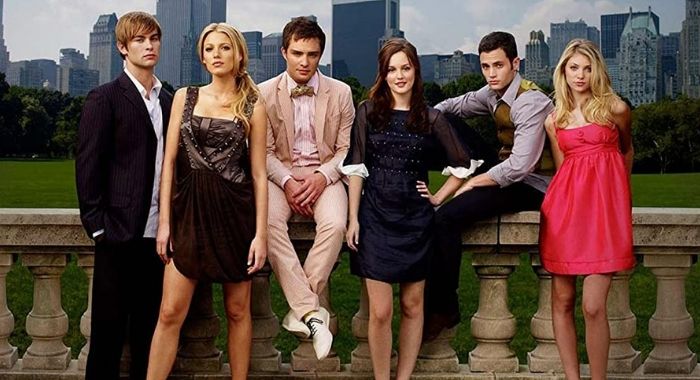 Synopsis: Based on the best-selling series of young-adult novels by Cecily von Ziegesar and executive produced by Josh Schwartz ("Chuck," "The O.C.") & Stephanie Savage ("The O.C."), "Gossip Girl" is a one-hour drama based on the lives of privileged Manhattan prep school teens. The students first learn that Serena van der Woodsen, once the Upper East Side's most notorious party girl, is back in town the way they learn all the important news in their lives: from the blog of the all-knowing albeit ultra-secretive Gossip Girl.
---
Also Read: Shows Like 'Broad City' To Watch If You Miss the Series
---
Broad City (Hulu)
Synopsis: Hack Into Broad City is an exclusive web series that eavesdrops on the candid, often-outrageous video chat sessions between Abbi and Ilana, the two best friends at the heart of Broad City.
Shrill (Hulu)
Synopsis: From Executive Producers Lorne Michaels and Elizabeth Banks comes Shrill, a comedy series starring Aidy Bryant (Saturday Night Live) as Annie, a fat young woman who wants to change her life — but not her body. Annie is trying to start her career while juggling bad boyfriends, a sick parent, and a perfectionist boss.