Created by the people behind the Matrix Trilogy and World War Z, the mind-bending series Sense8 is definitely one of the best Netflix original series out there. Sense8 follows 8 different people worldwide as their minds get connected after a single moment connecting them forever. The Netflix series ran for two brilliant seasons on Netflix concluding its run in 2018. So, if you miss the series here are some shows you could watch.
Travelers (Netflix)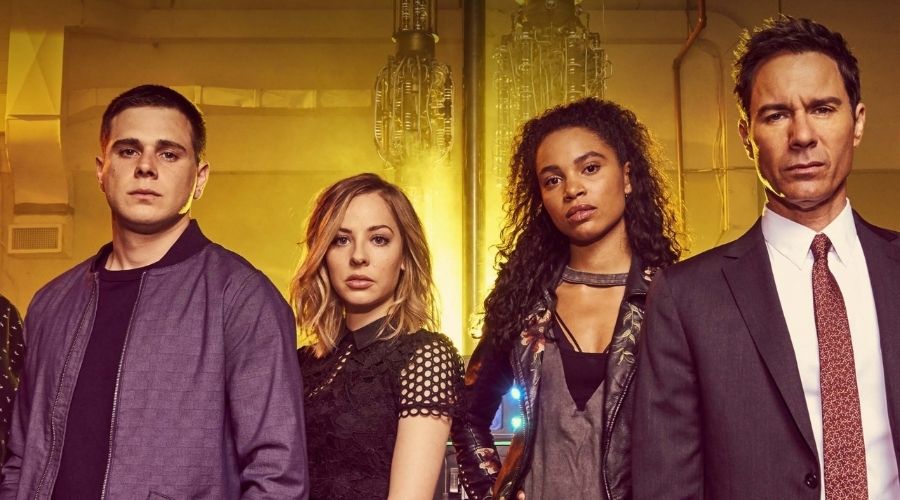 Synopsis: Hundreds of years from now, the last surviving humans discover the means of sending consciousness back through time, directly into people in the 21st century. These "travelers" assume the lives of seemingly random people, while secretly working as teams to perform missions in order to save humanity from a terrible future. These travelers are: FBI Special Agent Grant MacLaren (Eric McCormack), the team's leader; Marcy (Mackenzie Porter), a young, intellectually disabled woman in the care of her social worker, David (Patrick Gilmore); Trevor (Jared Paul Abrahamson), a high school quarterback; Carly (Nesta Marlee Cooper), a single mom in an abusive relationship; and Philip (Reilly Dolman), a heroin-addicted college student. Armed only with their knowledge of history and an archive of social media profiles, the travelers discover that 21st century lives and relationships are as much a challenge as their high-stakes missions.
---
Also Read: Best Shows Like Marvel's 'Legion' If You Miss The Series
---
Legion (Hulu)
Synopsis: Legion follows the story of "David Haller," a man who believed he was schizophrenic but discovered he might be the most powerful mutant in the world. With help from a team of specialists, David harnessed his unique abilities and learned he'd been haunted by a malicious parasite. Now, David is all that stands in the way of "Amahl Farouk" from attaining infinite and world-ending power.
---
Also Read: Sci-Fi Shows Like 'Altered Carbon' To Watch If You Miss the Series
---
Altered Carbon (Netflix)
Synopsis: In the future, human minds are digitized and downloaded from body to body. Last night, the wealthiest man on Earth, Laurens Bancroft (James Purefoy) was murdered. To investigate his death, he brings back ex-Envoy soldier Takeshi Kovacs (Joel Kinnaman / Will Yun Lee) and in exchange, Bancroft offers Kovacs the chance to live again.
---
Also Read: Best Shows Like 'Dirk Gently's Holistic Detective Agency' To Watch If You Miss the Series
---
Dirk Gently's Holistic Detective Agency (Hulu)
Synopsis: Welcome back to the world of Dirk Gently's Holistic Detective Agency. Every season is a dizzying, smart, dangerous, unexpected (for us, not the people involved) and fun adventure that explores a different genre. Season one is about time travel with body-swapping.
---
Also Read: Shows Like 'The OA' to Watch If You Miss the Series
---
The OA (Netflix)
Synopsis: From Brit Marling and Zal Batmanglij, the visionary filmmakers behind Sound of My Voice and The East, comes a powerful, mind-bending tale about identity, human connection and the borders between life and death. The Netflix original series The OA is an odyssey in eight chapters produced in partnership with Plan B Entertainment, Netflix and Anonymous Content. The groundbreaking series offers audiences a singular experience that upends notions about what long-format stories can be.
Glitch (Netflix)
Synopsis: When Sergeant James Hayes (Patrick Brammall), a local police officer in the small rural town of Yoorana, is called out to the cemetery in the middle of the night, he makes a discovery that turns his world upside down.
---
Also Read: Shows Like 'Stranger Things' To Watch After Season 4
---
Stranger Things (Netflix)
Synopsis: 99 out of a hundred times, the missing kid is with a parent or relative. What about the other time? A love letter to the supernatural classics of the 80's, Stranger Things is the story of a young boy who vanishes into thin air. As friends, family and local police search for answers, they are drawn into an extraordinary mystery involving top-secret government experiments, terrifying supernatural forces and one very strange little girl. Stranger Things stars Winona Ryder, David Harbour, Finn Wolfhard, Millie Brown, Gaten Matarazzo, Caleb McLaughlin, Noah Schnapp, Natalia Dyer, Cara Buono, Charlie Heaton, and Matthew Modine.
12 Monkeys (Hulu)
Synopsis: The show follows the journey of a time traveler, Cole, from the post-apocalyptic future. Using a dangerous and untested method of time travel, Cole arrives in the present day on a mission to locate and eradicate the source of a deadly plague that will eventually decimate 93.6% of the human race.
Synopsis: Orphan Black is a Sci-Fi thriller starring Tatiana Maslany in the lead role of Sarah, an outsider and orphan whose life changes dramatically after witnessing the suicide of a woman who looks just like her. Sarah hopes that cleaning out the dead woman's bank account will solve all of her problems. Instead, her problems multiply – and so does she.
---
Also Read: Mind-Bending Shows Like 'Fringe' To Watch If You Miss the Series
---
Synopsis: The critically acclaimed FRINGE explores the ever-blurring line between science fiction and reality, where hybrid monsters tear through sewers, thieves walk through walls and portals open to parallel universes. Unable to police a world in which science has advanced beyond our wildest dreams — and nightmares — FBI Special Agent Olivia Dunham seeks help from eccentric 'fringe' scientist Dr. Walter Bishop and his jack-of-all trades son, Peter. Under the direction of Special Agent Phillip Broyles and assisted by Agents Astrid Farnsworth, Charlie Francis and Lincoln Lee, the Fringe Team investigates unusual incidents that defy human logic and unimaginable events that threaten our very existence on a universal scale.