Scrubs is one of the most heartfelt comedy series out there. The medical comedy-drama starts with J.D. (Zach Braff), an intern on his first at a hospital filled with eccentric staffers, jaded and mean superiors, and his best friend Turk (Donald Faison). Throughout the series, J.D. goes through many hilarious and heartfelt moments and makes many relationships that are going to last a lifetime and some that end early. Scrubs aired its eighth and final season in 2009 (yes, I don't consider Scrubs Season 9 a part of the series) and since then the fans of the series have either been rewatching the series or missing it very much so we have prepared a list of the best shows that are like Scrubs that you might find worth your time.
---
Also Read: Best Shows Like 'Arrested Development' To Watch If You Miss the Series
---
Arrested Development (Netflix & Hulu)
Synopsis: Holding the Bluths together just barely is son Michael Bluth (Jason Bateman), the only normal guy in a family that's chock full of nuts. Hardworking and sensible, Michael's certain he's going to be given control of his family's Enron-style corporation upon the retirement of his father (Jeffrey Tambor). The fact that he's passed over instead for his mother (Jessica Walter) is only a blip when compared to his father's immediate arrest for dubious accounting practices, and the resulting freeze on the family's previously limitless wealth. Bereft of money, and even less family love, the Bluths have to band together in their moment of need–not easy when everyone's looking out for number 1. In addition to his scabrous parents, Michael has to contend with his lothario older brother (Will Arnett), his basically useless younger brother (Tony Hale), his greedy twin sister (Portia DeRossi), and her sexually ambiguous husband (David Cross). Michael's only comrade in sanity is his son George Michael (Michael Cera), but then again, the teenage boy harbors a secret crush on his cousin (Alia Shawkat).
Synopsis: When disgraced Harvard philosophy scholar Jack Griffin (Glenn Howerton) loses out on his dream job, he is forced to return to Toledo, Ohio, and work as a high school Advanced Placement biology teacher at Whitlock High School. Jack refuses to teach any biology and instead uses his honor students to help him get revenge on his rival. Principal Durbin (Patton Oswalt) struggles to control the force of nature that is Jack Griffin.
Sirens (Hulu)
Synopsis: From the distinct comedic point of view of Denis Leary and Bob Fisher, SIRENS follows three of Chicago's best EMTs whose sometimes silly, self-righteous and even self-destructive personalities make them unqualified for sustaining relationships, friendships and most occupations.
---
Also Read: Shows Like 'Fleabag' To Watch If You Miss the Series
---
Synopsis: Fleabag is a hilarious and poignant window into the mind of a dry-witted, sexual, angry, grief-riddled woman, as she hurls herself at modern living in London. Award-winning playwright Phoebe Waller-Bridge writes and stars as Fleabag, an unfiltered woman trying to heal, while rejecting anyone who tries to help her and keeping up her bravado all along. Unfettered, unfiltered, and based on the play that won the Fringe First Award at Edinburgh, Fleabag is the thoroughly disarming confessional of a woman so totally detached, she's utterly lost.
Synopsis: The courageous men and women of Childrens Hospital – brilliant, egotistical, nymphomaniacal doctors all – do whatever it takes to save sick kids' lives whether they deserve it or not. Led by resident clown doctor Blake Downs (Rob Corddry), the CH team will disrobe, do ecstasy, donate organs (except for the important one), or set up digs in a hospital bathroom. Show creator Corddry (The Daily Show with Jon Stewart) stars with series regulars Malin Akerman (27 Dresses), Lake Bell (Boston Legal), Erinn Hayes (Parenthood), Rob Huebel (The Descendants), Ken Marino (Party Down), Megan Mullally (Will & Grace), Henry Winkler (Happy Days) and a slew of celebrity drop-ins.
The Mindy Project (Netflix, Hulu & Prime Video)
Synopsis: The Mindy Project is a biting new single-camera comedy from Emmy Award-nominated writer/producer and New York Times best-selling author Mindy Kaling ("The Office") that follows a woman who, despite having a successful career, is unlucky in love and desperately needs to get her personal life back on track before her friends and colleagues are forced to stage an intervention. Funny, impatient and politically incorrect, Mindy Lahiri (Kaling) can quote every romantic comedy starring Meg Ryan that exists. She loves the good ones and the bad ones, because the girl always gets the guy. Mindy is determined to be more punctual, spend less money, lose weight and read more books — all in pursuit of becoming a well-rounded perfect woman… who can meet and date the perfect guy.
---
Also Read: Shows Like 'House M.D.' to Watch If You Miss the Series
---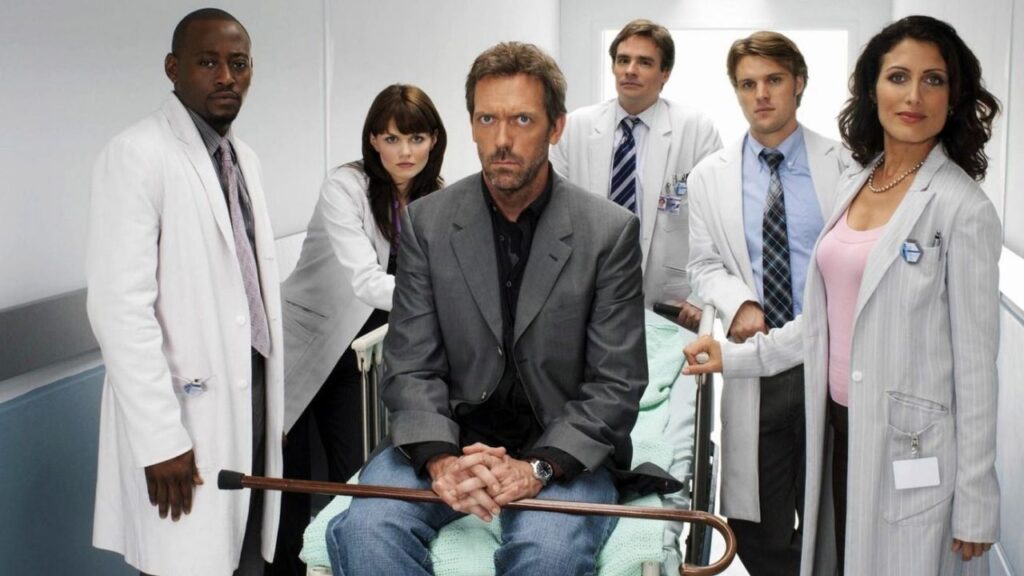 Synopsis: Hugh Laurie stars as the brilliant, but sarcastic Dr. Gregory House, a maverick physician who is devoid of bedside manner. While his behavior can border on antisocial, Dr. House thrives on the challenge of solving the medical puzzles that other doctors give up on. Together with his hand-picked team of young medical experts, he'll do whatever it takes in the race against the clock to solve the case.
---
Also Read: Shows Like 'MASH' To Watch If You Miss the Series
---
M*A*S*H* (Hulu)
Synopsis: A fast-paced and fun-filled series relating the antics of a mobile army surgical hospital crew during the Korean war. They are basically dedicated surgeons who turn to humor as relief from the front-line operating room.
---
Also Read: Shows Like 'Party Down' To Watch While Waiting For the Revival Series
---
Synopsis: While chasing dreams of stardom, six Hollywood wannabe actors and writers make ends meet by working for a posh Los Angeles catering company, which tackles a different event — senior singles mixer, porn awards after party, a Super Sweet 16 bash — in each episode.
---
Also Read: Best Shows Like 'Community' To Watch If You Miss the Series
---
Community (Netflix & Hulu)
Synopsis: From Dan Harmon (The Sarah Silverman Program) and Emmy Award-winning directors Joe and Anthony Russo (Arrested Development) comes Community, a smart comedy series about a band of misfits who attend Greendale Community College. At the center of the group is Jeff Winger (Joel McHale, The Soup), a fast-talkin' lawyer whose degree has been revoked. With some help from his fellow classmates, Winger forms a study group who eventually learn more about themselves than their course work.
---
Also Read: Shows Like 'Parks and Recreation' To Watch If You Miss the Series
---
Parks and Recreation (Peacock)
Synopsis: From the people who brought you The Office comes Parks and Recreation, the hilarious saga of government employees and local citizens turning a neighborhood hole in the ground into a new public park. Comedy superstar Amy Poehler (Saturday Night Live, Baby Mama) stars as Leslie Knope, an ambitious and hopeful small town government worker, whose dreams are way bigger than her political talents. Created by Primetime Emmy® Award winners Greg Daniels (The Office, King of the Hill, The Simpsons) and Michael Schur (The Office, SNL), and featuring a stellar ensemble cast, Parks and Recreation is a "genuinely funny comedy" (Daniel Carlson, Hollywood Reporter) about bureaucracy, hope and America at the dawn of the Obama age.
---
Also Read: Best Shows Like 'Brooklyn Nine-Nine' You Should Watch
---
Brooklyn Nine-Nine (Peacock)
Synopsis: From Dan Goor and Mike Schur, producers of The Office and Parks and Recreation, comes the hilarious Golden Globe® Award-winning comedy, Brooklyn Nine-Nine. Jake Peralta (Andy Samberg, Saturday Night Live) is a Brooklyn detective with a gift for closing cases and little respect for authority. When no-nonsense commanding officer Raymond Holt (Andre Braugher, Homicide: Life on the Street) joins the 99th precinct with something to prove, the two go head to head.
---
Also Read: Best Shows Like 'Superstore' To Watch If You Miss the Series
---
Synopsis: "Superstore" is a hilarious workplace comedy about a unique family of employees at big box megastore Cloud 9. At the center is Jonah (Ben Feldman), a passionate optimist always looking out for his co-workers, including the sardonic Garrett (Colton Dunn), the sweet and fun-loving Cheyenne (Nichole Sakura) and the perpetually dismissed Sandra (Kaliko Kauahi). Back in the manager job is Glenn (Mark McKinney), who once again finds himself butting heads with aggressive assistant manager Dina (Lauren Ash), but is now assisted by Mateo (Nico Santos), who's pretty sure he would be running things by now if it weren't for his undocumented status.
---
Also Read: Best Shows Like 'Ted Lasso' You Should Watch
---
Ted Lasso (Apple TV+)
Synopsis: In this new comedy from executive producers Jason Sudeikis and Bill Lawrence (Scrubs, Whiskey Cavalier, Cougar Town), Sudeikis (Saturday Night Live, We're the Millers, Horrible Bosses films) stars as Ted Lasso, an idealistic all-American football coach hired to manage an English football club – despite having no soccer coaching experience at all. Based on the beloved character Sudeikis made famous online, Ted Lasso is the first television series that Sudeikis has signed on to star as a series regular since Saturday Night Live. Produced by Doozer Productions in association with Warner Bros. Television, the comedy series is also executive produced by Jeff Ingold.
---
Also Read: Best Shows Like 'Schitt's Creek' To Watch If You Miss the Series
---
Schitt's Creek (Hulu)
Synopsis: Schitt's Creek, created by Eugene Levy and Daniel Levy, follows a wealthy family who suddenly find themselves broke and forced to live in Schitt's Creek, a small town they once bought as a joke. It centers on an outrageously wealthy video store magnate, Johnny Rose (Eugene Levy); his former soap-star wife Moira (Catherine O'Hara); and their two adult children – the self-described black sheep of the family David (Daniel Levy) and career socialite Alexis (Annie Murphy). With their pampered lives a memory, they struggle to find jobs and relationships, and most importantly, figure out what it means to be a family in the makeshift but loveable town they've reluctantly come to call home.