Scandal is one of the most sensational shows ever made. The ABC series stars the always wonderful Kerry Washington in the lead role of Olivia Pope, a former media consultant to the President of the United States and now she has started her own crisis management firm. The series also stars Tony Goldwyn, Katie Lowes, Scott Foley, and Bellamy Young. Scandal ran for seven brilliant seasons ending its run in 2018. So, if you miss the series here are some shows you should watch next.
Revenge (Hulu)
Synopsis: Emily Thorne (Emily Van Camp) is new to the Hamptons. She's met some of her wealthy neighbors, has made a few new friends and seemingly blends into the town. But something is a little odd about a young girl living in a wealthy town all on her own, and the truth is that Emily isn't exactly new to the neighborhood. In fact, this was once her old neighborhood, until something bad happened that ruined her family and their reputation. Now Emily is back, and she's returned to right some of those wrongs in the best way she knows how – with a vengeance.
House of Cards (Netflix)
Synopsis: A ruthless Congressman, Francis Underwood, and his ambitious wife Claire, will stop at nothing to conquer everything. This wicked political drama slithers through the back halls of greed, sex, love and corruption in modern D.C.
---
Also Read: Shows Like 'Suits' To Watch If You Miss the Series
---
Synopsis: "Suits" will launch its freshman season with stars Gabriel Macht ("Love and Other Drugs"), as one of Manhattan's top corporate lawyers sets out to recruit a new hotshot associate and hires the only guy that impresses him – Patrick J. Adams ("Lost") as Mike Ross, a brilliant but unmotivated college dropout. Though he isn't actually a lawyer, this legal prodigy has the book smarts of a Harvard law grad and the street smarts of a hustler. However, in order to serve justice and save their jobs, both these unconventional thinkers must continue the charade.
Synopsis: The Good Wife has been named one of AFI's Top Television Shows, won the Television Critics Award for Outstanding Achievement in Drama and garnered five Emmy nominations and three Golden Globe nominations. The drama stars Julianna Margulies as Alicia Florrick, a disgraced wife who returns to work as a lawyer after her husband, Peter Florrick, is imprisoned following a scandal. After starting her own firm and finding success as a litigator alongside her colleagues Diane Lockhart and Cary Agos, Peter's trusted advisor, Eli Gold, convinces Alicia to run for State's Attorney, the position once infamously held by her husband. Following a win at the polls after a hard-fought campaign, Alicia is forced to step down from office when voter fraud threatens the Democratic party in the state of Illinois. Now, with her political career over before it began and without a law firm to call her own, Alicia cautiously begins to practice law, becoming an attorney for arrestees seeking release on bail, with the assistance of Jason Crouse, a calm, experienced hourly investigator whom she hires. In the course of her new job, she meets Lucca Quinn, a fellow lawyer who competes for her clients. And as Alicia tries to reinvent herself, Peter, now Governor of Illinois, contemplates a bid for the Presidency that may thrust her into the spotlight once again.
---
Also Read: Shows Like 'How To Get Away With Murder' To Watch If You Miss the Series
---
How to Get Away With Murder (Netflix)
Synopsis: The brilliant, charismatic and seductive Professor Annalise Keating gets entangled with four law students from her class, "How to Get Away with Murder." Little do they know that they will have to apply what they learned to real life, in this masterful, sexy, suspense-driven legal thriller.
Empire (Hulu)
Synopsis: From Academy Award nominee Lee Daniels ("Lee Daniels' The Butler," "Precious") and Emmy Award winner Danny Strong ("Game Change," "Lee Daniels' The Butler"), comes EMPIRE, a sexy and powerful new drama about the head of a music empire whose three sons and wife all battle for his throne. Set to an original soundtrack written and produced by hip-hop hitmaker Timbaland, the family drama stars Academy Award nominee Terrence Howard ("Crash," "Hustle & Flow") and Academy Award and Emmy Award nominee Taraji P. Henson ("Person of Interest," "The Curious Case of Benjamin Button").
Ray Donovan (Paramount+ & The Roku Channel)
Synopsis: Set in the sprawling mecca of the rich and famous, Ray Donovan does the dirty work for LA's top power players. The one-hour series stars Emmy® and Golden Globe® Award nominee Liev Schreiber in his first lead television role as the go-to guy who makes the problems of the city's celebrities, superstar athletes, and business moguls disappear. This powerful drama unfolds when his father, played by Oscar® winner Jon Voight, is unexpectedly released from prison, setting off a chain of events that shakes the Donovan family to its core.
Political Animals (Rent on Apple TV)
Synopsis: In the miniseries Political Animals, Elaine Barrish (Sigourney Weaver) is a Hillary Clinton-like figure, tapped to be the U.S. Secretary of State after a failed run at the presidency, and the ex-wife of ex-president, Bud Hammond (Ciaran Hinds), a beloved Bill Clinton-ish horndog. Elaine and Bud are the parents of glossy John Kennedy-esque Douglas Hammond (James Wolk) and troubled T.J. (Sebastian Stan), who's openly gay, but secretly addicted to cocaine. Elaine weathers the ups and downs of her sons and the pecadilloes of her ex-husband, with whom she's still in love, while dealing with the complicated demands of her high-pressure job, and the scrutiny of reporter Susan Berg (Carla Gugino), a former enemy turned ally.
Synopsis: Bad Behavior. Great Publicists. Ever wonder what the real story is behind those celebrity gossip columns? Flack has all the dirt. Four quick-witted and relentless flackers led by Robyn, played by Academy Award Winner Anna Paquin, are tasked to make the best of their celebrity client's terrible decisions. Will their ability to clean up their client's lives translate to their own?
Madam Secretary (Netflix & Paramount+)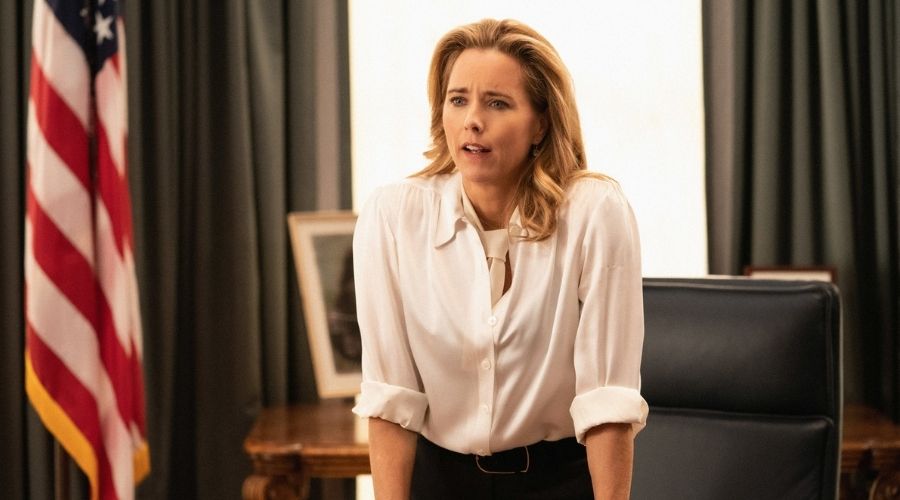 Synopsis: Tea Leoni stars as Elizabeth McCord, the shrewd, determined, newly appointed Secretary of State who drives international diplomacy, battles office politics and circumvents protocol as she negotiates global and domestic issues, both at the White House and at home.