The new Hulu series Reboot is a brilliant satire on the reboot and sequel culture in the entertainment industry today. Reboot follows a group of actors who starred in a hit sitcom earlier in their lives and now the streaming service has decided to reboot it and offers them their roles back. But now they have to deal with each other which is not easy because everyone there is a d-bag. So, if you liked the series here are some more shows you should watch next.
Synopsis: Matt LeBlanc stars as Matt LeBlanc in Episodes, the hilarious comedy series about remaking a comedy series. When husband and wife writing team Sean and Beverly set out to reproduce their British TV hit for an American network, all of their worst fears come true as Hollywood lives up to its reputation for absurdity. Not only does the network cast Matt LeBlanc in the starring role, but Matt takes the lead in deviously twisting their beloved series into a terrible cliché, while testing the couple's marriage with diversions and temptations.
---
Also Read: Shows Like 'It's Always Sunny in Philadelphia' To Watch While Waiting For the Next Season
---
It's Always Sunny in Philadelphia (Hulu)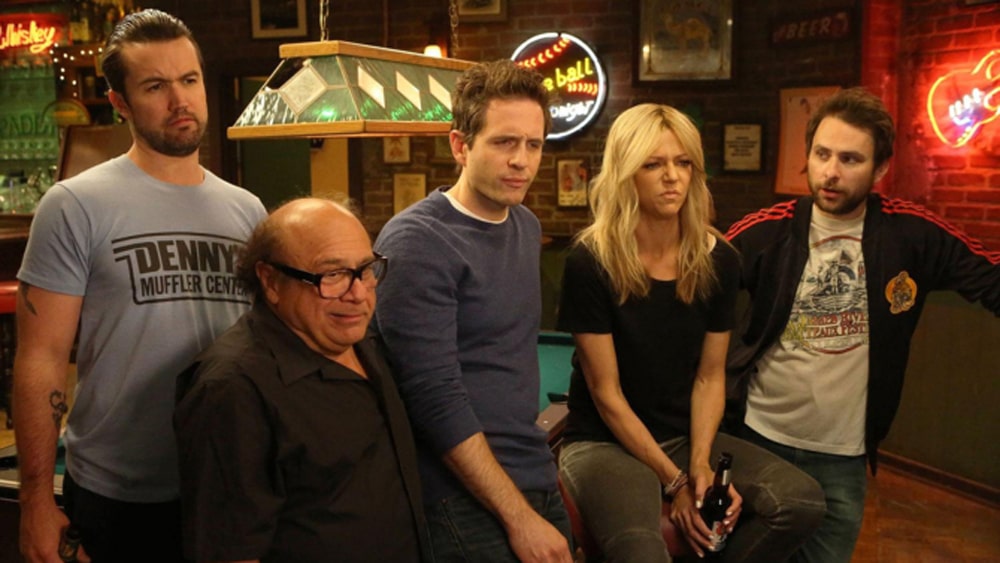 Synopsis: It's Always Sunny in Philadelphia features Mac, Dennis, Charlie, Sweet Dee and Frank, five ne'er-do-wells who own and operate Paddy's Pub in Philadelphia. Their constant scheming usually lands them in a world of hurt, yet they never seem to learn from their mistakes. As they say, some things never change. So prepare for more depraved schemes, half-baked arguments, and absurdly underhanded plots to subvert one another.
---
Also Read: Shows Like 'Mythic Quest' To Watch While Waiting For Season 3
---
Mythic Quest (Apple TV+)
Synopsis: Meet the team behind the biggest team multiplayer video game of all time. But in a workplace focused on building worlds, molding heroes, and creating legends, the most hard-fought battles don't occur in the game-they happen in the office.
Everyone is Doing Great (Hulu)
Synopsis: Seth and Jeremy enjoyed the success of 'Eternal,' a hit television vampire drama. Five years after their show has ended, they lean on each other as they awkwardly navigate the perils of life and love in a late coming-of-age.
Party Down (Hulu)
Synopsis: The "Party Down" catering team consists of a handful of struggling dreamers stuck working for tips while struggling to get the life they really want. Each week, life passes before their eyes as they hover around the margins of a different little world (the parties they cater) for a few hours, mingle with its citizens, dabble with their little dramas, watch them, judge them, joke about them, envy them, and then move on. These are the people who have passed up traditional, normal lives of work and family for a shot at their dreams and a chance to "be somebody." With the exception of the ruefully jaded and cynical Henry, everyone on the crew assumes that life with "Party Down" isn't the real thing – it's just a brief stop before their bigger and better lives start.
---
Also Read: Shows Like 'Entourage' To Watch If You Miss the Series
---
Entourage (HBO Max)
Synopsis: Your best friend's star is rising in Hollywood, and there's only one thing to do: join his entourage. Meet Eric, Turtle and Johnny Drama: three guys dedicated to helping their film-star pal Vince Chase navigate Tinseltown. HBO presents this hit comedy series starring Adrian Grenier, Kevin Connolly, Kevin Dillon, Jerry Ferrara and Jeremy Piven.
---
Also Read: Shows Like '30 Rock' To Watch If You Miss the Series
---
30 Rock (Hulu)
Synopsis: Multiple award-winning comedy "30 Rock" is told through the comedic voice of Emmy and two-time Golden Globe winner Tina Fey as variety show producer Liz Lemon. The series also features two-time Emmy and three-time Golden Globe winner Alec Baldwin as top network executive Jack Donaghy and Emmy nominee Tracy Morgan as Tracy Jordan, the unpredictable star of Lemon's hit variety show, "TGS with Tracy Jordan." Lemon constantly has her hands full, juggling corporate interference from Donaghy and off-the-handle star antics from Jordan, all while attempting to salvage her own personal life. Also rounding out the cast are three-time Emmy nominee Jane Krakowski as Jenna Maroney, the co-star of "TGS," Scott Adsit as the variety show's producer Pete Hornberger, Emmy nominee Jack McBrayer as Kenneth, the over-eager and effortlessly endearing NBC page, Judah Friedlander as Frank, the sardonic slacker on the writing staff, and Keith Powell as Toofer, the sophisticated yet sarcastic, Harvard-alum writer. "30 Rock" has welcomed an impressive array of guest stars, including Elaine Stritch, who garnered a 2007 Emmy Award for her performance as Jack Donaghy's mother and Tim Conway, who won in 2008. Other Emmy-nominated guest stars include Alan Alda, Jennifer Aniston, Will Arnett, Elizabeth Banks, Steve Buscemi, Matt Damon, Edie Falco, Carrie Fisher, John Hamm, Steve Martin and Rip Torn.
---
Also Read: Shows Like 'BoJack Horseman' To Watch If You Miss the Series
---
BoJack Horseman (Netflix)
Synopsis: BoJack Horseman was created by Raphael Bob-Waksberg. The series is executive produced by Raphael Bob-Waksberg, Steven A. Cohen and Noel Bright. Will Arnett (Flaked, Arrested Development) and Aaron Paul (Breaking Bad) also serve as executive producers. BoJack was designed by graphic artist Lisa Hanawalt and animated by LA-based ShadowMachine. The show is a Tornante Production, brought to life by Michael Eisner's The Tornante Company.
Synopsis: Behind the humor of producing the popular late-night comedy sketch show "Studio 60 on the Sunset Strip" is a world of backstage politics and romances, and a very delicate balance between creative talent, on-air personalities and network executives.
---
Also Read: Shows Like 'Curb Your Enthusiasm' To Watch While Waiting For the New Season
---
Curb Your Enthusiasm (HBO Max)
Synopsis: Larry David has it all–so why does he seem intent on making a mess of his life? Larry David stars as…Larry David in this acclaimed verite-style comedy series that follows him at home, at work and around town, as he lands himself in various predicaments with both fictional and real-life personalities.