Ridley Scott is one of the greatest Sci-Fi directors currently working in Hollywood, He has given us countless brilliant films like Aliens (1979), The Martian, and Blade Runner (1982) and then he also made HBO Max's brilliant series Raised By Wolves (Scott directed the first two episodes of the series). The HBO Max series follows Androids who try to raise human children on another planet long after a war has brought the apocalypse to earth and the Android is named Mother. There is a whole lot more to the series than these few lines but the experience of Raised By Wolves will be gained by watching the series, not by reading about it. Raised By Wolves was canceled after Season 2, which made all of the fans of the series really frustrated as the story was not completely told. So, if you also miss the series here are some more shows like the HBO Max you can watch after the brilliant work of Aaron Guzikowski, who created the series.
---
Also Read: Shows Like 'The Leftovers' To Watch If You Miss the Series
---
The Leftovers (HBO Max)
Synopsis: This enthralling drama series focuses on a suburban town of people whose preconceptions are shattered in the wake of a global event dubbed The Departure, during which, as in the rapture described in the bible, some humans were taken and others left behind. Three years after the fateful October day when 140 million people — two percent of the world's population — disappeared without a trace, the denizens of the town of Mapleton struggle to comprehend and cope. Seen primarily through the eyes of beleaguered police chief Kevin Garvey, the series shows how ordinary folks react to inexplicable events that can unite or divide families and communities, revealing how the strain of an unprecedented calamity can turn people's faith into cynicism, paranoia, madness or cultlike fanaticism. Created by Damon Lindelof, Emmy Award winner for Lost, and acclaimed novelist Tom Perrotta.
---
Also Read: Sci-Fi Shows Like 'Foundation' To Watch While Waiting For Season 2
---
Foundation (Apple TV+)
Synopsis: Based on the award-winning novels by Isaac Asimov, "Foundation" chronicles a band of exiles on their monumental journey to save humanity and rebuild civilization amid the fall of the Galactic Empire.
---
Also Read: Sci-Fi Shows Like 'Westworld' To Watch If You Miss the Series
---
Synopsis: Have you ever questioned the nature of your reality? In this dark odyssey about the dawn of artificial consciousness and the future of sin, a malfunction creates havoc and terror for vacationers at a futuristic adult-themed amusement park for forbidden fantasies. Oscar winner Anthony Hopkins (The Silence of the Lambs, Amistad, Nixon) plays Dr. Robert Ford, the brilliant, taciturn and complex creative director, chief programmer and chairman of the board of Westworld, who has an uncompromising creative vision — and unorthodox methods of achieving it. Four-time Oscar nominee Ed Harris (Apollo 13, A Beautiful Mind) portrays The Man in Black, the distillation of pure villainy into one man. And Emmy Award winner Evan Rachel Wood (The Wrestler, True Blood) appears as Dolores Abernathy, the quintessential Western farm girl, who is about to discover that her entire idyllic existence is an elaborately constructed lie. Westworld is inspired by the film of the same name written and directed by Michael Crichton.
Synopsis: In Devs, an FX limited series, a young software engineer, Lily Chan, investigates the secret development division of her employer, a cutting-edge tech company based in Silicon Valley, which she believes is behind the murder of her boyfriend. Devs stars Sonoya Mizuno as "Lily Chan;" Nick Offerman as "Forest," the CEO of Amaya; Jin Ha as "Jamie," Lily's former boyfriend; Karl Glusman as "Sergei," Lily's boyfriend; Zach Grenier as "Kenton," Amaya's Head of Security; Stephen McKinley Henderson as "Stewart," one of the top minds working in Amaya's secret development division; Cailee Spaeny as the young, brilliant "Lyndon;" and Alison Pill as "Katie," the gifted quantum physicist and second in command at Amaya. Alex Garland writes, directs and serves as executive producer of Devs along with Andrew Macdonald and Allon Reich of DNA TV, Scott Rudin, Eli Bush and Garrett Basch.
---
Also Read: Shows Like 'His Dark Materials' To Watch If You Miss the Series
---
His Dark Materials (HBO Max)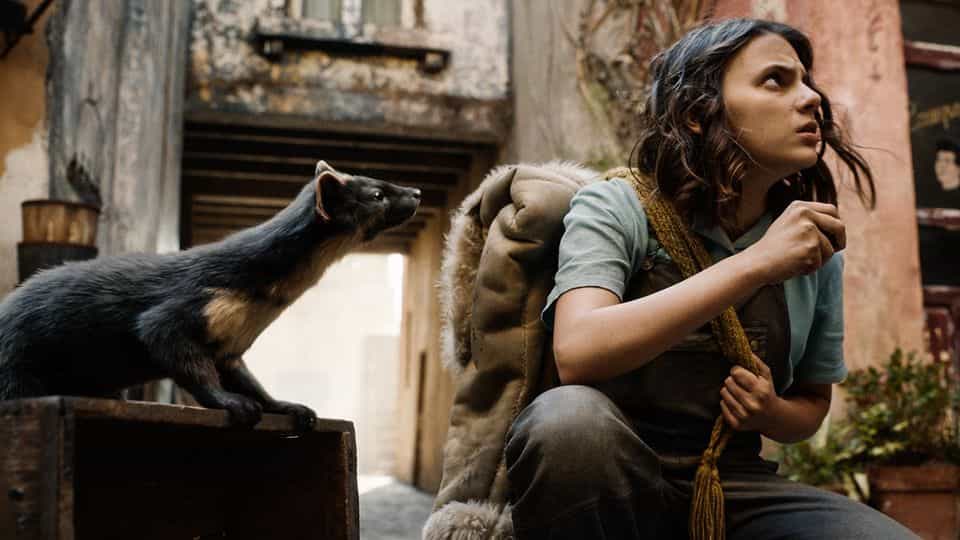 Synopsis: Based on the first book in Philip Pullman's best-selling trilogy of novels. Lyra (Dafne Keen) lives in Jordan College, Oxford. Placed there at the request of her Uncle, Lord Asriel (James McAvoy) she lives a sheltered life amongst the scholars and college staff while under the watchful protection of The Master (Clarke Peters). When the glamorous and mesmeric Mrs Coulter (Ruth Wilson) enters Lyra's life she embarks upon a dangerous journey of discovery from Oxford to London. Here she meets Father MacPhail (Will Keen) and Lord Boreal (Ariyon Bakare). Lyra is subsequently thrown into the nomadic world of the boat dwelling Gyptians – Ma Costa (Anne-Marie Duff), Farder Coram (James Cosmo), John Faa (Lucien Msamati), Raymond Van Geritt (Mat Fraser) Jack Verhoeven (Geoff Bell) and Benjamin de Ruyter (Simon Manyonda) who take her North in her quest. Once in the North she meets charismatic aeronaut and adventurer Lee Scoresby (Lin-Manuel Miranda) who joins them on their epic journey and becomes one of Lyra's closest allies.
---
Also Read: Shows Like 'The OA' to Watch If You Miss the Series
---
The OA (Netflix)
Synopsis: From Brit Marling and Zal Batmanglij, the visionary filmmakers behind Sound of My Voice and The East, comes a powerful, mind-bending tale about identity, human connection and the borders between life and death. The Netflix original series The OA is an odyssey in eight chapters produced in partnership with Plan B Entertainment, Netflix and Anonymous Content. The groundbreaking series offers audiences a singular experience that upends notions about what long-format stories can be.
Synopsis: Set in a parallel present where the latest must-have gadget for any busy family is a 'Synth', one strained suburban family purchases a refurbished model only to discover that sharing life with a machine has far-reaching and chilling consequences.
Falling Skies (HBO Max)
Synopsis: Falling Skies, executive-produced by Steven Spielberg, opens in the chaotic aftermath of an alien attack that has left most of the world completely incapacitated. Few survivors have banded together to begin the difficult task of fighting back.
Star Trek: The Next Generation (Paramount+)
Synopsis: Featuring a bigger and better USS Enterprise, this series is set 78 years after the original series — in the 24th century. Instead of Capt. James Kirk, a less volatile and more mature Capt. Jean-Luc Picard heads the crew of various humans and alien creatures in their adventures in space — the final frontier.
The Third Day (HBO Max)
Synopsis: Created by Dennis Kelly and Felix Barrett, The Third Day is told over the first three episodes. "Summer" follows Sam, a man drawn to a mysterious Island off the British coast, who encounters a group of islanders set on preserving their traditions at any cost. "Winter" unfolds over the latter three episodes as Helen, a strong-willed outsider who comes to the island seeking answers, but whose arrival precipitates a fractious battle to decide its fate. The limited series stars Jude Law, Naomie Harris, Katherine Waterston, Emily Watson, and Paddy Considine.