Rabbit Hole is Kiefer Sutherland's latest twisty thriller series. The Paramount+ series follows a private espionage agent played by Sutherland, who is framed for murder and now he has to use all of his experience to get out of this sticky situation. Created by John Requa and Glenn Ficarra, Rabbit Hole should be on your watchlist, and if you have already seen it here is to hoping that Paramount+ renews the brilliant series for a second season. So, while you wait for the confirmation here are some shows you could watch until then.
Synopsis: Once a powerful lawyer, Billy McBride is now burned out and washed up, spending more time in a bar than a courtroom. When he reluctantly agrees to pursue a wrongful death lawsuit against the biggest client of the massive law firm he helped create, Billy and his ragtag team uncover a vast and deadly conspiracy, pitting them all in a life or death trial against the ultimate Goliath.
Synopsis: When soldier Shaun Emery's (Callum Turner) conviction for a murder in Afghanistan is overturned due to flawed video evidence, he returns to life as a free man. However, Shaun's life takes a shocking turn when damning CCTV footage from a night out in London comes to light. DI Rachel Carey (Holliday Grainger) who is investigating Shaun's case quickly learns that the truth can sometimes be a matter of perspective in a troubling world of "deepfakes."
---
Also Read: Shows Like 'Homeland' To Watch If You Miss the Series
---
Synopsis: Homeland is an edge-of-your-seat sensation. CIA officer Carrie Mathison (Claire Danes) is tops in her field despite being bipolar, which makes her volatile and unpredictable. With the help of her long-time mentor Saul Berenson (Mandy Patinkin), Carrie fearlessly risks everything, including her personal well-being and even sanity, at every turn. You won't be able to turn away from this gripping, emotional thriller in which nothing short of the fate of our nation is at stake.
Synopsis: Kiefer Sutherland stars as Jack Bauer in this unique television series in which the entire season takes place in one day, with each of the 24 episodes covering one hour and told in real time.
---
Also Read: Shows Like 'The Night Agent' To Watch While Hoping For Season 2
---
The Night Agent (Netflix)
Synopsis: Based on the novel by Matthew Quirk, The Night Agent is a sophisticated, character-based, action-thriller centering on a low level FBI Agent who works in the basement of the White House, manning a phone that never rings — until the night that it does, propelling him into a fast moving and dangerous conspiracy that ultimately leads all the way to the Oval Office.
---
Also Read: Shows Like 'Bodyguard' To Watch While Hoping For Season 2
---
Bodyguard (Netflix)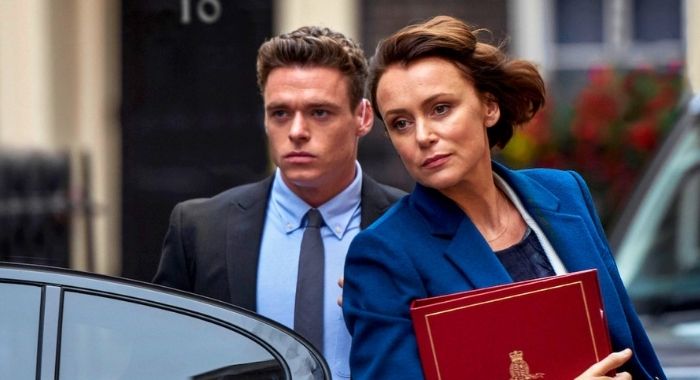 Synopsis: Set in and around the corridors of power, Bodyguard tells the fictional story of David Budd (Richard Madden), a heroic but volatile war veteran now working as a Specialist Protection Officer for the Royalty and Specialist Protection Branch (RaSP) of London's Metropolitan Police Service. When he is assigned to protect the ambitious and powerful Home Secretary Julia Montague (Keeley Hawes), whose politics stand for everything he despises, Budd finds himself torn between his duty and his beliefs. Responsible for her safety, is he actually her biggest threat?
The Fugitive (The Roku Channel)
Synopsis: Falsely accused of bombing a Los Angeles subway train by "tweet-now, confirm-later" journalism, blue collar worker Mike Ferro must prove his innocence by uncovering the real perpetrator, before the legendary cop heading the investigation can apprehend him.
---
Also Read: Shows Like 'Condor' To Watch If You Loved the Spy Series
---
Condor (MGM+)
Synopsis: Based on the novel "Six Days of the Condor" by James Grady and screenplay "Three Days of the Condor" by Lorenzo Semple Jr. and David Rayfiel, Condor follows CIA analyst (Max Irons) who stumbles onto a plan that threatens the lives of millions. Joe Turner has always been conflicted about his work for the CIA. But when something he's discovered gets his entire office killed, leaving Joe as the only survivor and forcing him to go on the run, the theoretical reservations he's harbored turn into all-too-real moral dilemmas. Under pressure, Joe will be forced to redefine who he is and what he's capable of in order to discover the truth and to stop a plot that threatens the lives of millions. Starring Max Irons, William Hurt, Leem Lubany, Angel Bonnani, Kristen Hager, with Mira Sorvino and Bob Balaban and special guest star Brendan Fraser.