Primo is definitely one of the sweetest family series of recent times. The Freevee series follows a teenager living in San Antonio with his single mother and five uncles who take over most of his life. He has to balance his family life and personal life while also having hopes of getting into a good college. Primo recently released its eight episodes season and while there is no confirmation for a second season fans do hope for more episodes. So, while you wait for Primo Season 2 here are some shows you could watch next.
One Day at a Time (Netflix)
Synopsis: A reimagining of the Norman Lear classic, centering on a Cuban-American family. Our heroine is a recently separated, former military mom (Justina Machado) navigating a new single life while raising her radical teenaged daughter and socially adept tween son, with the "help" of her old school Cuban-born mom (Rita Moreno) and a friends- without-benefits building manager named Schneider.
Baby Daddy (Hulu)
Synopsis: A young man becomes a surprise dad to a baby girl when she's left on his doorstep by an ex-girlfriend. He decides to raise the baby with the help of his mother, his brother Danny, his best buddy Tucker and his close female friend, Riley, who harbors a secret crush on him.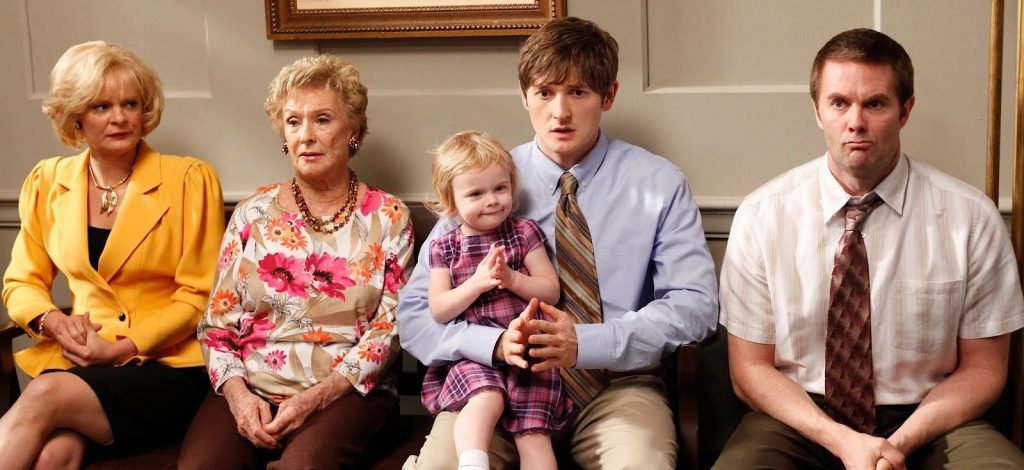 Synopsis: Raising Hope is a new family comedy from Emmy® Award winner Greg Garcia (My Name Is Earl) that follows the Chance family as they find themselves adding an unexpected new member into their already terribly flawed household.
Party of Five (Hulu)
Synopsis: The reimagining of the beloved series will follow the five Acosta children as they navigate daily life struggles to survive as a family unit after their parents are suddenly deported back to Mexico. In a new iteration by original series creators Amy Lippman and Christopher Keyser, this beloved story of a young family bound by adversity will be retold through the lens of current-day themes and cultural conversations. The series stars Brandon Larracuente as Emilio Acosta, Emily Tosta as Lucia Acosta, Niko Guardado as Beto Acosta and Elle Paris Legaspi as Valentina Acosta. Bruno Bichir and Fernanda Urrejola star as the Acosta parents, Javier and Gloria.
---
Also Read: Family Shows Like 'Parenthood' To Watch If You Miss the Series
---
Synopsis: Featuring an all-star ensemble cast, including Lauren Graham (Gilmore Girls), Peter Krause (Six Feet Under), Dax Shepard (Baby Mama), and Craig T. Nelson (Coach), Parenthood follows four grown siblings of the far-from-perfect Braverman clan as they try to balance kids and careers, dreams and commitments, and romance or a total lack thereof. Join some of the best actors on television for a genuinely funny and heartwarming journey through the most challenging and rewarding role of a lifetime—being a parent.
---
Also Read: Comedy Shows Like 'Home Economics' To Watch While Waiting For Season 4
---
Home Economics (Hulu)
Synopsis: Starring and executive produced by Topher Grace, "Home Economics" takes a look at the heartwarming yet super uncomfortable and sometimes frustrating relationship between three adult siblings: one in the 1%, one middle-class and one barely holding on. The comedy is inspired by the life of writer and executive producer Michael Colton. The series stars Topher Grace as Tom, Caitlin McGee as Sarah, Jimmy Tatro as Connor, Karla Souza as Marina, and Sasheer Zamata as Denise. Also starring is Shiloh Bearman as Gretchen, Jordyn Curet as Shamiah, Chloe Jo Rountree as Camila and JeCobi Swain as Kelvin. "Home Economics" was created by writers Michael Colton & John Aboud.
---
Also Read: Comedy Shows Like 'Modern Family' To Watch If You Miss the Series
---
Modern Family (Hulu)
Modern Family is one of the longest-running sitcoms and it follows the Dunphy and Pritchett family. The series is a mockumentary-style comedy and it follows Jay Pritchett (Ed O'Neill), his new wife Gloria (Sofia Vergara), his stepson Manny (Rico Rodriguez), and his daughters family Claire Dunphy (Julie Bowen), her husband and the best father Phil Dunphy (Ty Burrell), their children Haley (Sarah Hyland), Alex (Ariel Winter), and Luke (Nolan Gould). The series also follows Jay's son Mitchell (Jesse Tyler Ferguson), his husband Cameron (Eric Stonestreet), and their adopted daughter Lily (Aubrey Anderson-Emmons). Modern Family ran for 11 seasons ending with a banger of a finale in 2020.
Life in Pieces (Hulu)
Synopsis: James Brolin, Dianne Wiest and Colin Hanks head an all-star cast in this hilarious new series that features four short stories each week about the members of one eccentric family!
---
Also Read: Sitcoms Like 'Malcolm in the Middle' For More Family Fun
---
Malcolm in the Middle (Hulu)
Synopsis: Created by Emmy® Award-winning writer Linwood Boomer, this inventive half-hour series is seen through the eyes of Malcolm (Frankie Muniz), a regular high school kid trying to navigate his way through life despite the various obstacles thrown in his way – a complete misunderstanding of girls, the constant burden of masterminding plans to get himself and his brothers into or out of trouble, and a miserable job at the Lucky Aide…not to mention a severe case of teen angst. Although Malcolm has a genius IQ, he can't seem to make sense of the opposite sex, much less his embarrassing family. Lois (Jane Kaczmarek) is the outspoken, opinionated mom, who still manages to rule the roost even though her boys are growing wise to her crafty ways. Hal (Bryan Cranston), a dad who is just a bumbling, big kid at heart, often finds himself creating more chaos than his five boys combined. Reese (Justin Berfield) has mastered the art of a perfect blank stare, and makes up for his lack of intelligence with deviance. Francis (Christopher Kennedy Masterson), Malcolm's oldest and favorite brother, is willing to move from Alabama to Alaska to New Mexico – as long as it keeps him from moving back home. Dewey (Erik Per Sullivan), no longer the youngest, has learned his tricks from the best and often pulls the wool right over his brothers' eyes. And then there's Jamie, the youngest member…and family scapegoat.