Pennyworth is a DC series that follows the iconic character of Batman's butler Alfred Pennyworth. The series first came out on Epix and it stayed there for two successful seasons now the series has moved for its third season to HBO Max. The new season and the new home of the service were announced during this year's DC FanDome event. Pennyworth is set in the 1960s and it follows Alfred Pennyworth (Jack Bannon) who works as a security guard for a young billionaire named Thomas Wayne (Ben Aldridge). The new season will begin after a five-year time jump and start from the end of the civil war, and the beginning of a new cultural revolution. The revolution has changed the world for better or for worse and with this new world, there are new superheroes and new supervillains rising in its wake. So, now that Pennyworth has concluded its third season, here are some more shows to watch next.
---
Also Read: Best Shows Like 'Gotham' To Watch If You Miss the Series
---
Gotham (HBO Max)
Synopsis: Before there was Batman, there was GOTHAM. The origin story of some of DC Comics greatest Super-Villains and vigilantes, this one-hour drama follows Detective Jim Gordon's rise to power in the dangerously corrupt city that spawns iconic characters such as The Penguin, Catwoman, The Riddler and a young Bruce Wayne.
---
Also Read: Best Shows Like 'Watchmen' To Watch If You Miss the Series
---
Watchmen (HBO Max)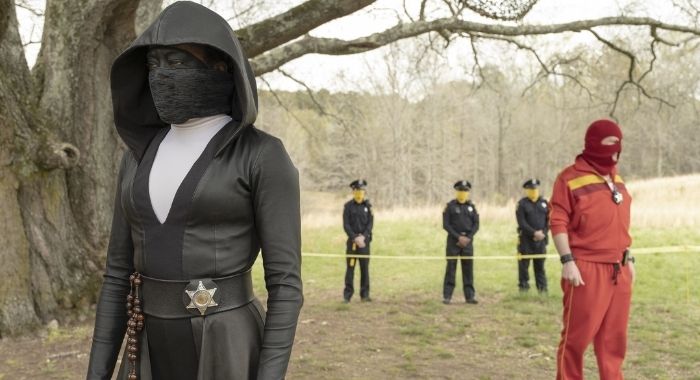 Synopsis: Set in an alternate history where masked vigilantes are treated as outlaws, this epic series from executive producer Damon Lindelof (Lost; HBO's The Leftovers) embraces the nostalgia of the original groundbreaking graphic novel of the same name, while attempting to break new ground of its own. Regina King (HBO's The Leftovers) leads the cast as Angela Abar, who wears two masks; one as a lead detective in The Tulsa Police Force and another as wife and mother of three. The cast also includes Jeremy Irons, Don Johnson, Jean Smart, Tim Blake Nelson, Louis Gossett Jr., Yahya Abdul-Mateen II, Tom Mison, Frances Fisher and Sara Vickers.​
The Punisher (Disney+)
Synopsis: Frank Castle, also known as "The Punisher", believes he has exacted revenge on the criminals responsible for the tragic murder of his family. However, he soon uncovers a larger, deeper conspiracy behind the events that occurred, involving his time serving in the Marine Corps. Alongside run-ins with law enforcement, his ex-best friend Billy Russo, and former NSA analyst Micro, Frank seeks to uncover the truth once and for all.
---
Also Read: Best Shows Like 'Daredevil' To Watch While Waiting For Season 4
---
Daredevil (Disney+)
Synopsis: Daredevil follows Matt Murdock, attorney by day and vigilante by night. Blinded in an accident as a child, Murdock uses his heightened senses as Daredevil, fighting crime on the streets of New York after the sun goes down. His efforts are not welcomed by powerful businessman Wilson Fisk-aka Kingpin- and others whose interests collide with those of Daredevil.
Preacher (Hulu)
Synopsis: Based on the hit comic book series, Preacher is the edgy story of Jesse Custer, a conflicted preacher in a small Texas town who is inhabited by a mysterious entity that allows him to develop a highly unconventional power. With his fearless sidekicks, Tulip and Cassidy, he embarks on a wild, dark journey that is unlike any other.
---
Also Read: Gritty Superhero Shows Like DC's 'Titans'
---
Titans (HBO Max)
Synopsis: Titans follows young heroes from across the DC Universe as they come of age and find belonging in a gritty take on the classic Teen Titans franchise. Dick Grayson and Rachel Roth, a special young girl possessed by a strange darkness, get embroiled in a conspiracy that could bring Hell on Earth. Joining them along the way are the hot-headed Starfire and loveable Beast Boy. Together they become a surrogate family and team of heroes.
Warrior (HBO Max)
Synopsis: Warrior is an action-charged series set in the ruthless world of San Francisco in the late 1800s, pitting rival Chinatown crime families against one another, against the police, and against an overtly racist white working class. Inspired by the writings of the late Bruce Lee, the series follows Ah Sahm (Andrew Koji), a martial-arts prodigy who emigrates from China to San Francisco under mysterious circumstances and becomes a hatchet man for the Hop Wei, one of Chinatown's most powerful tongs (Chinese organized crime families).
---
Also Read: Best Shows Like 'Peacemaker' To Watch While Waiting For Season 2
---
Peacemaker (HBO Max)
Synopsis: Peacemaker explores the continuing story of the character that John Cena reprises in the aftermath of executive producer James Gunn's 2021 film The Suicide Squad – a compellingly vainglorious man who believes in peace at any cost, no matter how many people he has to kill to get it! The series stars John Cena as Peacemaker, Danielle Brooks as Adebayo, Freddie Stroma as Vigilante, Jennifer Holland as Harcourt, Chukwudi Iwuji as Murn, Steve Agee as Economos and Robert Patrick as Auggie Smith.
Synopsis: A contemporary interpretation of John le Carré's espionage novel, "The Night Manager" follows former British soldier Jonathan Pine (Tom Hiddleston) who is recruited by intelligence operative Angela Burr (Olivia Colman) to infiltrate the inner circle of international businessman Richard Onslow Roper (Hugh Laurie) and detonate the unholy alliance he has ministered between the intelligence community and the secret arms trade. To reach the heart of Roper's vast empire, Pine must withstand the suspicious interrogations of his venal chief of staff, Major Corkoran (Tom Hollander) and the allure of his beautiful girlfriend Jed (Elizabeth Debicki). In his quest to do the right thing, Pine must first become a criminal himself. Executive producers include John Le Carré, Simon Cornwell, Stephen Cornwell and Stephen Garrett. Writer David Farr also serves as an executive producer as does Academy Award® winner Susanne Bier, who serves as director.
---
Also Read: Best Shows Like 'Perry Mason' To Watch While Waiting for Season 2
---
Perry Mason (HBO Max)
Synopsis: The world's most renowned fictional lawyer is back on the case in this exciting HBO series that tells the origin story of master criminal defense attorney Perry Mason. Set in 1932 Los Angeles, this edgy, noirish update puts a new spin on the iconic character created by Erle Stanley Gardner and made famous by the classic TV show that ran from 1957 to 1966. The series begins with Mason (Matthew Rhys) living paycheck to paycheck as a low-rent private investigator who's haunted by his wartime experiences and managing the fallout of a broken marriage. During eight twisty, cliff-hanger episodes, Mason is determined to do what's right—even when it's not necessarily "legal"—as he digs into a controversial and politically loaded case, exposing a fractured city and a possible police coverup. The stellar cast includes John Lithgow, Tatiana Maslany, Juliet Rylance, Chris Chalk and Shea Whigham.