Penny Dreadful is a great gothic horror series with some of the most brilliant performances ever seen. Set in London in 1891, the series follows Vanessa Ives, Ethan Chandler, and Malcolm Murray as they try to find a killer who turns out to be a non-human entity. The series vowed to everyone as they upon its premiere in 2014. So, if you miss Penny Dreadful here are some shows you should check out next.
Jonathan Strange & Mr. Norrell (Purchase on YouTube)
Synopsis: Strange and Norrell join forces to summon the Raven King and defeat the Gentleman. But nothing goes as planned. The prophecy of the Raven King means Jonathan and Arabella may never be reunited.
Synopsis: On the hunt for a crazed killer, Inspector John Marlott (Sean Bean) is drawn into a dark criminal underworld in 19th century London.
---
Also Read: Shows Like 'Dracula' To Watch If You Miss the Series
---
Dracula (Netflix)
Synopsis: From the makers of Sherlock, a brand new series inspired by Bram Stoker's classic novel. In Transylvania in 1897, the blood-drinking Count is drawing his plans against Victorian London. And be warned, the dead travel fast.
The Alienist (HBO Max)
Synopsis: The Alienist is a psychological thriller set in 1896 about the hunt for a serial killer responsible for the gruesome murders of boy prostitutes that have gripped New York City. Based on the novel by Caleb Carr.
---
Also Read: Shows Like 'Carnival Row' To Watch While Waiting For Season 2
---
Synopsis: With a serial killer loose on Carnival Row, and a government that turns a blind eye to the deaths of its lower class citizens, Rycroft Philostrate, a war-hardened investigator, is the only person willing to stop the murders and maintain the fragile peace. But when Vignette Stonemoss, a faerie refugee, turns up in the Burgue, she forces Philo to reckon with a past he's tried to forget.
---
Also Read: Shows Like 'Bates Motel' To Watch If You Miss the Series
---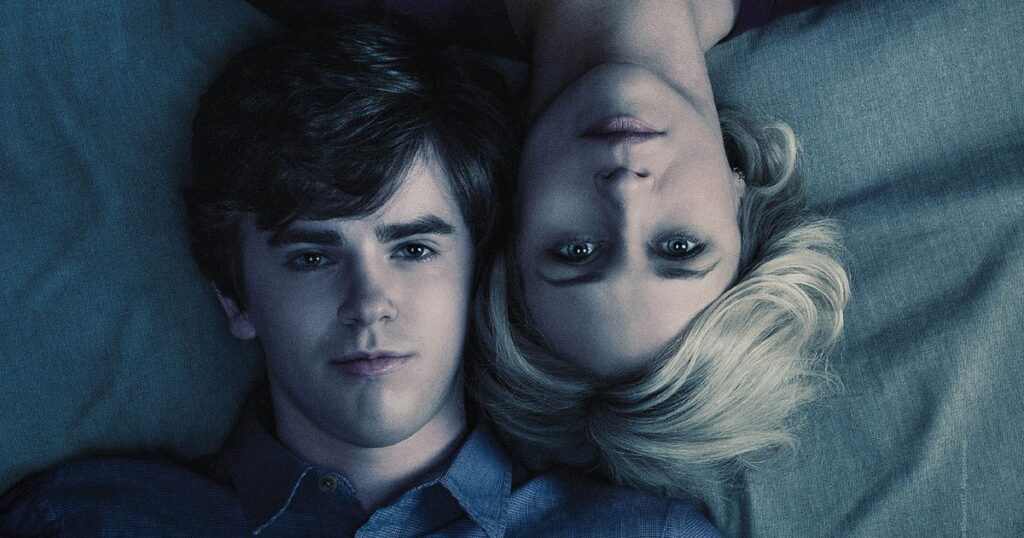 Synopsis: From Executive Producers Carlton Cuse (Lost) and Kerry Ehrin (Friday Night Lights and Parenthood), Bates Motel delves into the sadistic and twisted relationship between serial killer-to-be, Norman Bates, and his mother Norma. A prelude to the classic horror film Psycho, the series takes a contemporary glimpse into Norman's formative years and reveals how he became one of the most infamous murderers of all time.
Carnivale (HBO Max)
Synopsis: 1934. The Dustbowl. In a time of sandstorms, plagues, drought and pestilence, the final conflict between good and evil is about to begin. This epic HBO series focuses on the battle as it plays out against a pair of unusual backdrops: a traveling carnival working the American Dustbowl circuit, and an evangelical ministry in California.
---
Also Read: Shows Like 'Castle Rock' To Watch If You Miss the Series
---
Castle Rock (Hulu)
Synopsis: Castle Rock takes viewers into the chilling world of acclaimed best-selling author Stephen King in this psychological horror series from J.J. Abrams' Bad Robot Productions in association with Warner Bros. Television. The drama series stars André Holland (Moonlight, Selma, 42), Melanie Lynskey (Togetherness, Up in the Air), and Bill Skarsgård (It, Atomic Blonde) with Jane Levy (Suburgatory, Shameless) and Sissy Spacek (Carrie, Coal Miner's Daughter) and special guest star Scott Glenn (The Leftovers). A psychological-horror series set in the Stephen King multiverse, Castle Rock combines the mythological scale and intimate character storytelling of King's best-loved works, weaving an epic saga of darkness and light, played out on a few square miles of Maine woodland.
The Terror (Hulu)
Synopsis: Haunting, suspenseful and based on true events, The Terror centers on a perilous Arctic voyage by the British Royal Navy. It's an extreme tale of survival in wholly unforgiving landscape – with the crew's fears exacerbated by an unknown threat.
---
Also Read: Shows Like 'Hannibal' To Watch If You Miss the Series
---
Hannibal (Hulu)
Synopsis: One of the most fascinating literary characters comes to life on television for the first time: psychiatrist-turned-serial-killer, Dr. Hannibal Lecter. In this drama from Bryan Fuller ("Pushing Daisies," "Heroes"), based on the characters from Thomas Harris' classic novels, we see where this incredible story began.
---
Also Read: Dark Supernatural Shows Like 'Midnight Mass' You Should Watch
---
Midnight Mass (Netflix)
Synopsis: From The Haunting of Hill House creator Mike Flanagan, Midnight Mass tells the tale of a small, isolated island community whose existing divisions are amplified by the return of a disgraced young man (Zach Gilford) and the arrival of a charismatic priest (Hamish Linklater). When Father Paul's appearance on Crockett Island coincides with unexplained and seemingly miraculous events, a renewed religious fervor takes hold of the community – but do these miracles come at a price?
---
Also Read: Shows Like 'Twin Peaks' To Watch If You Miss the Series
---
Synopsis: "She's dead. Wrapped in plastic." Date: Friday, February 24, 1989: Homecoming Queen Laura Palmer is found dead, washed up on a riverbank, and wrapped in plastic sheeting. FBI Special Agent Dale Cooper is called in to investigate the murder of this young woman in the small, Northwestern town of Twin Peaks. What he doesn't know is that in Twin Peaks, no one is innocent.