Before Jesse Armstrong went to HBO and made Succession, he made one of the best dark comedy series ever Peep Show. The Channel 4 series starring David Mitchell and Robert Webb follows two boys in their late twenties Mark Corrigan (Mitchell) and Jeremy Osbourne (Webb). Both meet at a fictional Dartmouth University and live together as roommates. Peep Show also stars Olivia Colman, Sophie Winkleman, and Matt King. The series ran for nine hilarious seasons and ended in 2015 with a banger of a finale. So, if you miss Peep Shows here are some shows you could watch to pass your time.
---
Also Read: Shows Like 'It's Always Sunny in Philadelphia' To Watch While Waiting For Season 16
---
It's Always Sunny in Philadelphia (Hulu)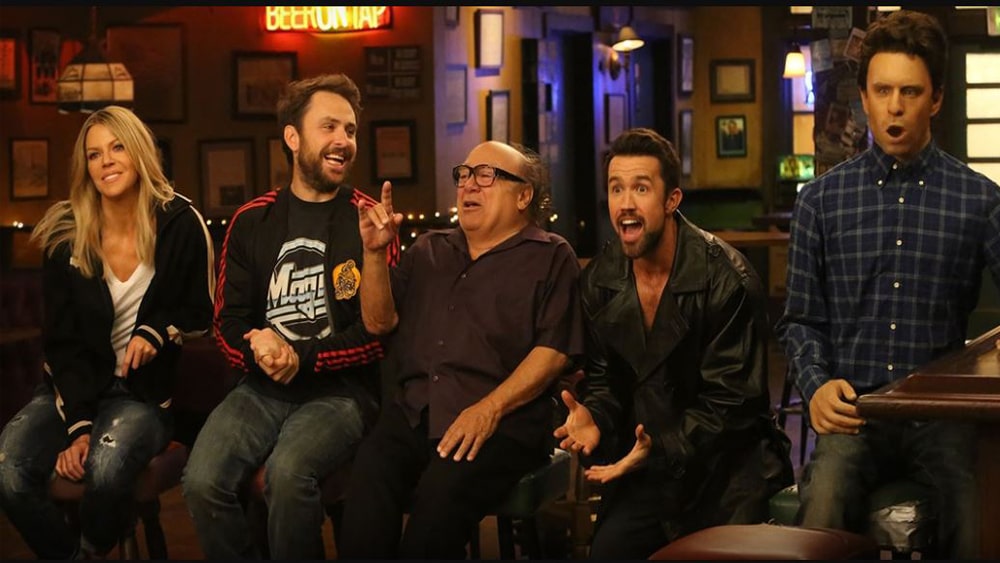 Synopsis: It's Always Sunny in Philadelphia features Mac, Dennis, Charlie, Sweet Dee and Frank, five ne'er-do-wells who own and operate Paddy's Pub in Philadelphia. Their constant scheming usually lands them in a world of hurt, yet they never seem to learn from their mistakes. As they say, some things never change. So prepare for more depraved schemes, half-baked arguments, and absurdly underhanded plots to subvert one another.
Synopsis: Steve Coogan has been asked by The Observer to tour the country's finest restaurants, but after his girlfriend backs out on him he must take his best friend and source of eternal aggravation, Rob Brydon.
Synopsis: Bernard runs a book shop. Badly. Drunkenly. Grumpily. Manny tries to help run it better, but sort of ends up as Bernard's, ahem, Manny servant. And then there's Fran, who pops in… any time… she chooses… day or night… pop, popping in. This got BAFTAs. It's got Dylan Moran. Bill Bailey. Tamsin Grieg. It's even got Star Trek's Simon Pegg. It's dark. It's edgy. And they never sell a book.
The IT Crowd (Netflix)
Synopsis: Roy and Moss toil in the squalid basement of a huge company, fielding IT help desk calls. Roy has a lousy attitude coupled with an eye for the ladies, while Moss is dressed by his mother and has an aerosol can of water clipped to his belt with which to spray his ear when it gets hot. Into their life of 'users', pizza, science fiction and firewalls comes middle manager Jen, a spunky can-do career gal who doesn't know one end of a laptop from the other. Can she introduce real life to men who email the fire brigade in an emergency, who invent a psycho for an internet dating site and display sympathetic PMS symptoms once a month? 'The IT Crowd'. It's more than a way of life, it's a sitcom.
Synopsis: Award-winning university comedy-drama from the writers of Peep Show, about the hilarious and painful truths of being a student. Public schoolboy JP (Jack Whitehall), insecure Kingsley (Joe Thomas), wide-eyed Josie (Kimberley Nixon), socially awkward know-it-all Howard (Greg McHugh), hard-living Vod (Zawe Ashton) and desperate-to-be-cool Oregon (Charlotte Ritchie) embark on the most exciting period of their lives so far.
Pete Versus Life (Prime Video & Pluto TV)
Synopsis: This raucous British comedy follows journalist Pete, an otherwise average bloke whose life is observed and analyzed by two sports commentators.
---
Also Read: Shows Like 'The Thick Of It' To Watch If You Miss the Series
---
Synopsis: Award-winning comedian Armando Iannucci directs this satirical comedy set in the world of British politics. The team at the Department of Social Affairs and Citizenship find themselves in a world dominated by internal politics, power and the media. They have no choice but to do as Number 10 tells them, else face the wrath of the Prime Minister's Machiavellian spin doctor, Malcolm Tucker.
---
Also Read: Shows Like 'Spaced' To Watch If You Miss the UK Series
---
Synopsis: Simon Pegg ("Hot Fuzz") and Jessica Hynes ("Shaun of the Dead") star in this Emmy-nominated British sitcom about two slackers who rent a North London flat under the pretense that they are a couple.
---
Also Read: Shows Like 'Succession' to Watch While Waiting For Season 4
---
Succession (HBO Max)
Synopsis: ​Power, politics, money…it's all in the family in this provocative, bitingly funny drama series about a highly dysfunctional dynasty. When aging, uber-wealthy patriarch Logan Roy (Brian Cox), CEO of one of the world's largest media and entertainment conglomerates, decides to retire, each of his four grown children follows a personal agenda that doesn't always sync with those of their siblings–or of their father. After Logan changes his mind about stepping down, he endures the often-childish bickering of his heirs while others in their orbit position themselves for a post-Logan world that seems imminent, though not predestined. Jeremy Strong, Kieran Culkin, Sarah Snook and Alan Ruck co-star as Logan's children; also with Hiam Abbass, Nicholas Braun and Matthew Macfadyen.
Synopsis: An acerbic comedy starring David Mitchell and Robert Webb. Stephen is finally taking over his father Laurie's pub after his death. The charismatic Andrew turns up at the funeral and claims the short time he spent fostered by Stephen's family was the happiest of his life. But to Stephen, Andrew is just one of 30-odd foster kids he resented during childhood, and now adulthood.