Prime Video's adaptation of Brian K. Vaughn and Cliff Chiang's comic series Paper Girls was recently released on the streaming series which has been gaining praise from both critics and audience alike. The series follows four young adults who deliver the newspaper to people and in the early morning hours after 1988 Halloween, as they are on their route they get caught up in the crossfire of some time-travelers, which changes their lives forever. So, if you liked the brilliant and zany series here are some more shows you could watch while waiting for the next season.
The Society
Synopsis: The Society follows a group of teenagers who are mysteriously transported to a facsimile of their wealthy New England town, left without any trace of their parents. As they struggle to figure out what has happened to them and how to get home, they must establish order and form alliances if they want to survive. The series is a modern take on Lord of the Flies.
---
Also Read: Best Shows Like 'Dirk Gently's Holistic Detective Agency' To Watch If You Miss the Series
---
Dirk Gently's Holistic Detective Agency
Synopsis: Welcome back to the world of Dirk Gently's Holistic Detective Agency. Every season is a dizzying, smart, dangerous, unexpected (for us, not the people involved) and fun adventure that explores a different genre. Season one is about time travel with body-swapping.
The Wilds
Synopsis: A group of teen girls from different backgrounds must fight for survival after a plane crash strands them on a deserted island. The castaways both clash and bond as they learn more about each other, the secrets they keep, and the traumas they've all endured. There's just one twist to this thrilling drama… these girls did not end up on this island by accident.
---
Also Read: Best Shows Like 'Stranger Things' To Watch After Season 4
---
Stranger Things
Synopsis: 99 out of a hundred times, the missing kid is with a parent or relative. What about the other time? A love letter to the supernatural classics of the 80's, Stranger Things is the story of a young boy who vanishes into thin air. As friends, family and local police search for answers, they are drawn into an extraordinary mystery involving top-secret government experiments, terrifying supernatural forces and one very strange little girl. Stranger Things stars Winona Ryder, David Harbour, Finn Wolfhard, Millie Brown, Gaten Matarazzo, Caleb McLaughlin, Noah Schnapp, Natalia Dyer, Cara Buono, Charlie Heaton, and Matthew Modine.
---
Also Read: Best Shows Like 'The Umbrella Academy' To Watch After Season 3
---
The Umbrella Academy
Synopsis: On the same day in 1989, forty-three infants are inexplicably born to random, unconnected women who showed no signs of pregnancy the day before. Seven are adopted by a billionaire who creates The Umbrella Academy and prepares his "children" to save the world. Now, the six surviving members reunite upon the news of their father's passing and must work together to solve a mystery surrounding his death. But the estranged family begins to come apart due to their divergent personalities and abilities, not to mention the imminent threat of a global apocalypse. The Umbrella Academy is based on the comic book series created and written by Gerard Way, illustrated by Gabriel Bá, and published by Dark Horse Comics.
Orphan Black
Synopsis: Orphan Black is a Sci-Fi thriller starring Tatiana Maslany in the lead role of Sarah, an outsider and orphan whose life changes dramatically after witnessing the suicide of a woman who looks just like her. Sarah hopes that cleaning out the dead woman's bank account will solve all of her problems. Instead, her problems multiply – and so does she.
---
Also Read: Best Shows Like 'Ms. Marvel' To Watch If You Like the Series
---
Ms. Marvel
Synopsis: Ms. Marvel is a new series that introduces Kamala Khan—a 16-year-old Pakistani-American growing up in Jersey City. A great student, an avid gamer and a voracious fan-fiction scribe, she has a special affinity for superheroes, particularly Captain Marvel. But Kamala struggles to fit in at home and at school—that is, until she gets super powers like the heroes she's always looked up to. Life is easier with super powers, right? Iman Vellani stars as Kamala Khan aka Ms. Marvel; the cast also includes Aramis Knight, Saagar Shaikh, Rish Shah, Zenobia Shroff, Mohan Kapur, Matt Lintz, Yasmeen Fletcher, Laith Naki, Azher Usman, Travina Springer and Nimra Bucha. Episodes are directed by Adil El Arbi & Bilall Fallah, Meera Menon and Sharmeen Obaid-Chinoy.
---
Also Read: Best Shows Like 'His Dark Materials' To Watch While Waiting For Season 3
---
His Dark Materials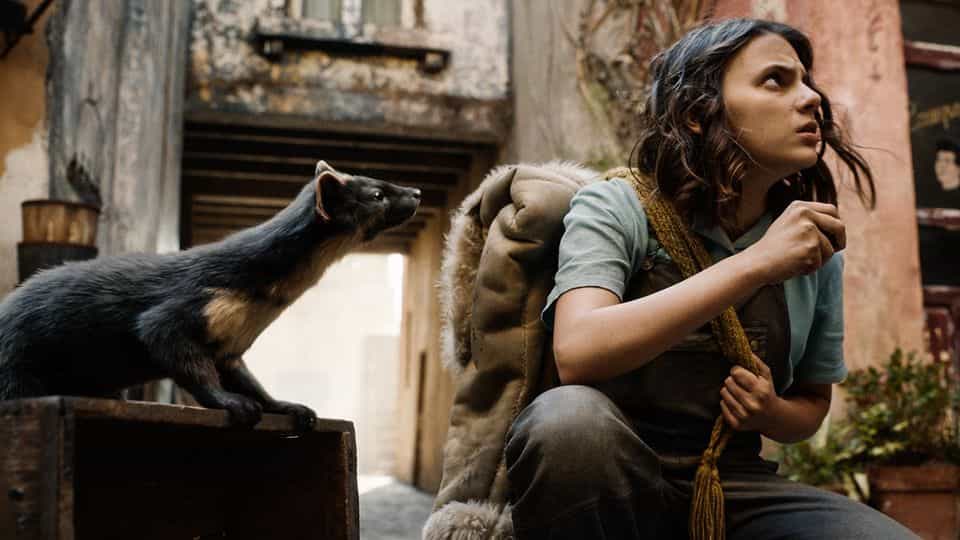 Synopsis: Based on the first book in Philip Pullman's best-selling trilogy of novels. Lyra (Dafne Keen) lives in Jordan College, Oxford. Placed there at the request of her Uncle, Lord Asriel (James McAvoy) she lives a sheltered life amongst the scholars and college staff while under the watchful protection of The Master (Clarke Peters). When the glamorous and mesmeric Mrs Coulter (Ruth Wilson) enters Lyra's life she embarks upon a dangerous journey of discovery from Oxford to London. Here she meets Father MacPhail (Will Keen) and Lord Boreal (Ariyon Bakare). Lyra is subsequently thrown into the nomadic world of the boat dwelling Gyptians – Ma Costa (Anne-Marie Duff), Farder Coram (James Cosmo), John Faa (Lucien Msamati), Raymond Van Geritt (Mat Fraser) Jack Verhoeven (Geoff Bell) and Benjamin de Ruyter (Simon Manyonda) who take her North in her quest. Once in the North she meets charismatic aeronaut and adventurer Lee Scoresby (Lin-Manuel Miranda) who joins them on their epic journey and becomes one of Lyra's closest allies.
The Time Traveller's Wife
Synopsis: Adapted by Steven Moffat from the beloved novel of the same name, The Time Traveler's Wife follows the spellbinding and intricately out-of-order love story between Clare (Rose Leslie of HBO's Game of Thrones), and Henry (Theo James of Divergent), and a marriage with a problem: time travel. At 6 years old, Clare meets Henry, the future love of her life – and who, as a time traveler, is actually visiting from the future. Fourteen years later, when a beautiful redhead wanders into the library where Henry works claiming not only to have known him all her life but to be his future wife, a magical romance ensues that is as sprawling and complicated as Henry's attempts to explain his "condition." Over six hour-long episodes, the genre-bending drama series expertly weaves themes of love, loss, marriage, and survival – in a story that defies the laws and logic of time.
---
Also Read: Best Shows Like 'Manifest' To Watch While Waiting For Season 4
---
Manifest
Synopsis: Over a year has passed since the miraculous homecoming of Flight 828 and the discovery of others who have mysteriously returned. While the Stone family endeavors to keep their friends safe and make their enemies believe the unbelievable, new challenges will test their trust of the callings and each other. But sticking together is more important than ever, because no matter what happens, it's all connected.