On My Block is American teen comedy series created by Lauren Iungerich, Jeremy Haft, and Eddie Gonzalez. The Netflix series stars Sierra Capri, Jason Genao, Brett Gray, Diego Tinoco, and Jessica Marie Garcia. On My Block follows a group of friends living in a rough part of a Los Angeles neighborhood named Freeridge. The gang has been friends for their whole life, but this friendship is tested through various hurdles thrown at them by the jungle called high school. On My Block is one of the most surreal comedy shows and it ran for four brilliant seasons ending with its fourth and final season in 2021. It has been over a year since we saw the last of On My Block episodes and if you miss the series here are some shows you could watch to fill the time.
---
Also Read: Best Shows Like 'Freaks and Geeks' To Watch If You Miss the Series
---
Freaks and Geeks
Synopsis: The universal experience of teenagehood as lived by the regular old freaks and geeks in a Michigan high school, circa 1980, is the subject of this wistful comedy-drama executive-produced by Emmy-winner Judd Apatow and series creator Paul Feig.
Gentefied
Synopsis: Created by two Chicano first-gen writers, Gentefied is a half-hour dramatic comedy adapted from the 2017 Sundance digital darling of the same name. In this badass bilingual series about family, community, brown love, and the displacement that disrupts it all, three Mexican-American cousins struggle to chase the American Dream, even while that same dream threatens the things they hold most dear: their neighborhood, their immigrant grandfather, and the family taco shop. Set in a rapidly changing Los Angeles, the Spanglish dramedy will navigate important themes like identity, class, and balancing insta-fame with translating memes for their parents. But most importantly, Gentefied will settle once and for all how to pronounce Latinx.
---
Also Read: Best Shows Like 'Cobra Kai' To Watch After Season 5
---
Cobra Kai
Synopsis: Cobra Kai takes place over 30 years after the events of the 1984 All Valley Karate Tournament with the continuation of the inescapable conflict between Daniel LaRusso (Ralph Macchio) and Johnny Lawrence (William Zabka).
Dear White People
Synopsis: The unexpected election of activist Samantha White (Tessa Thompson) as head of a traditionally black residence hall sets up a college campus culture war that challenges conventional notions of what it means to be black. While Sam leverages her notoriety as host of the provocative and polarizing radio show "Dear White People" to try to prevent the college from diversifying Armstrong Parker House, outgoing head-of-house Troy Fairbanks (Brandon P. Bell), son of the university's dean (Dennis Haysbert), defies his father's lofty expectations by applying to join the staff of Pastiche, the college's influential humor magazine. Lionel Higgins (Tyler James Williams), an Afro-sporting sci-fi geek, is recruited by the otherwise all-white student newspaper to go undercover and write about black culture—a subject he knows little about—while the aggressively assimilated Coco Conners (Teyonah Parris) tries to use the controversy on campus to carve out a career in reality TV. But no one at Winchester University is prepared for Pastiche's outrageous, ill-conceived annual Halloween party, with its "unleash your inner Negro" theme throwing oil on an already smoldering fire of resentment and misunderstanding. When the party descends into riotous mayhem, everyone must choose a side.
---
Also Read: Best Shows Like 'Derry Girls' To Watch If You Miss the Series
---
Derry Girls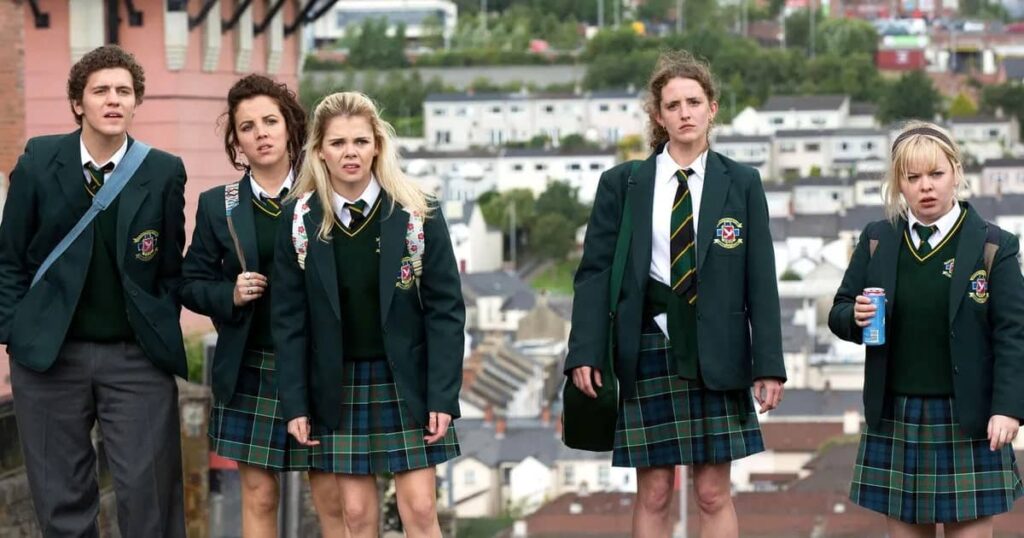 Synopsis: Set in Derry Northern Ireland in the 1990s, Derry Girls is a candid, one-of-a-kind comedy about what it's like to be a teenage girl living amongst conflict. It's a warm, laugh out loud funny and honest look at the lives of an ordinary family living through the Troubles in the early nineties. Armed police in armoured Land Rovers, British Army check points and 'peace' walls are all an everyday reality for Erin. But, despite all that, she has other things to worry about, like the fact the boy she's in love with (actually in LOVE with), doesn't know she exists. Or that her Ma and Aunt Sarah make her include her weirdo cousin in EVERYTHING she does. Or that head teacher, Sister Michael, refuses to acknowledge Erin as a literary genius. Not to mention the fact that her second best friend has ALMOST had sex, whereas Erin's never even kissed anyone yet. Like all teenage girls, Erin has her own Troubles. Derry Girls is based on writer Lisa McGee's (Indian Summers, Being Human) own experiences of growing up in Northern Ireland amidst immense civil conflict.
The Young Offenders
Synopsis: The Young Offenders television series follows the coming of age adventures of lovable rogues Conor & Jock (Alex Murphy and Chris Walley, reprising their roles from the smash hit feature film) as they navigate their awkward teenage years, hatching plans and adventures to help distract from their tough home lives and their inability to stay out of trouble at school. Conor's long suffering mother Máiréad (Hilary Rose) tries to keep both her son and his best friend on the straight and narrow, with varying degrees of success.
---
Also Read: Best Sitcoms Like 'Malcolm in the Middle' For More Family Fun
---
Malcolm in the Middle
Synopsis: Created by Emmy® Award-winning writer Linwood Boomer, this inventive half-hour series is seen through the eyes of Malcolm (Frankie Muniz), a regular high school kid trying to navigate his way through life despite the various obstacles thrown in his way – a complete misunderstanding of girls, the constant burden of masterminding plans to get himself and his brothers into or out of trouble, and a miserable job at the Lucky Aide…not to mention a severe case of teen angst. Although Malcolm has a genius IQ, he can't seem to make sense of the opposite sex, much less his embarrassing family. Lois (Jane Kaczmarek) is the outspoken, opinionated mom, who still manages to rule the roost even though her boys are growing wise to her crafty ways. Hal (Bryan Cranston), a dad who is just a bumbling, big kid at heart, often finds himself creating more chaos than his five boys combined. Reese (Justin Berfield) has mastered the art of a perfect blank stare, and makes up for his lack of intelligence with deviance. Francis (Christopher Kennedy Masterson), Malcolm's oldest and favorite brother, is willing to move from Alabama to Alaska to New Mexico – as long as it keeps him from moving back home. Dewey (Erik Per Sullivan), no longer the youngest, has learned his tricks from the best and often pulls the wool right over his brothers' eyes. And then there's Jamie, the youngest member…and family scapegoat.
Everything Sucks!
Synopsis: A quirky, funny coming of age story that follows two groups of high school misfits, Everything Sucks! follows an A/V club and a Drama club who collide in 1996 Oregon. The series stars Peyton Kennedy (American Fable, The Captive) and Jahi Winston (The New Edition Story) as students Kate Messner and Luke O'Neil, with Patch Darragh (Sully, Boardwalk Empire) and Claudine Mboligikpelani Nako (Grimm) as their respective parents. The series also features Sydney Sweeney ("Emaline"), Elijah Stevenson ("Oliver"), Quinn Liebling ("Tyler") and Rio Mangini ("McQuaid").
---
Also Read: Best Shows Like 'The O.C.' To Watch If You Miss the Series
---
The O.C.
Synopsis: Outsider Ryan, quick-witted Seth, girls-next-door Summer and Marissa and more – all the characters you love (or sometimes love to hate) are here in episodes alive with laughs and drama, indie bands and Chrismukkah, and featuring real insights into teens and parents, what's in and what matters, growing up and moving on. There's nothing like a day at the beach. Catch every wave!
Skins (UK)
Synopsis: The smash hit drama series following the lives and loves of a group of raucous friends in Bristol. Tony, Nicholas Hoult, is a smart 17-year-old. He undermines his dad, Harry Enfield, on a daily basis and effortlessly covers up for his little sister's, Kaya Scodelario, covert delinquency.