Obsession is a dark erotic thriller series that will seduce and entertain you at the same time. The Netflix series stars Richard Madden, Charlie Murphy, and Indira Varma in the lead roles of William, Anna, and Ingrid. Obsession tells us the story of William, a respected surgeon who starts an affair with his son's fiancée. William's infatuation with Anna comes at a high cost and it threatens to destroy his personal and professional life. Obsession might be the "kinkiest series" (according to Rolling Stone) on Netflix right now and if you already watched it here are some more erotic shows you could watch next.
---
Also Read: Shows Like 'Anatomy of a Scandal' To Watch If You Miss the Series
---
Anatomy of a Scandal (Netflix)
Synopsis: A psychological thriller and gripping courtroom drama, the series infiltrates Britain's elite through personal and political scandal, where the truth lies between justice and privilege. James and Sophie Whitehouse live in a blissful and rarified world. A Minister in Parliament, a loving family at home, James' trajectory appears without limits. Until a scandalous secret suddenly comes to light. Barrister Kate Woodcroft has a trajectory of her own, and her prosecution threatens to tear into Westminster, the Whitehouse marriage, and her own personal esteem.
Behind Her Eyes (Netflix)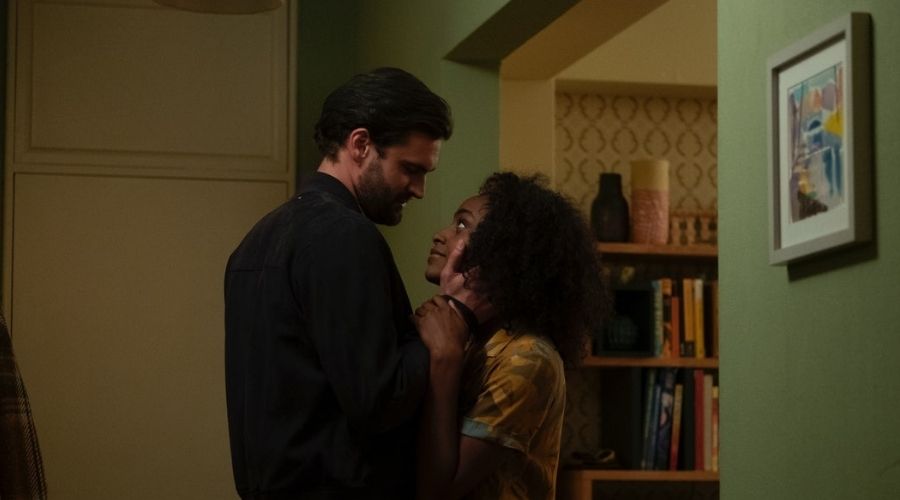 Synopsis: Simona Brown plays Louise, a single mother who has an affair with her psychiatrist boss David (Tom Bateman). Her life takes a strange turn when she later befriends his wife Adele (Eve Hewson), and she finds herself caught in a web of secrets and lies where nothing is what it seems. Also starring Robert Aramayo, Behind Her Eyes is produced by Left Bank Pictures (The Crown) and written by Steve Lightfoot and Angela LaManna, based on the best-selling novel by Sarah Pinborough.
---
Also Read: Shows Like Netflix's 'You' to Watch While Waiting For Season 5
---
You (Netflix)
Synopsis: From executive producer/writers Greg Berlanti and Sera Gamble, and based on Caroline Kepnes' best-selling novel of the same name, YOU is a 21st century love story about an obsessive, yet brilliant twentysomething who uses the hyper connectivity of today's technology to make the woman of his dreams fall in love with him. "What would you do for love?" When a brilliant bookstore manager crosses paths with an aspiring writer, his answer becomes clear: anything. Using the Internet and social media as his tools to gather the most intimate of details and get close to her, a charming and awkward crush quickly becomes obsession as he quietly and strategically removes every obstacle — and person — in his way.
Synopsis: At once deeply observed and intriguingly elusive, The Affair explores the emotional effects of an extramarital relationship. Noah is a New York City schoolteacher and budding novelist with a wife of twenty years and four children. Alison is a young waitress and wife from Montauk at the end of Long Island, trying to piece her life back together in the wake of a tragedy. The provocative drama unfolds separately from multiple perspectives, using the distinct memory biases of each character to tell the story.
---
Also Read: Steamy Shows Like 'Sex/Life' To Watch If You Miss the Series
---
Sex/Life (Netflix)
Synopsis: SEX/LIFE is the story of a love triangle between a woman, her husband, and her past that takes a provocative new look at female identity and desire. Billie Connelly (Sarah Shahi) wasn't always a stay-at-home wife and mother living in the suburbs. Before she married loving and reliable Cooper (Mike Vogel) and moved to Connecticut, Billie was a free-spirited wild child living in New York City with her best friend Sasha (Margaret Odette), working hard and playing even harder. Exhausted from taking care of her two young kids and feeling nostalgic for her past, Billie starts journaling and fantasizing about her passionate exploits with sexy ex-boyfriend Brad (Adam Demos), the big heartbreak she never got over. But the more Billie remembers, the more she wonders how she got here — and then her husband finds her journal. Will the truth about Billie's past start a sexual revolution in her marriage, or lead her down a path back to the life she thought she left behind with the man who broke her heart?
Fatal Affair (Netflix)
Synopsis: Ellie (Nia Long) tries to mend her marriage with her husband Marcus (Stephen Bishop) after a brief encounter with an old friend, David (Omar Epps), only to find that David is more dangerous and unstable than she'd realized. Fatal Affair is directed by Peter Sullivan.
---
Also Read: Shows Like 'Big Little Lies' To Watch If You Miss the Series
---
Big Little Lies (HBO Max)
Synopsis: Based on Liane Moriarty's bestselling book, this subversive, darkly comedic drama series tells the tale of three mothers of first-graders whose seemingly perfect lives unravel to the point of murder. Reese Witherspoon, Nicole Kidman and Shailene Woodley head up a stellar cast in this Monterey-set drama that begins with a suspicious homicide at an elementary-school fundraiser. Though the victim and the perpetrator initially remain a mystery, it appears that the murder was spawned by rivalries and secrets surrounding the trio of young moms. Alexander Skarsgard, Laura Dern, Adam Scott, Zoe Kravitz, James Tupper and Jeffrey Nordling co-star.
Gypsy (Netflix)
Synopsis: Gypsy is a ten-part psychological thriller that follows Jean Holloway (Naomi Watts), a Manhattan therapist with a seemingly picturesque life who begins to develop intimate and illicit relationships with the people in her patients' lives. As the borders of Jean's professional life and personal fantasies become blurred, she descends into a world where the forces of desire and reality are disastrously at odds.
---
Also Read: Shows Like 'Tell Me Lies' To Watch While Waiting For Season 2
---
Tell Me Lies (Hulu)
Synopsis: "Tell Me Lies" follows a tumultuous but intoxicating relationship as it unfolds over the course of 8 years. When Lucy Albright (Grace Van Patten) and Stephen DeMarco (Jackson White) meet at college, they are at that formative age when seemingly mundane choices lead the way to irrevocable consequences. Although their relationship begins like any typical campus romance, they quickly fall into an addictive entanglement that will permanently alter not only their lives, but the lives of everyone around them.
What/If (Netflix)
Synopsis: Neo-noir social thriller What / If explores the ripple effects of what happens when acceptable people start doing unacceptable things. The season focuses on a mysterious woman's lucrative but dubious offer to a cash-strapped pair of San Francisco newlyweds.