Not Dead Yet is a new wonderful comedy series starring Gina Rodriguez. The brilliant comedy series follows Nell Serrano, a single and broke woman who moved to London for a man but after the breakup, she moves back to America and tries to get her old job but things don't go as expected and she gets the job of writing obituaries. But things go even more wrong when she starts seeing the ghosts of the people she is writing obituaries about. So, if you like the series here are some shows you could watch next.
---
Also Read: Shows Like 'Upload' To Watch While Waiting For Season 3
---
Synopsis: From Emmy-Award winning writer Greg Daniels (The Office, Parks and Recreation) comes Upload, a new sci-fi comedy series set in a technologically advanced future where hologram phones, 3D food printers and automated grocery stores are the norm. Most uniquely, humans can choose to be "uploaded" into a virtual afterlife. The series follows a young app developer, Nathan Brown (Robbie Amell), who winds up in the hospital following a self-driving car accident, needing to quickly decide his fate. After a rushed deliberation with his shallow girlfriend Ingrid (Allegra Edwards), he chooses to be uploaded to her family's luxurious virtual afterlife, the Horizen company's "Lakeview." Once uploaded in Lakeview, Nathan meets his customer service "Angel" Nora Anthony (Andy Allo), who at first is his charismatic concierge and guide, but quickly becomes his friend and confidante, helping him navigate this new digital extension of life.
Synopsis: Samantha and Jay throw caution to the wind when they convert their recently inherited country estate into a bed-and-breakfast. Call it mislaid plans. Not only is the place falling apart, but it's also inhabited by spirits of previous residents – whom only Samantha can see and hear. Ghosts spins the funny, heartfelt story about a newfound dream that reveals connection and self-discovery aren't just for the living.
---
Also Read: Shows Like 'The Good Place' To Watch If You Miss the Series
---
The Good Place (Netflix & Apple TV)
Synopsis: What happens when we die? It's a question everyone has asked since the beginning of time. But when Eleanor Shellstrop (Kristen Bell) dies tragically she finds out that the afterlife is amazing; full of frozen yogurt soulmates and wonderful people who have done incredible things with their lives. It is absolutely perfect. The only problem is Eleanor isn't supposed to be in The Good Place. In fact her life decisions wouldn't have even gotten her close. But due to a clerical error, she's been given someone else's reward and now has to struggle with being good in order to make sure her secret isn't discovered.
---
Also Read: Shows Like 'Pushing Daisies' To Watch If You Miss the Series
---
Pushing Daisies (HBO Max)
Synopsis: This forensic fairytale follows Ned (Emmy and Golden Globe nominee Lee Pace ??? The Good Shepherd), a young man with a very special gift. As a boy, Ned found that he could return the dead briefly back to life with just one touch. Now a pie maker, Ned puts his ability to good use, not only touching dead fruit and making it ripe with everlasting flavor, but working with a private investigator to crack murder cases by raising the dead to name their killers.
---
Also Read: Comedy Shows Like 'Dead Like Me' To Watch If You Miss the Series
---
Dead Like Me (The Roku Channel)
Synopsis: Centers on a disaffected young woman who is suddenly killed when a piece of the MIR space station hurtles to Earth and hits her in the head. Georgia (George) Lass is surprised to discover that an afterlife does exist, and that she's already been assigned a job. Her new boss is Rube, a "reaper" — one of the many who pluck the souls of the living and escort them to their eternal reward.
---
Also Read: Shows Like 'iZombie' To Watch If You Miss the Series
---
iZombie (Netflix)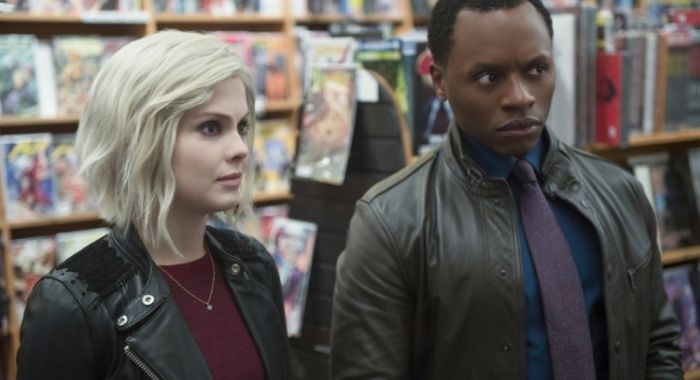 Synopsis: Rose McGiver (Masters of Sex) stars in iZombie as a young medical resident turned zombie who works in the coroner's office to access the brains she must reluctantly eat—but with each brain she consumes, she inherits the corpse's memories. With her medical examiner boss and a police detective, she now solves homicides to quiet the voices in her head. How many people can say that satisfying their munchies helps solve murders? Meet Olivia "Liv" Moore (Rose McGiver, Masters of Sex), a medical resident on the fast track to a perfect life… until she's turned into a zombie.
Stuck between half-alive and undead, Liv transfers to Seattle's morgue to access the only thing that allows her to maintain her humanity—human brains. But there are side effects to Liv's new diet: flashes of the corpse's memories—including clues as to how they were killed. Liv works with an eccentric Medical Examiner and a rookie detective to help solve the murders… it's the least a good citizen zombie can do! Based on characters published by DC Entertainment's Vertigo imprint from the executive producers of Veronica Mars.
Wellington Paranormal (HBO Max)
Synopsis: Follows the adventures of Officers O'Leary (Karen O'Leary, "What We Do In The Shadows") and Minogue (Mike Minogue, "What We Do In The Shadows"), hard-working members of the Wellington constabulary's paranormal unit who, under the supervision of Sergeant Maaka (Maaka Pohatu, "Savage"), investigate supernatural occurrences that arise in the capital of New Zealand on a surprisingly regular basis.
---
Also Read: Shows Like 'Miracle Workers' To Watch While Waiting For 'End Times'
---
Miracle Workers (HBO Max)
Synopsis: Miracle Workers stars Steve Buscemi as God, who is ready to move on to his next project. To prevent Earth's destruction, low-level angels Craig (Daniel Radcliffe) and Eliza (Geraldine Viswanathan) must answer a seemingly impossible prayer: help two humans fall in love.
Wonderfalls
Synopsis: Although a recent graduate of Brown University, Jaye Tyler decides to ignore her degree, live in a trailer and work at a tourist gift shop in Niagara Falls called Wonderfalls—-much to the despair of her well-to-do family. But Jaye's aimless life takes a startling turn after a lion figurine begins talking to her. Her family calls it an "episode" … but Jaye knows better. Fearing for her sanity, Jaye nevertheless starts doing exactly what an increasing number of inanimate objects tell her to do and is amazed when her outrageous actions begin changing people's lives in unexpected ways. Created by Bryan Fuller and starring Caroline Dhavernas, Diana Scarwid, William Sadler, Katie Finneran, Tyron Leitso, Tracie Thoms, and Lee Pace.
---
Also Read: Shows Like 'Six Feet Under' To Watch If You Miss the Series
---
Six Feet Under (HBO Max)
Synopsis: When death is your business, what is your life? The hit series from Oscar(R)-winning screenwriter Alan Ball takes a darkly comic look at a dysfunctional L.A. family that runs a funeral business. In Season 1, the death of the Fisher patriarch leads to big changes for the rest of the family.