There's no shortage of fans of Netflix's Never Have I Ever series, mainly because it's a brilliant piece of television with a very intriguing and exciting story about the teenage years. Never Have I Ever Season 3 premiered on Netflix this August with positive reviews. The series has been renewed for a fourth and final season.
But until we get a new season we have 11 other shows for you to watch which are quite like Never Have I Ever, and will help you pass some time so here are the best 11 best shows like Never Have I Ever you should watch.
---
Also Read: Shows Like 'The Summer I Turned Pretty' To Watch While Waiting For Season 2
---
The Summer I Turned Pretty (Prime Video)
Synopsis: Belly Conklin is about to turn 16, and she's headed to her favorite place in the world, Cousins Beach, to spend the summer with her family and the Fishers. Belly's grown up a lot over the past year, and she has a feeling that this summer is going to be different than all the summers before. The Summer I Turned Pretty is based on the book by Jenny Han, who is creator and executive producer.
---
Also Read: Shows Like 'Sex Education' To Watch While Waiting For Season 4
---
Sex Education (Netflix)
Synopsis: Sex Education is a Netflix comedy-drama starring Asa Butterfield, Gillian Anderson, Ncuti Gatwa, Aimee Lou Wood, Connor Swindells, Kedar Williams-Stirling, and Emma Mackey. The show follows Otis Milburn, an awkward teenage virgin who channels the knowledge of his sex therapist mother to counsel his peers at school, with his classmate Maeve Wiley. The series was created by Laurie Nunn. It is directed by Ben Taylor; and by Kate Herron, Sophie Goodhart, Alice Seabright, and Runyararo Mapfumo.
---
Also Read: Shows Like 'Everything Sucks!' To Watch If You Miss the Series
---
Everything Sucks! (Netflix)
Synopsis: A quirky, funny coming of age story that follows two groups of high school misfits, Everything Sucks! follows an A/V club and a Drama club who collide in 1996 Oregon. The series stars Peyton Kennedy (American Fable, The Captive) and Jahi Winston (The New Edition Story) as students Kate Messner and Luke O'Neil, with Patch Darragh (Sully, Boardwalk Empire) and Claudine Mboligikpelani Nako (Grimm) as their respective parents. The series also features Sydney Sweeney ("Emaline"), Elijah Stevenson ("Oliver"), Quinn Liebling ("Tyler") and Rio Mangini ("McQuaid").
---
Also Read: Shows Like 'The Sex Lives of College Girls' To Watch While Hoping For Season 3
---
The Sex Lives of College Girls (HBO Max)
Synopsis: Created by Emmy®-nominated writer/producer Mindy Kaling and Justin Noble, The Sex Lives of College Girls follows four college roommates as they arrive at New England's prestigious Essex College. A bundle of contradictions and hormones, these girls are equal parts lovable and infuriating as they live out their new, free lives on campus.
---
Also Read: Shows Like 'Derry Girls' To Watch If You Miss the Series
---
Derry Girls (Netflix)
Synopsis: Set in Derry Northern Ireland in the 1990s, Derry Girls is a candid, one-of-a-kind comedy about what it's like to be a teenage girl living amongst conflict. It's a warm, laugh out loud funny and honest look at the lives of an ordinary family living through the Troubles in the early nineties. Armed police in armoured Land Rovers, British Army check points and 'peace' walls are all an everyday reality for Erin. But, despite all that, she has other things to worry about, like the fact the boy she's in love with (actually in LOVE with), doesn't know she exists. Or that her Ma and Aunt Sarah make her include her weirdo cousin in EVERYTHING she does. Or that head teacher, Sister Michael, refuses to acknowledge Erin as a literary genius. Not to mention the fact that her second best friend has ALMOST had sex, whereas Erin's never even kissed anyone yet. Like all teenage girls, Erin has her own Troubles. Derry Girls is based on writer Lisa McGee's (Indian Summers, Being Human) own experiences of growing up in Northern Ireland amidst immense civil conflict.
Synopsis: From a secret relationship with a popular guy to being undermined by a mean girl, & parents who just don't get it – Jenna's misfortune will eventually serve as the catalyst for amazing change, but it's not without some missteps and mishaps along the way.
Love, Victor (Hulu)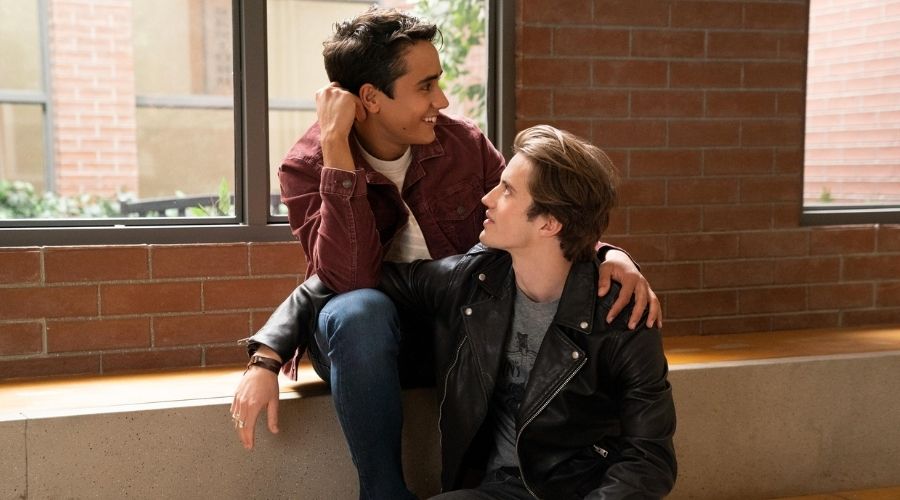 Synopsis: Set in the world of the 2018 groundbreaking film "Love, Simon," the series follows Victor, a new student at Creekwood High School on his own journey of self-discovery, facing challenges at home, adjusting to a new city, and struggling with his sexual orientation. When it all seems too much, he reaches out to Simon to help him navigate the ups and downs of high school. The 10-episode dramedy explores Victor's colorful and complex world, from his loving family, to his new friends and first crushes.
---
Also Read: Shows Like 'On My Block' To Watch If You Miss the Series
---
On My Block (Netflix)
Synopsis: On My Block, co-created by Lauren Iungerich (Awkward), Eddie Gonzalez & Jeremy Haft, is a coming of age comedy about four bright and street-savvy friends navigating their way through the triumph, pain and the newness of high-school set in LA's South Central neighborhood.
Chewing Gum (HBO Max)
Synopsis: Tracey Gordon is a 24-year-old religious Beyoncé-obsessed virgin. Growing up through the church, with her strict preacher Mother, she has ended up rather 'underdeveloped' in certain areas – but Tracey wants more. We follow Tracey as she embarks on her journey into adulthood, crashing her way through what she should and shouldn't be doing.
---
Also Read: Movies & Shows Like 'Heartstopper' If You Loved the Netflix Series
---
Heartstopper (Netflix)
Synopsis: Boy meets boy. Boys become friends. Boys fall in love. When gentle Charlie and rugby-loving Nick meet at secondary school, they quickly discover that their unlikely friendship is blossoming into an unexpected romance. Charlie, Nick and their circle of friends must navigate the ever-relatable journey of self discovery and acceptance, supporting each other as they learn to find their most authentic selves.
Atypical (Netflix)
Synopsis: "I'm a weirdo; that's what everyone says," says the very ATYPICAL high school senior Sam (Keir Gilchrist) when we meet him. Maybe so, but this weirdo has friends, a loving family, an all-consuming interest in penguins — and something relatively new, a desire to find a girl to date, even if his mom, Elsa (Jennifer Jason Leigh), says he's not ready. As he sets about his quest with his typical absorption, diving into research and taking advice from the people who care about him, Sam soon learns that connecting romantically isn't as easy as fixing a computer. People don't make a lot of sense to Sam, but slowly, surely, he's learning to live in the big, bright, confusing world along with all the other imperfect people around him