Cringe comedy is one of a kind because you can watch someone get into a very awkward situation at a safe distance and there's something very enjoyable in that scenario. One of the main reasons this genre is so brilliant is because almost everyone relates to the situations in one way or another because everybody has gotten in one awkward situation or another. In many people's opinion, Nathan For You is the peak of cringe comedy as it has been one of the most successful series in the genre. The series follows a socially oblivious man Nathan Fielder as he goes from one business to another with his very bad marketing ideas and all of them fail miserably in the end. Nathan For You ran on Comedy Central for 4 seasons from 2013 to 2017 and in that time it garnered a massive audience for itself and it has built up a huge fanbase since then. So, if you also miss Nathan For You here are some more cringe comedy shows you could watch.
Chewing Gum
Synopsis: Tracey Gordon is a 24-year-old religious Beyoncé-obsessed virgin. Growing up through the church, with her strict preacher Mother, she has ended up rather 'underdeveloped' in certain areas – but Tracey wants more. We follow Tracey as she embarks on her journey into adulthood, crashing her way through what she should and shouldn't be doing.
Derry Girls
Synopsis: Set in Derry Northern Ireland in the 1990s, Derry Girls is a candid, one-of-a-kind comedy about what it's like to be a teenage girl living amongst conflict. It's a warm, laugh out loud funny and honest look at the lives of an ordinary family living through the Troubles in the early nineties. Armed police in armoured Land Rovers, British Army check points and 'peace' walls are all an everyday reality for Erin. But, despite all that, she has other things to worry about, like the fact the boy she's in love with (actually in LOVE with), doesn't know she exists. Or that her Ma and Aunt Sarah make her include her weirdo cousin in EVERYTHING she does. Or that head teacher, Sister Michael, refuses to acknowledge Erin as a literary genius. Not to mention the fact that her second best friend has ALMOST had sex, whereas Erin's never even kissed anyone yet. Like all teenage girls, Erin has her own Troubles. Derry Girls is based on writer Lisa McGee's (Indian Summers, Being Human) own experiences of growing up in Northern Ireland amidst immense civil conflict.
The Comeback
Synopsis: For Valerie Cherish, no price is too high to pay for clinging to the spotlight. From award-winning 'Sex and the City' writer Michael Patrick King comes this comedy series starring Lisa Kudrow as Valerie–a former B-list television actress so desperate to revive her career that she agrees to star in a reality show that follows her efforts to land a part in a new sitcom.
---
Also Read: Best Shows Like 'The Office' If You Miss the Series
---
The Office
Synopsis: Steve Carell (The 40-Year-Old Virgin, The Daily Show) stars in The Office, a fresh and funny mockumentary-style glimpse into the daily interactions of the eccentric workers at the Dunder Mifflin paper supply company. Based on the smash-hit British series of the same name and adapted for American Television by Greg Daniels (King of the Hill, The Simpsons), this fast-paced comedy parodies contemporary American water-cooler culture. Earnest but clueless regional manager Michael Scott (Carell) believes himself to be an exceptional boss and mentor, but actually receives more eye-rolls than respect from his oddball staff.
Insecure
Synopsis: Created by and starring Issa Rae, this comedy series looks at the friendship of two modern-day black women, as well as all of their uncomfortable experiences and racy tribulations. As they navigate the tricky professional and personal terrain of Los Angeles, best friends Issa (Rae) and Molly (Yvonne Orji) face the challenges of being black women who defy all stereotypes.
---
Also Read: Best Shows Like 'Curb Your Enthusiasm' To Watch While Waiting For the New Season
---
Curb your Enthusiasm
Synopsis: Larry David has it all–so why does he seem intent on making a mess of his life? Larry David stars as…Larry David in this acclaimed verite-style comedy series that follows him at home, at work and around town, as he lands himself in various predicaments with both fictional and real-life personalities.
Crazy Ex-Girlfriend
Synopsis: Rebecca Bunch is a successful, driven, and possibly crazy young woman who impulsively gives up everything – her partnership at a prestigious law firm and her upscale apartment in Manhattan – in a desperate attempt to find love and happiness in that exotic hotbed of romance and adventure: suburban West Covina. Calif. (it's only two hours from the beach! Four in traffic).
The Rehearsal
Synopsis: Nathan Fielder ("Nathan For You," "HBO's How To with John Wilson") returns to television for a new series that explores the lengths one man will go to reduce the uncertainties of everyday life. With a construction crew, a legion of actors, and seemingly unlimited resources, Fielder allows ordinary people to prepare for life's biggest moments by "rehearsing" them in carefully crafted simulations of his own design. When a single misstep could shatter your entire world, why leave life to chance?
---
Also Read: Best Shows Like 'It's Always Sunny in Philadelphia' To Watch While Waiting For the Next Season
---
It's Always Sunny in Philadelphia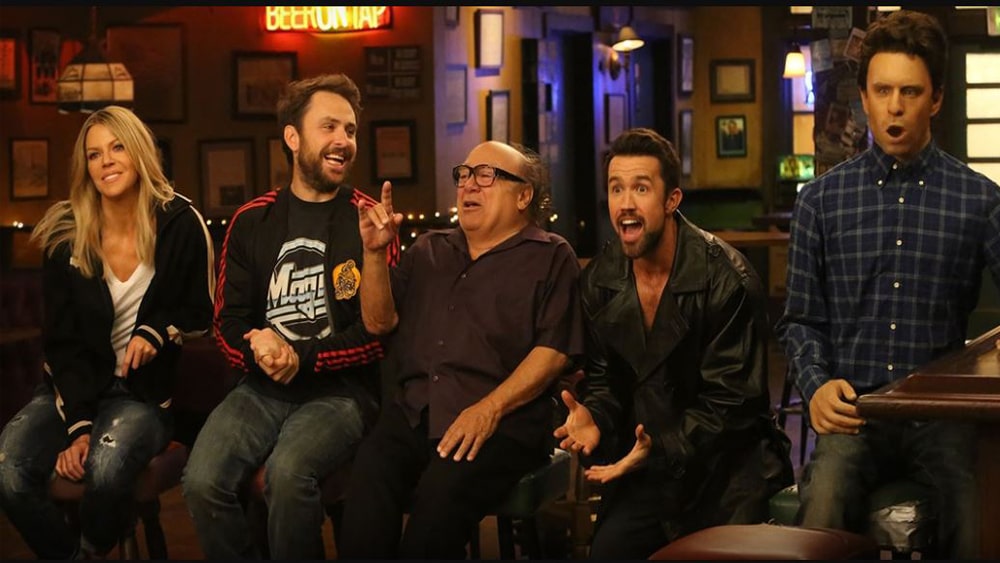 Synopsis: It's Always Sunny in Philadelphia features Mac, Dennis, Charlie, Sweet Dee and Frank, five ne'er-do-wells who own and operate Paddy's Pub in Philadelphia. Their constant scheming usually lands them in a world of hurt, yet they never seem to learn from their mistakes. As they say, some things never change. So prepare for more depraved schemes, half-baked arguments, and absurdly underhanded plots to subvert one another.
The Eric Andre Show
Synopsis: Just another talk show? Think again. The Eric Andre Show may be the most manic and unorthodox late night talk show ever made. The show's traditional talk show format quickly devolves into chaos as its inept and bipolar host Eric Andre, along with his apathetic co-host Hannibal Buress (30 Rock, SNL), subvert all late-night conventions.