Mulligan is Netflix's latest animated comedy series and it is quite enjoyable. The animated series created by Sam Means and Robert Carlock the series follows the titular hero Mulligan who saves the world by thwarting the aliens after the attack when Mulligan is chosen by the people as the President of America (for which he is totally unqualified) he disappoints the people by doing nothing to better their lives. While Mulligan is a great new series we all have to remember that this is a Netflix series that could be canceled any time. So, while you hope for the green light on Season 2 here are some shows you could watch.
---
Also Read: Shows Like 'Inside Job' To Watch If You Miss the Series
---
Inside Job (Netflix)
Synopsis: Inside Job is an adult animated comedy about the shadow government– and the dysfunctional team whose daily grind is committing the world's conspiracies. From convoluted coverups to secret societies to masked orgy etiquette, navigating office culture at Cognito Inc. can be tricky, especially for anti-social tech genius Reagan Ridley. Even in a workplace filled with reptilian shapeshifters and psychic mushrooms, she's seen as the odd one out for believing the world could be a better place. Reagan thinks she can make a difference, if only she could manage her unhinged, manifesto-writing father, her irresponsible coworkers, and finally snag the promotion she's been dreaming about.
Paradise PD (Netflix)
Synopsis: They're bad cops. Not bad like no nonsense. Not bad like cool. Bad like shitty. Paradise PD: They're the worst responders. From the creators of Brickleberry, Roger Black and Waco O'Guin, comes this adult animated comedy about a backwater Southern-fried, small-town police department.
Koala Man (Hulu)
Synopsis: Koala Man follows middle-aged dad Kevin and his titular not-so-secret identity, whose only superpower is a burning passion for following rules and snuffing out petty crime in the town of Dapto. Though it may seem like any other Australian suburb, forces of evil both cosmic and man-made lie in wait to pounce on unsuspecting Daptonians. On a quest to clean up his hometown, and often roping his frustrated family into his adventures, Koala Man stands at the ready. He'll do whatever it takes to defeat villainous masterminds, supernatural horrors, or worse: jerks who don't take their rubbish bins down on the proper days.
Synopsis: Join JG Quintel, creator of the Emmy Award-winning "Regular Show" for a panel and table read for his new HBO Max series "Close Enough," a surreal animated comedy about a married couple, their five-year-old daughter, and their two divorced best friends/roommates all living together on the east-side of Los Angeles. Jason Mantzoukas (Alex), Gabrielle Walsh (Emily), Kimiko Glenn (Bridgette) and Jessica DiCicco (Candice) will join Quintel (Josh) and Calvin Wong (supervising producer) and moderator William Salyers ("Regular Show") to discuss the show's themes of navigating the transitional 30's, juggling work and kids, and pursuing your dreams, while avoiding time-traveling snails, stripper clowns and murderous mannequins.
Q-Force (Netflix)
Synopsis: Steve Maryweather, AKA Agent Mary, was once the Golden Boy of the American Intelligence Agency (AIA), until he came out as gay. Unable to fire him, the Agency sent him off to West Hollywood, to disappear into obscurity. Instead, he assembled a misfit squad of LGBTQ+ geniuses. Joining forces with the expert mechanic Deb, master of drag and disguise Twink, and hacker Stat, together they're Q-Force. But, after a decade of waiting for their first official mission from The AIA, Mary becomes hell-bent on proving himself to the Agency that turned its back on him, and decides to go rogue with Q-Force. After finding their own case, and solving it on their own terms, they get the reluctant approval of The AIA, and are officially upgraded to Active Secret Agents in the field. But, that approval comes with one major caveat– they must put up with a new member of the squad: straight-guy Agent Buck.
---
Also Read: Shows Like 'Archer' To Watch While Waiting For Season 14
---
Archer (Hulu)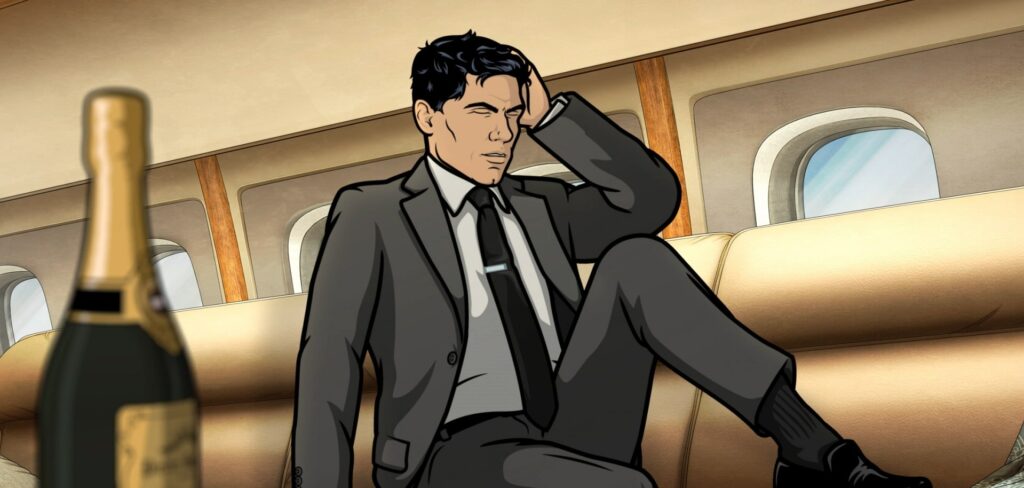 Synopsis: The suave, confident and devastatingly handsome Sterling Archer may be the world's greatest spy, but he still has issues with his friends and colleagues who live to undermine and betray one another. Whether set in 1940s Los Angeles, the jungles of South America or the dangerous islands of the South Pacific, "Archer," this animated comedy spans time and place to navigate Sterling, Lana, Malory, Cheryl/Carol/Charlotte, Cyril, Pam, Ray and Krieger's misguided misadventures that range from attempting to save the world from nuclear disaster to selling illegal narcotics to Colombian cartels.
---
Also Read: Shows Like 'Agent Elvis' To Watch If You Like the Series
---
Agent Elvis (Netflix)
Synopsis: In the series, Elvis Presley trades in his white jumpsuit for a jet pack when he is covertly inducted into a secret government spy program to help battle the dark forces that threaten the country he loves — all while holding down his day job as the King Of Rock And Roll.