MCU's latest Disney+ series Ms. Marvel tells a coming-of-age story about a young superhero who is ready to take on the world all by herself (maybe). Following in the footsteps of her idol Captain Marvel aka Carol Danvers, a young Kamala Khan is trying to be a superhero that stands out from the rest of the world while wearing a DIY replica of Captain Marvel's suit. The series is at its heart a coming-of-age story with a superhero element in it and while it does represent the Islam community with Kamala being the first Muslim Marvel superhero the series has a very Disney way about it. So, if you liked Marvel's latest entry in its long list of superheroes here are some more shows you could watch that might give you the same feeling.
Supergirl (Netflix)
Synopsis: In the vast DC Comics Universe of superheroes, the rich mythology of Superman, the planet Krypton and the House of El is perhaps the most famous and instantly recognizable. Enter Supergirl (Melissa Benoist)! Born Kara Zor-El on the doomed planet Krypton, the preteen Kara escaped at the same time as the infant Kal-El, but didn't arrive on Earth until many years later after being lost in the Phantom Zone. Protected and raised by her adopted family, the Danvers, Kara grew up in the shadow of her foster sister, Alex, and learned to hide the phenomenal powers she shares with her famous cousin. Years later, at age 24, living in National City and working as an assistant for Catco Worldwide Media mogul Cat Grant (Calista Flockhart), Kara has spent so many years trying to fit in that she forgot to ever stand out. All that changes when she decides to embrace her superhuman abilities and become the hero she was always destined to be. With the help of Daily Planet photographer James Olsen, her bioengineer sister Alex, and the research of the super-secret, off-the-grid Department of Extra-Normal Operations (DEO) and its head Hank Henshaw, who are tasked with keeping the Earth safe from aliens, Kara takes to the skies to protect her world. Her foes include both a sinister extraterrestrial menace and the high-tech terrestrial threat of clever villains with powerful weaponry. Produced by Berlanti Productions (Arrow, The Flash, Pan), this one-hour drama is an epic action-adventure for the entire family. Combining the heart, humor and spectacle of a super hero series, with the week-to-week intrigue of the DEO's investigations, Kara's childhood memories of her time on Krypton and the sophisticated workplace dramedy of her secret identity at Catco, Supergirl is charged with true epic storytelling — bringing a strong female hero to television screens at long last.
---
Also Read: Shows Like 'His Dark Materials' To Watch If You Miss the Series
---
His Dark Materials (HBO Max)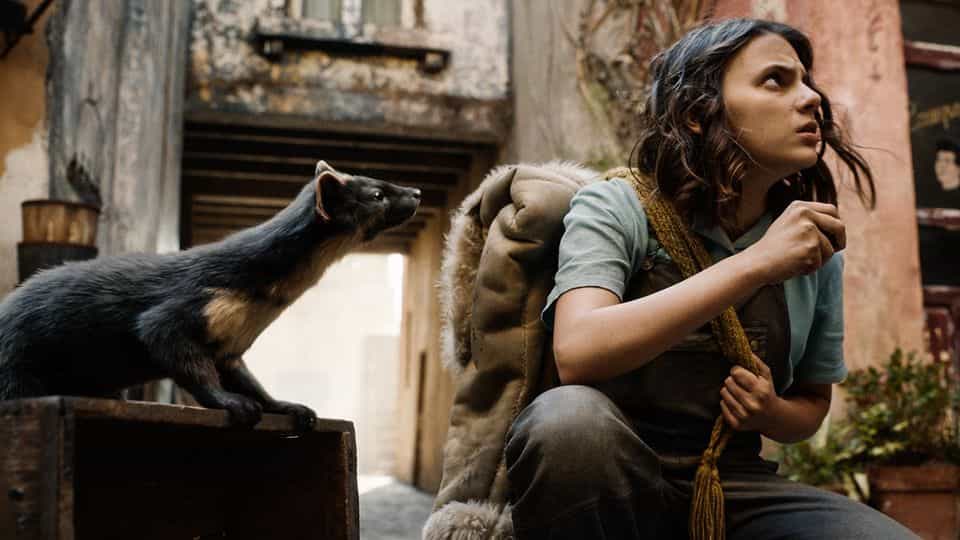 Synopsis: Based on the first book in Philip Pullman's best-selling trilogy of novels. Lyra (Dafne Keen) lives in Jordan College, Oxford. Placed there at the request of her Uncle, Lord Asriel (James McAvoy) she lives a sheltered life amongst the scholars and college staff while under the watchful protection of The Master (Clarke Peters). When the glamorous and mesmeric Mrs Coulter (Ruth Wilson) enters Lyra's life she embarks upon a dangerous journey of discovery from Oxford to London. Here she meets Father MacPhail (Will Keen) and Lord Boreal (Ariyon Bakare). Lyra is subsequently thrown into the nomadic world of the boat dwelling Gyptians – Ma Costa (Anne-Marie Duff), Farder Coram (James Cosmo), John Faa (Lucien Msamati), Raymond Van Geritt (Mat Fraser) Jack Verhoeven (Geoff Bell) and Benjamin de Ruyter (Simon Manyonda) who take her North in her quest. Once in the North she meets charismatic aeronaut and adventurer Lee Scoresby (Lin-Manuel Miranda) who joins them on their epic journey and becomes one of Lyra's closest allies.
---
Also Read: Gritty Superhero Shows Like DC's 'Titans'
---
Titans (HBO Max)
Synopsis: Titans follows young heroes from across the DC Universe as they come of age and find belonging in a gritty take on the classic Teen Titans franchise. Dick Grayson and Rachel Roth, a special young girl possessed by a strange darkness, get embroiled in a conspiracy that could bring Hell on Earth. Joining them along the way are the hot-headed Starfire and loveable Beast Boy. Together they become a surrogate family and team of heroes.
Stargirl (The CW)
Synopsis: The DC UNIVERSE drama series DC's STARGIRL follows high school sophomore Courtney Whitmore as she inspires an unlikely group of young heroes to stop the villains of the past. This new drama reimagines Stargirl and the very first superhero team, the Justice Society of America, in an unpredictable series that focuses on the character that started creator Geoff Johns' career as a comic book writer when he created her in 1999, lovingly inspired by his late sister who was killed in a 1996 plane explosion.
---
Also Read: Great Shows Like 'Hawkeye' To Watch If You Like the Series
---
Hawkeye (Disney+)
Synopsis: Marvel Studios' "Hawkeye" stars Jeremy Renner as Hawkeye, who teams up with another well-known archer from the Marvel comics, Kate Bishop, played by Hailee Steinfeld. The cast also includes Vera Farmiga, Fra Fee, Tony Dalton, Zahn McClarnon, Brian d'Arcy James and newcomer Alaqua Cox as Maya Lopez. "Hawkeye" is helmed by Rhys Thomas and directing duo Bert and Bertie.
---
Also Read: Fantasy Shows Like 'Shadow and Bone' To While Waiting For Season 2
---
Shadow and Bone (Netflix)
Synopsis: After their father is murdered under mysterious circumstances, the three Locke siblings and their mother move into their ancestral home, Keyhouse, which they discover is full of magical keys that may be connected to their father's death. As the Locke children explore the different keys and their unique powers, a mysterious demon awakens — and will stop at nothing to steal them. From Carlton Cuse (Lost, Bates Motel) and Meredith Averill (The Haunting of Hill House), the series is a coming-of-age mystery about love, loss, and the unshakable bonds that define family.
---
Also Read: Shows Like 'I Am Not Okay With This' To Watch If You Miss the Series
---
I Am Not Okay With This (Netflix)
Synopsis: I Am Not Okay With This is an irreverent origin story that follows a teenage girl who's navigating the trials and tribulations of high school, all while dealing with the complexities of her family, her budding sexuality, and mysterious superpowers just beginning to awaken deep within her. From director/EP of The End of the F***ing World Jonathan Entwistle and the producers of Stranger Things comes a new series based on the Charles Forsman graphic novel.
Marvel's Runaways (Hulu)
Synopsis: Every teenager thinks their parents are evil. But what if they really were? When six L.A. teens in Marvel's Runaways stumble onto a terrible secret, they realize their parents have been lying to them all their lives. But what are their parents after? And why? While the kids investigate, the adults start to wonder if their kids are hiding secrets of their own. The parents close in on the truth just as the kids uncover a plan with devastating consequences. Now, this unlikely crew of teenagers must band together to stop their parents before it's too late.
---
Also Read: Shows Like 'Stranger Things' To Watch After Season 4
---
Stranger Things (Netflix)
Synopsis: 99 out of a hundred times, the missing kid is with a parent or relative. What about the other time? A love letter to the supernatural classics of the 80's, Stranger Things is the story of a young boy who vanishes into thin air. As friends, family and local police search for answers, they are drawn into an extraordinary mystery involving top-secret government experiments, terrifying supernatural forces and one very strange little girl. Stranger Things stars Winona Ryder, David Harbour, Finn Wolfhard, Millie Brown, Gaten Matarazzo, Caleb McLaughlin, Noah Schnapp, Natalia Dyer, Cara Buono, Charlie Heaton, and Matthew Modine.
Synopsis: Starring Kaci Walfall in the title role, the DC drama NAOMI follows the journey of a confident comic book–loving teenager pursuing her hidden destiny. When a supernatural event shakes her small hometown of Port Oswego, Naomi sets out to uncover its origins, with the help from her loyal best friend Annabelle. She also has the support of her adoptive, doting parents, veteran military officer Greg and linguist Jennifer. After an encounter with Zumbado, the mysterious owner of a used car lot, leaves her shaken, Naomi turns to tattoo shop owner Dee, who becomes her reluctant mentor. While unraveling the mystery of herself, Naomi also navigates her high school friendships with both military kids and local residents. As Naomi journeys to the heights of the Multiverse in search of answers, what she discovers will challenge everything we believe about our heroes.