Marvel Studios and Disney+'s series Moon Knight quickly become a popular Marvel series. The superhero series features Oscar Isaac as the titular character Moon Knight, but Isaac's other identity is Marc Spector and Steven Grant, they are both personalities as Isaac's character has a dissociative personality disorder in this series which plays a big part in the series' story. Marc Spector is a mercenary who gets injured during an altercation near the moon god Khonshu's tomb and that's when Khonshu offers Marc that he can save him but he will have to live as the "fist of Khonshu", and Marc agrees. As the first season wrapped up, we get a hint of Season 2, but it has not been confirmed. So, while we wait for Moon Knight to show up in the Marvel Cinematic Universe next here are some shows like Moon Knight you could watch.
---
Also Read: Shows Like Marvel's 'Legion' If You Miss The Series
---
Legion (Hulu)
Synopsis: Legion follows the story of "David Haller," a man who believed he was schizophrenic but discovered he might be the most powerful mutant in the world. With help from a team of specialists, David harnessed his unique abilities and learned he'd been haunted by a malicious parasite. Now, David is all that stands in the way of "Amahl Farouk" from attaining infinite and world-ending power.
Dollhouse (Hulu)
Synopsis: Dollhouse follows Echo (Eliza Dushku) an "Active," a member of a highly illegal and underground group who have had their personalities wiped clean so they can be imprinted with any number of new personas. Confined to a secret facility known as the "Dollhouse," Echo and the other Actives including Sierra and Victor carry out engagements assigned by Adelle, one of the Dollhouse leaders. The engagements cater to the wealthy, powerful and connected, and require the Actives to immerse themselves in all manner of scenarios – romantic, criminal, uplifting, dangerous, comical and the occasional "pro bono" good deed. After each scenario, Echo, always under the watchful eye of her handler Boyd, returns to the mysterious Dollhouse where her thoughts, feelings and experiences are erased by Topher, the Dollhouse's genius programmer. Echo enters the next scenario with no memory of before. Or does she?
---
Also Read: Shows Like 'Severance' To Watch While Waiting For Season 2
---
Severance (Apple TV+)
Synopsis: In Severance, Mark Scout (Scott) leads a team at Lumon Industries, whose employees have undergone a severance procedure, which surgically divides their memories between their work and personal lives. This daring experiment in 'work-life balance' is called into question as Mark finds himself at the center of an unraveling mystery that will force him to confront the true nature of his work… and of himself.
---
Also Read: Shows Like 'Mr. Robot' to Watch If You Miss the Series
---
Synopsis: Enter the captivating world of "Mr. Robot," following Elliot Alderson (Emmy®-winner Rami Malek), a young computer programmer turned vigilante hacker. Elliot suffers from social anxiety, and hacking people is his primary means of human connection. Disillusioned with modern society, Elliot's world suddenly changes when he meets Mr. Robot (Golden Globe®-winner Christian Slater), the mysterious leader of an underground hacktivist group that wants to recruit Elliot to help take down the "one percent" and trigger a worldwide revolution.
---
Also Read: Shows Like 'Watchmen' To Watch If You Miss the Series
---
Watchmen (HBO Max)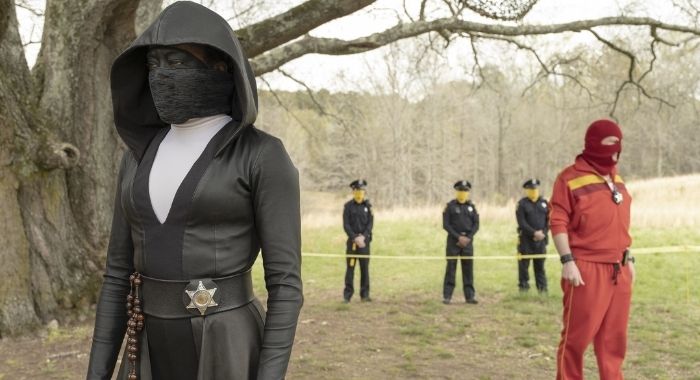 Synopsis: Set in an alternate history where masked vigilantes are treated as outlaws, this epic series from executive producer Damon Lindelof (Lost; HBO's The Leftovers) embraces the nostalgia of the original groundbreaking graphic novel of the same name, while attempting to break new ground of its own. Regina King (HBO's The Leftovers) leads the cast as Angela Abar, who wears two masks; one as a lead detective in The Tulsa Police Force and another as wife and mother of three. The cast also includes Jeremy Irons, Don Johnson, Jean Smart, Tim Blake Nelson, Louis Gossett Jr., Yahya Abdul-Mateen II, Tom Mison, Frances Fisher and Sara Vickers.​
WandaVision (Disney+)
Synopsis: Starring Elizabeth Olsen and Paul Bettany, "WandaVision" marks the first series from Marvel Studios streaming exclusively on Disney+. The series is a blend of classic television and the Marvel Cinematic Universe in which Wanda Maximoff and Vision—two super-powered beings living idealized suburban lives—begin to suspect that everything is not as it seems.
---
Also Read: Shows Like 'Daredevil' To Watch While Waiting For Season 4
---
Daredevil (Disney+)
Synopsis: Daredevil follows Matt Murdock, attorney by day and vigilante by night. Blinded in an accident as a child, Murdock uses his heightened senses as Daredevil, fighting crime on the streets of New York after the sun goes down. His efforts are not welcomed by powerful businessman Wilson Fisk-aka Kingpin- and others whose interests collide with those of Daredevil.